North Korea, I'm on my way!
Before we start I want to note, that due to the tight program many photos in North Korea / DPRK (Democratic People's Republic of Korea) were taken from the moving bus.
So the quality isn't perfect in parts, but that's better than nothing 🙂
During the flights it was forbidden to film the landscape. Well, I did my very best – sometimes.
Have fun with my trip report.
Overview:
Tu 204-100 – P-633
IL-18D – P-835
An-148-100B – P-671
An-24RV – P-532
Tu-134B-3 – P-814
IL-76MD – P-912
IL-62M – P-885
Tu-154B-2 – P-561
Mi-17 – 867
Prolog
Usually you travel to North Korea with a tourist card as a kind of visa, which you return when leaving.
The alternative is, to pick up the visa yourself in the North Korean Embassy in Berlin, where it is put inside your passport.
Of course I choose the second alternative. A phone call, the gate opened and I was welcomed inside the building. After a short talk, I handed over my visa papers and my passport. Hardly arrived in the waiting room, music was switched on and Korean songs attuned me for my journey.
After a while I was able to get my passport together with my visa.
Everything was very easy and friendly 🙂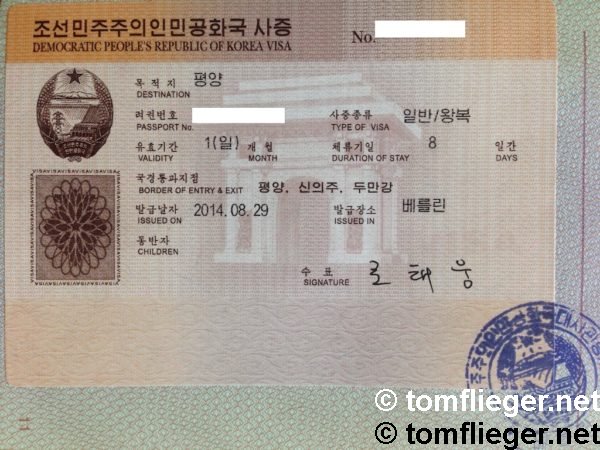 Friday
On the eve of departure to Pyongyang our travel group met in the North Korean restaurant Haedanghwa in Beijing for dinner.
There was also a music, singing and dancing show, proving the skills of the young North Korean women.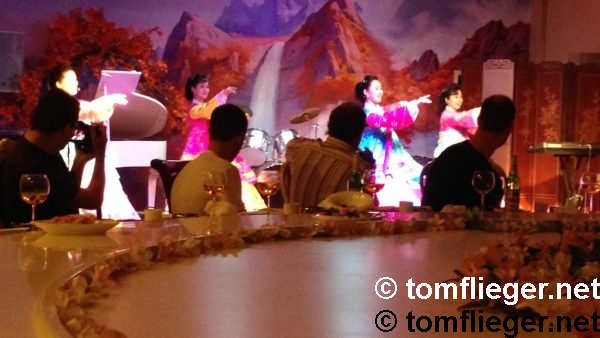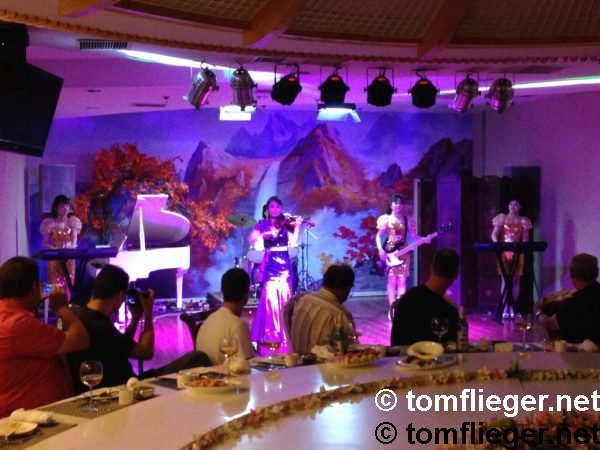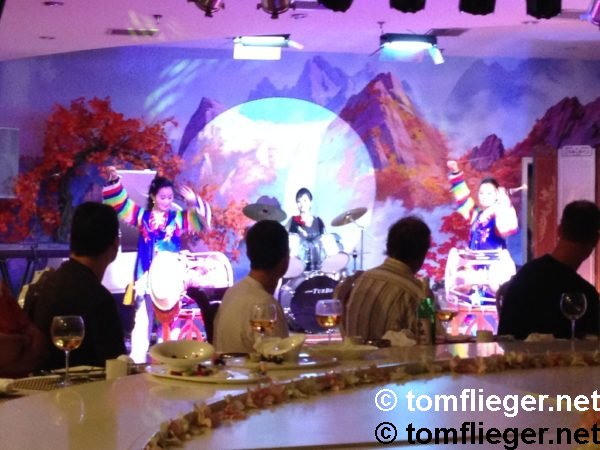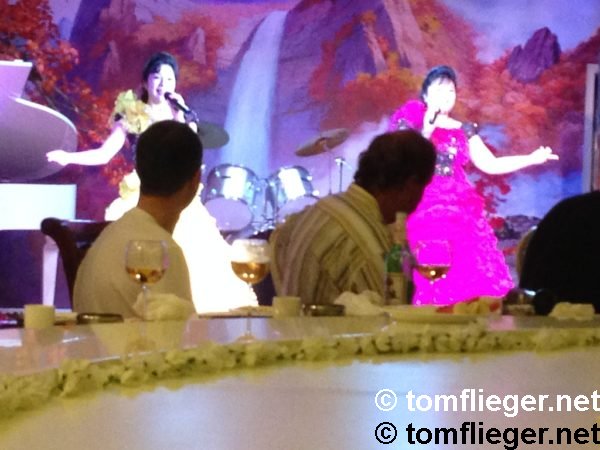 Saturday
Next morning at Beijing PEK airport…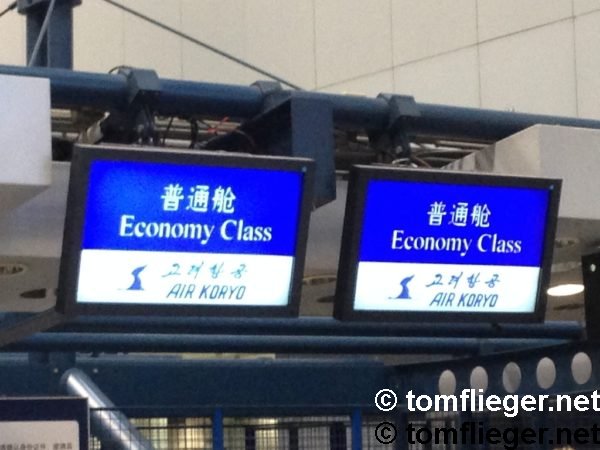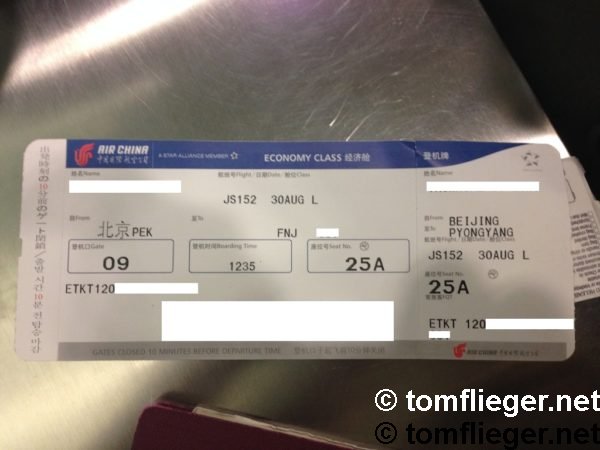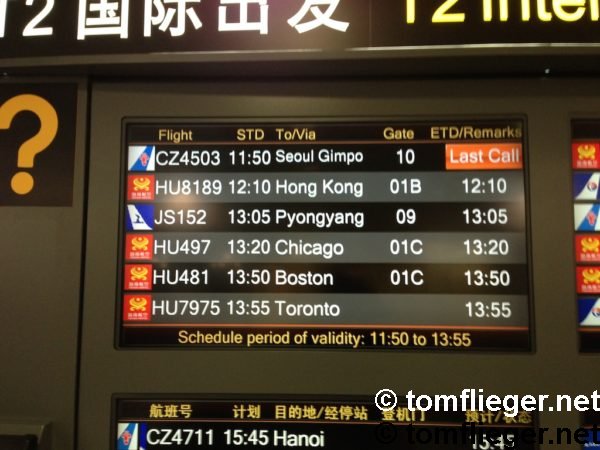 Surprisingly right next to an airplane of Korean Air (South Korea) it is: our Air Koryo Tupolev Tu 204-100 P-633.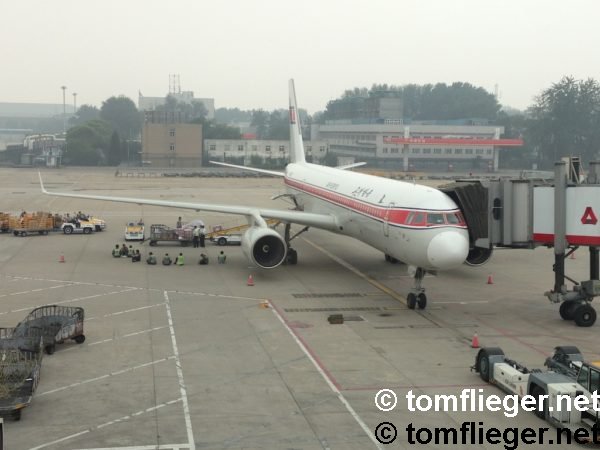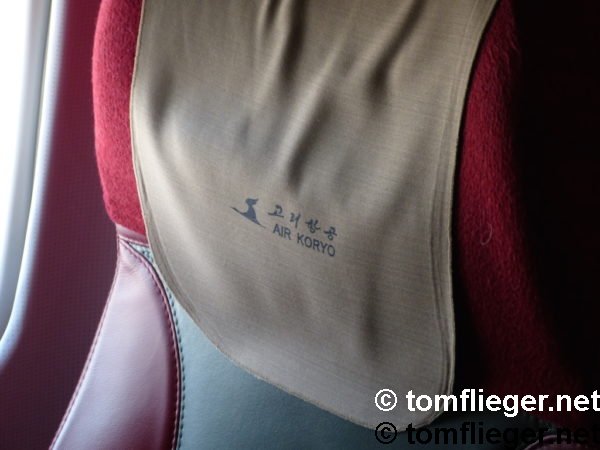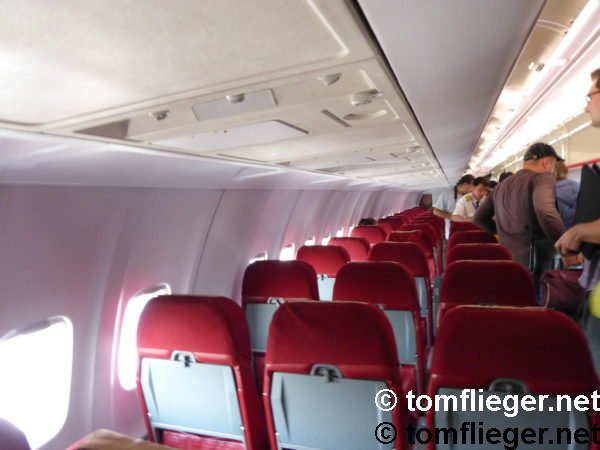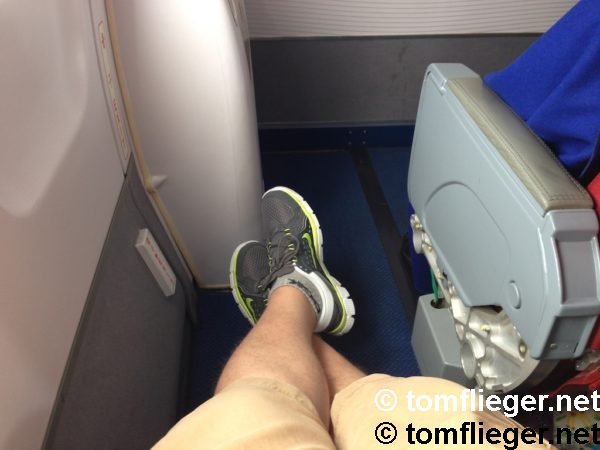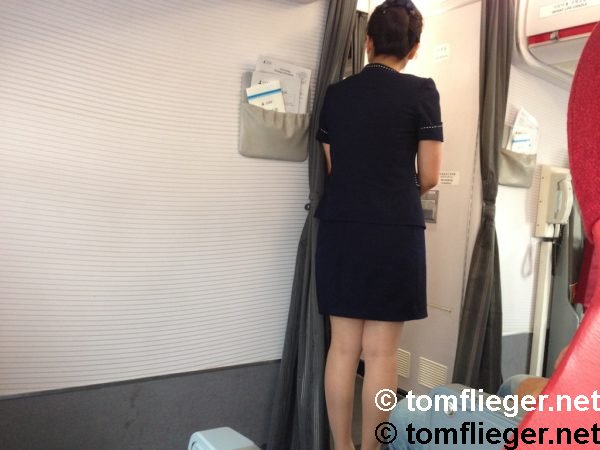 Due to a missed slot we had to wait at the gate for an hour, another hour we spent on the crowded taxiway on the way to the runway.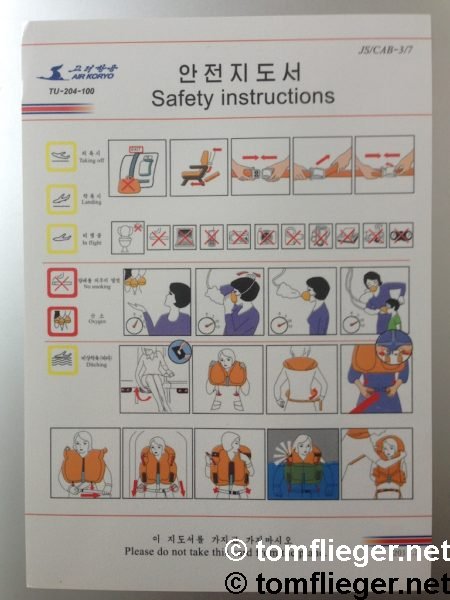 The flight attendants seemed to enjoy their work and surprisingly the flight was well booked.
Didn't look good but tasted good. The Air Koryo service in general was much better than you currently get at Lufthansa for example.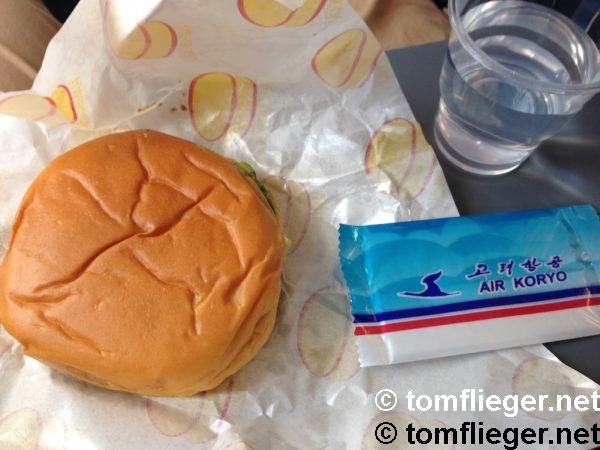 Lined up for our welcome (but also otherwise) the excellent maintained aircraft of Air Koryo stand next to the runway in Pyongyang FNJ.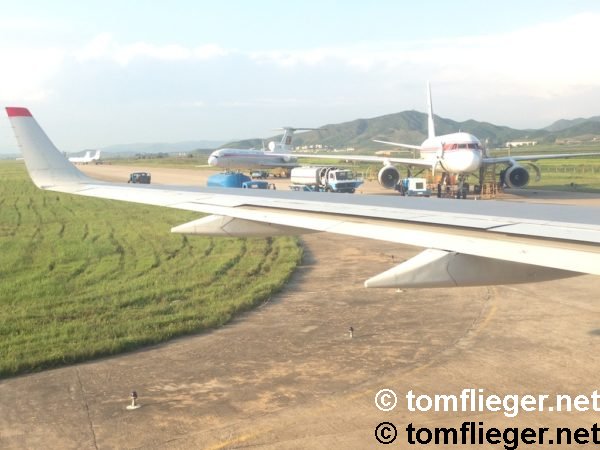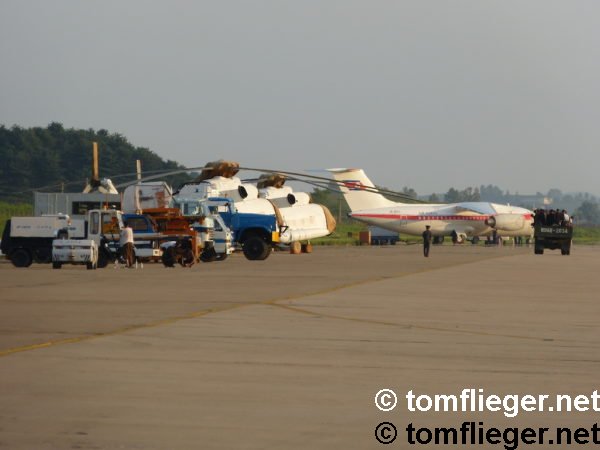 Arrived in FNJ we visited the cockpit.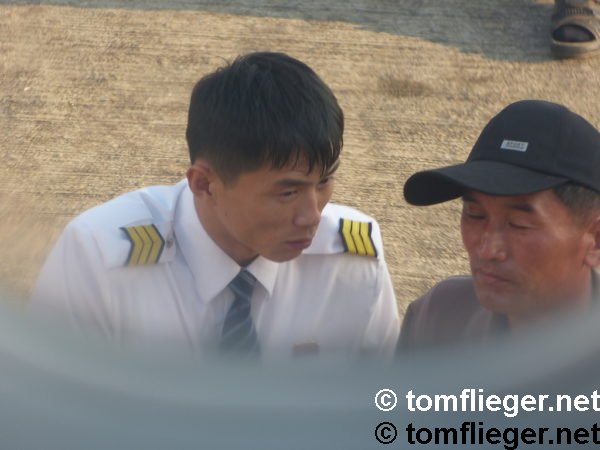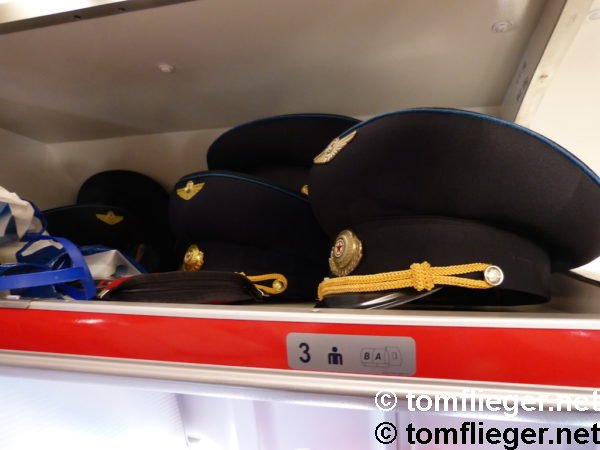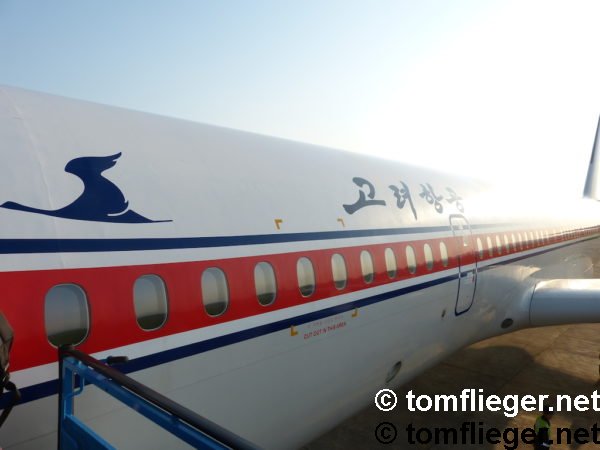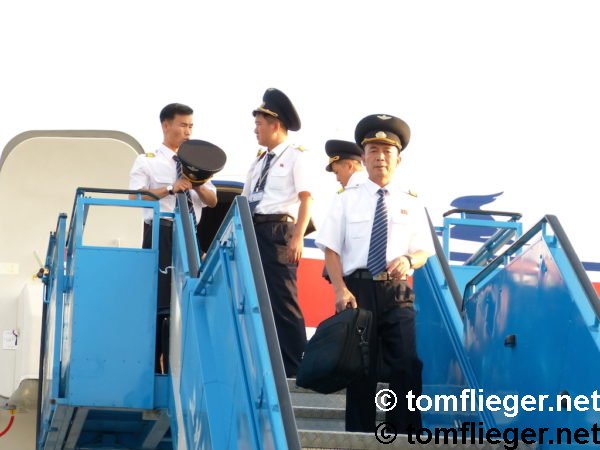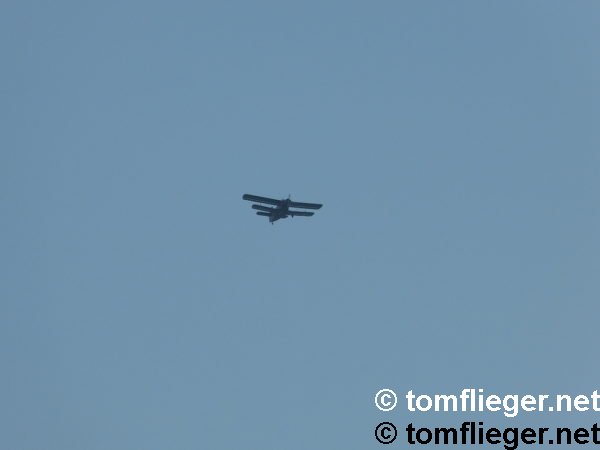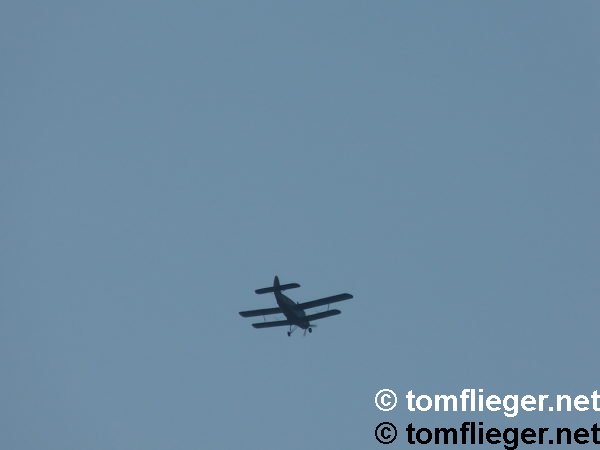 The new terminal is under construction. Completion date: 2014! Maybe the (very delayed new Berlin airport) BER should buy consulting and planning services from North Korea? 🙂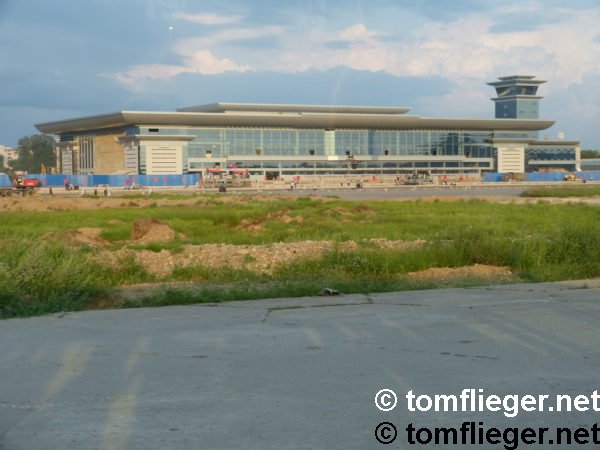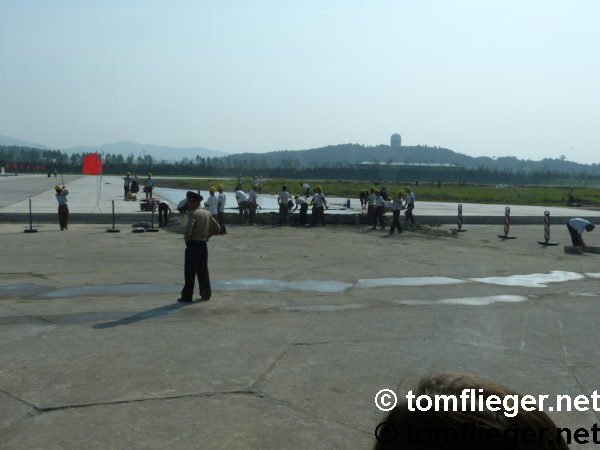 The runway and taxiway are restored. As we could see during our stay, rapid and clearly visible progress had been made.
We still used the old, temporary terminal which should welcome us as regular guests during the next days.
Also the security staff seemed to know us "regulars" as we visited the airport nearly every day during our stay.
Immigration was smooth. Mobile phone and passport were photographed and the camera examined superficially on GPS capability.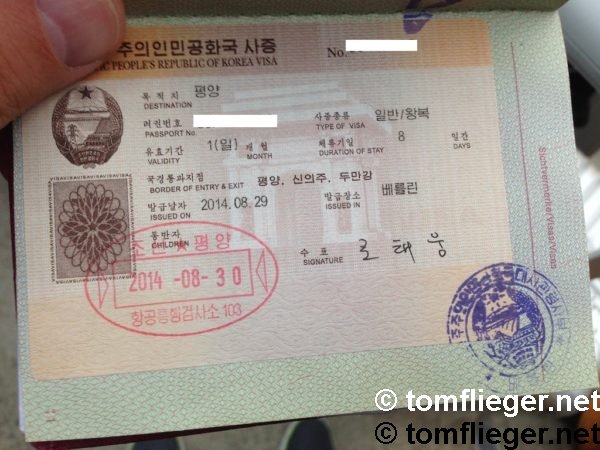 Our travel group of about 30 participants was split into two groups and put on two buses, so that everyone could occupy a window seat.
Our passports were collected in the bus and retained for the duration of our stay.
Due to the delay it was already dark. After a short sightseeing round we went to Koryo Hotel where we stayed during our tour.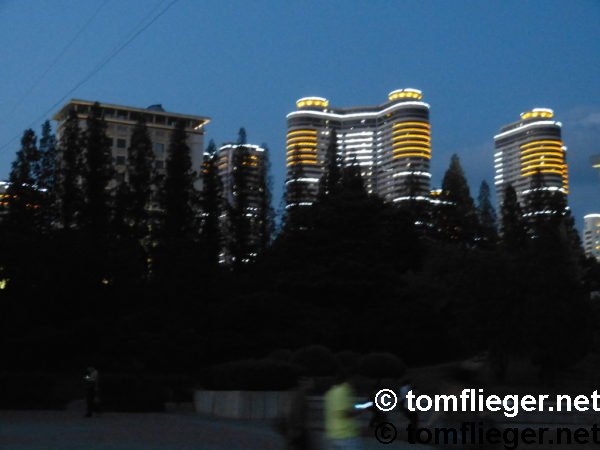 At Mansu Hill Grand Monument we were allowed to lay down some flowers and bow down obediently. It shouldn't be the last time during our stay.
Surprisingly, photography in general was explicitly permitted already on our ride from the airport to our hotel. Except military, individuals as well as in situations where it was explicitly communicated to us.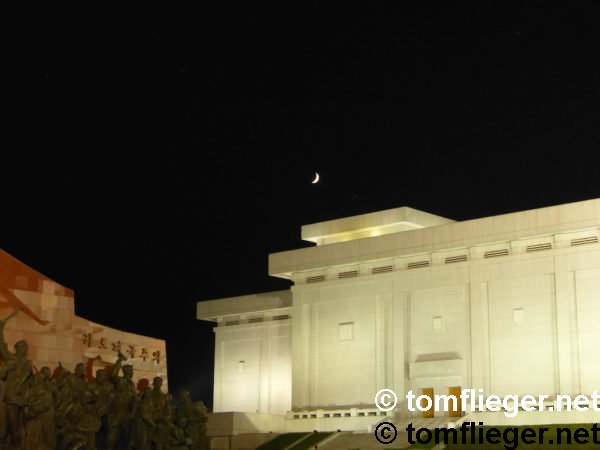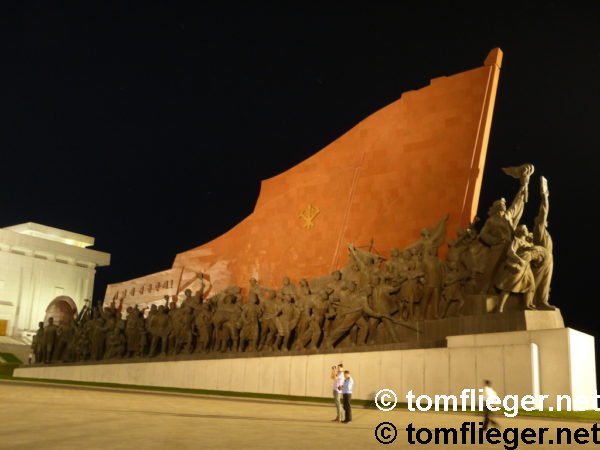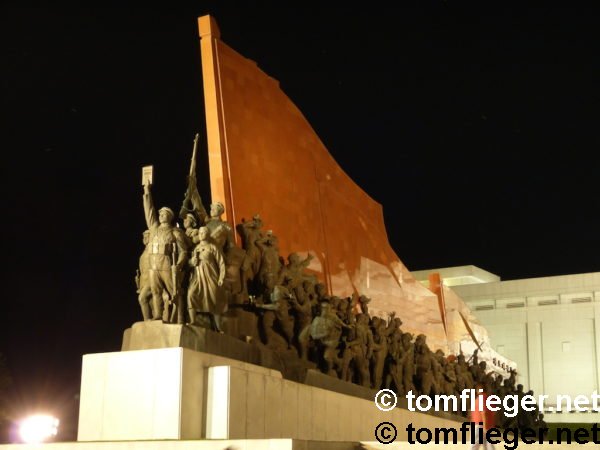 Workers Party Foundation Monument
1997 (three years after Kim Il Sung's death) the Juche calendar was officially introduced in North Korea. It differs to the Gregorian calendar by the year count that starts with the year of birth of Kim Il Sung. So since then, the year 1912 applies as "Juche 1".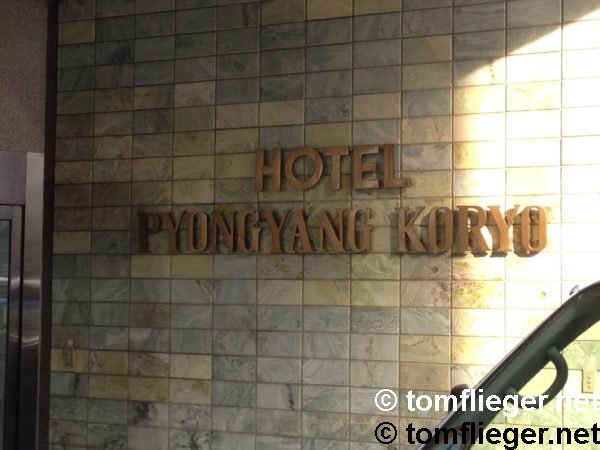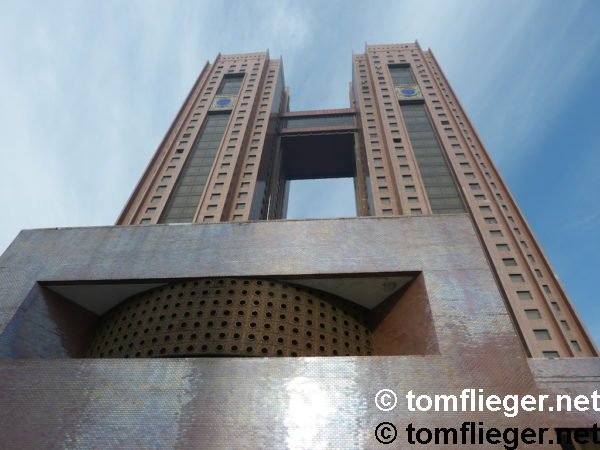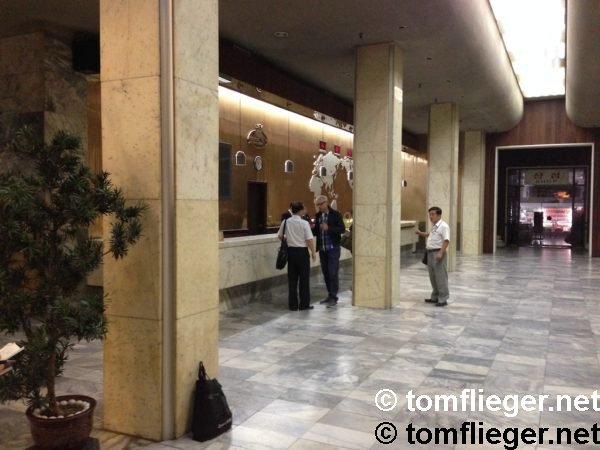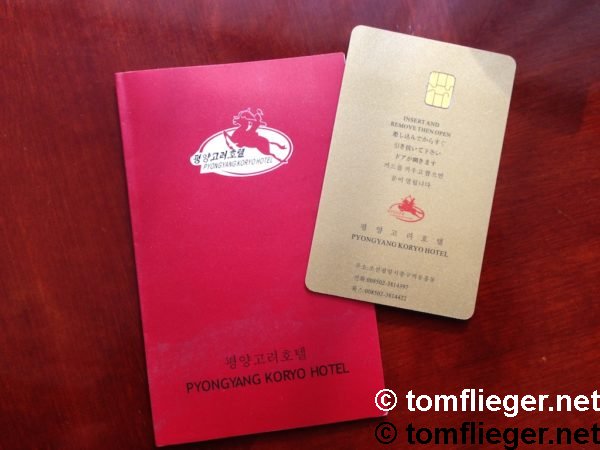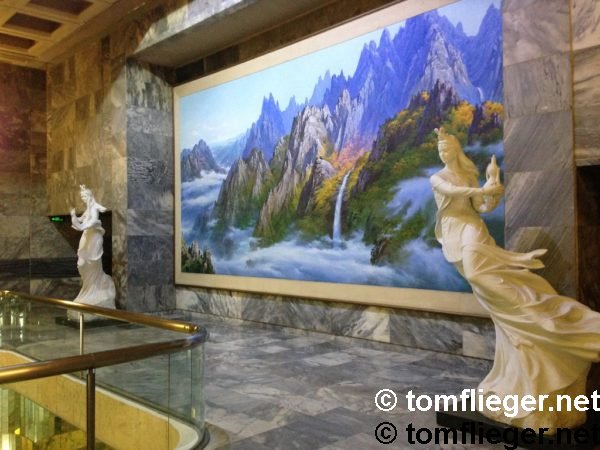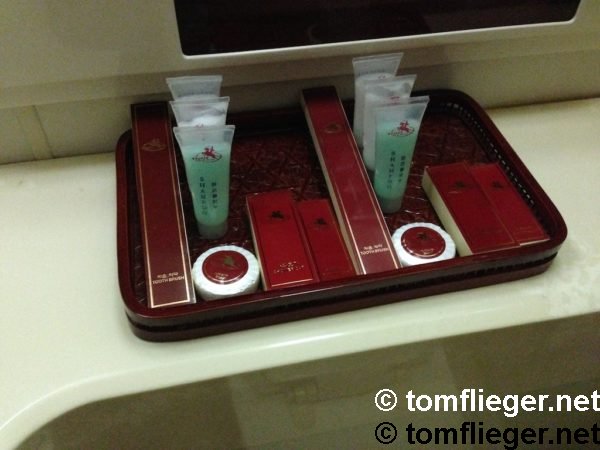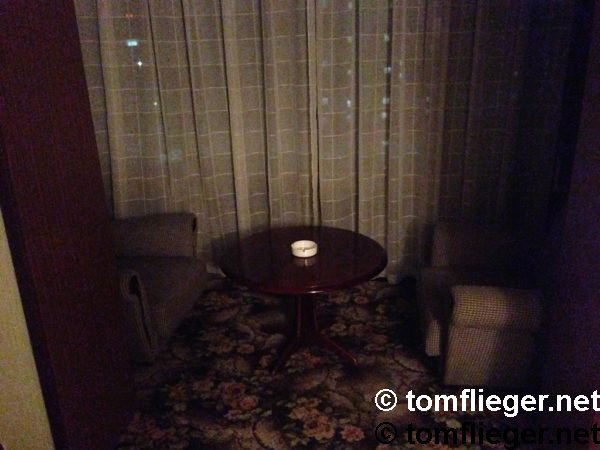 The bed was extremely hard, but I slept very well in it. The pillows sounded and felt like plastic but were also comfortable.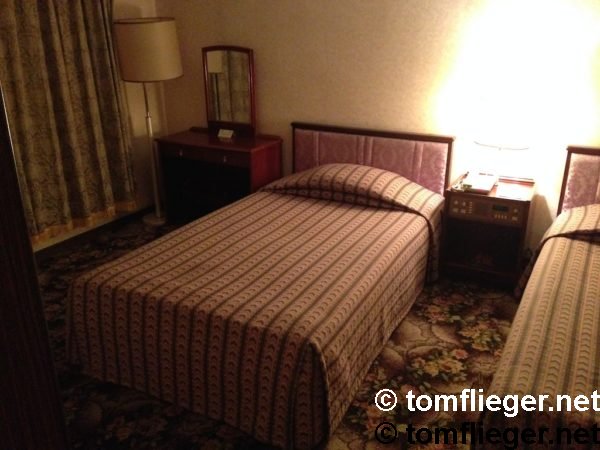 The bed sheet had an irritating "design" hole.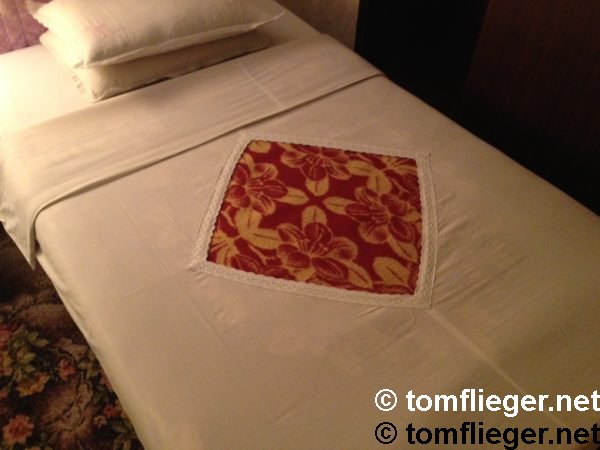 In the lamp I found a pair of well-dried socks instead of spy devices.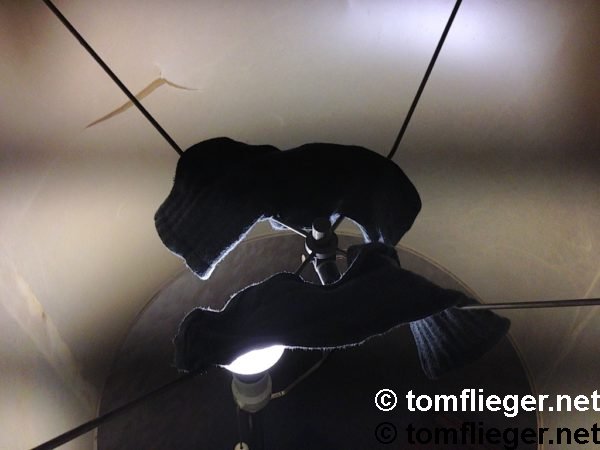 There was still a little view. Daily in the morning at 6 there were speakers with music and motivating announcements on the streets, somtimes even in the middle of the night.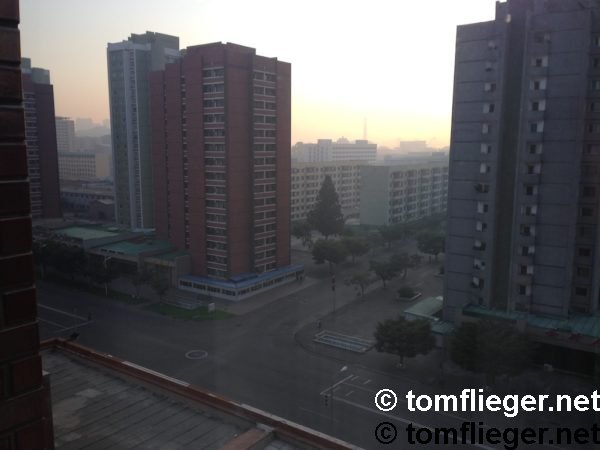 Our floor in the hotel obviously was intended for Western tourists. There was an international direct dial telephone as well as Chinese and Russian TV channels. One radio station played motivating local music from 6 a.m.
Note the two German telephone area codes (formerly "West" and "East" Germany) and the formerly two capitals Bonn and Berlin.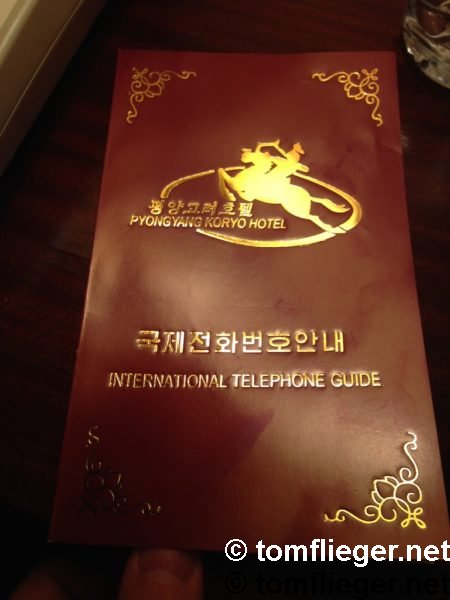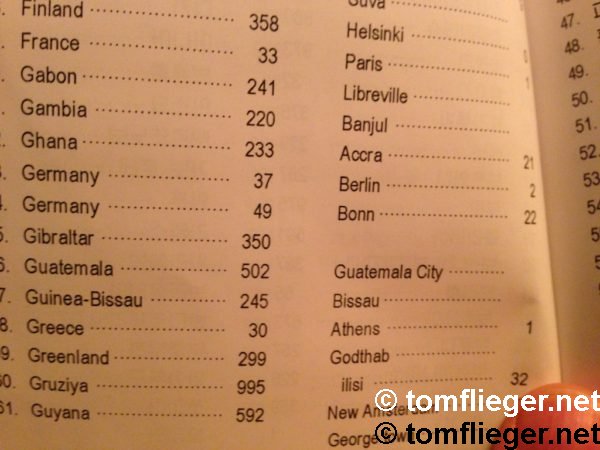 In the room there was always hot water and electricity available, but I was surprised of the American electrical sockets. Only in the bathroom there were European sockets, one with 220V and one with 110V.
I personally felt the many mirrors in the hotel disturbing, in the hallways, in the room and in the wardrobe right next to the bed.
At least one elevator always worked, partially you just had to wait a little longer.
Sunday
Breakfast usually consisted (exactly) four slices of toasted white bread, a packet of butter and jam, a small glass of yoghurt-like substance, a cup of tea or coffee and alternating sausage and / or pancake and a fried egg.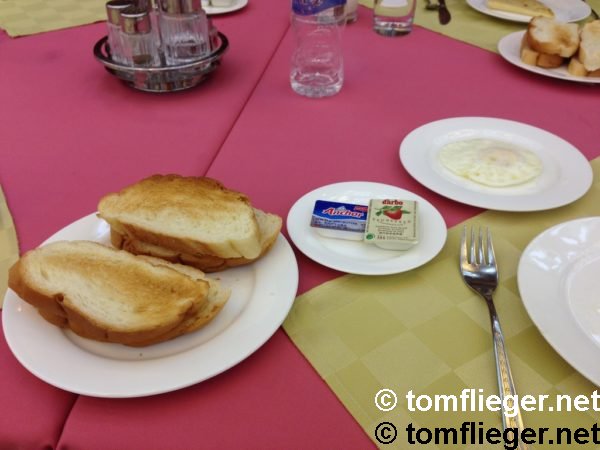 The service was celebrated with a lot of staff. For example, when a packet of jam fell out of the hand of the waiter during service, he ashamed and thoroughly wiped it clean before it was presented to the guest.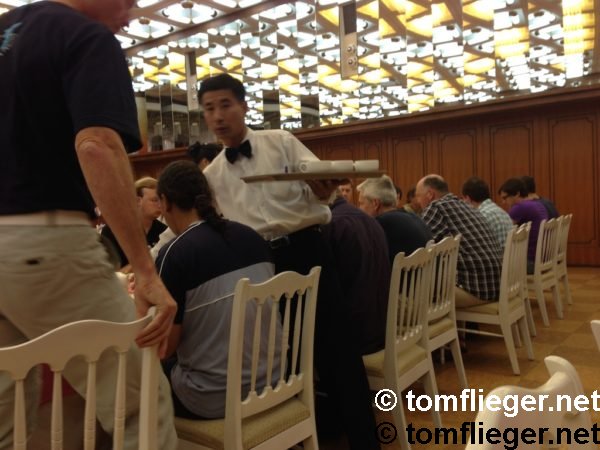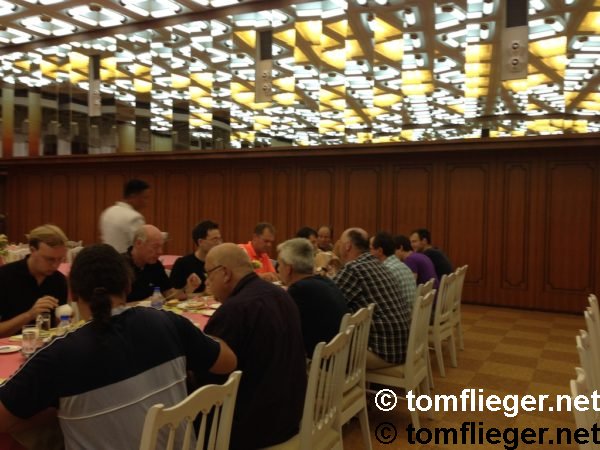 The visual charm of the hotel speaks for itself.
If a trip participant wanted / had to stay in the hotel for some reason, there was always a guide with him/her.
"Excursions" without a guide were not allowed – and if it just was in front of the hotel. At night the hotel exit was locked.
There was more traffic on the roads than I expected, including individual traffic and cabs. Public transport, i.e. buses and trams were always very full. Furthermore, there are many cyclists and pedestrians.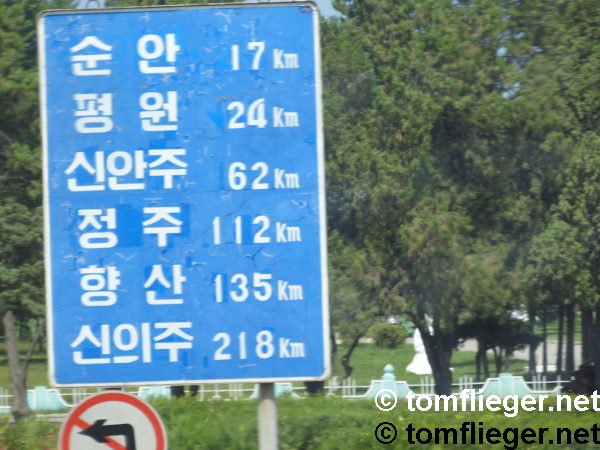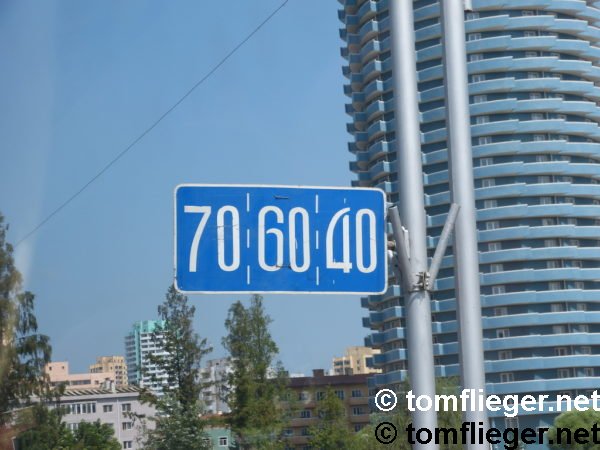 As we already noticed on our way from the airport to the hotel, the roads are in a quite poor condition and bumpy. Thanks to the quite modern bus this was bearable.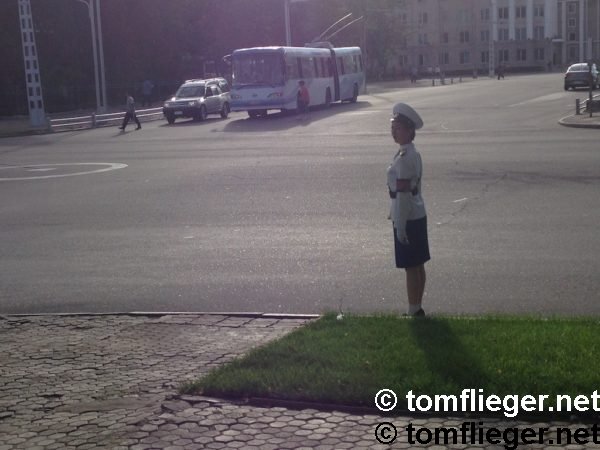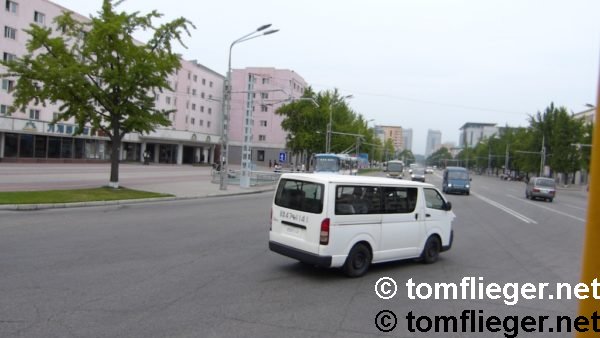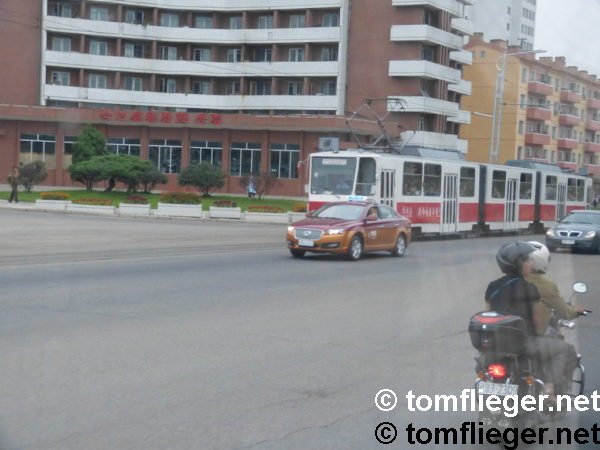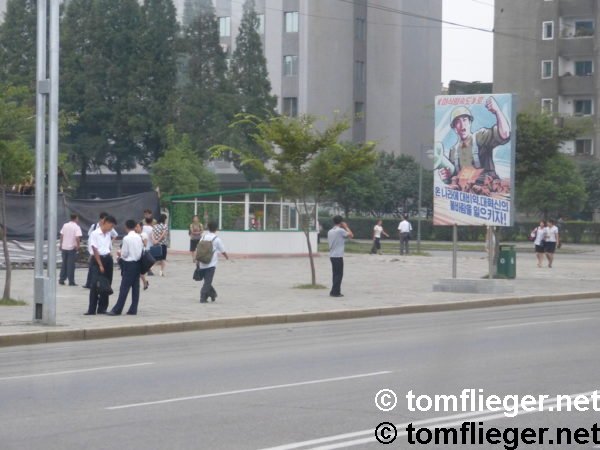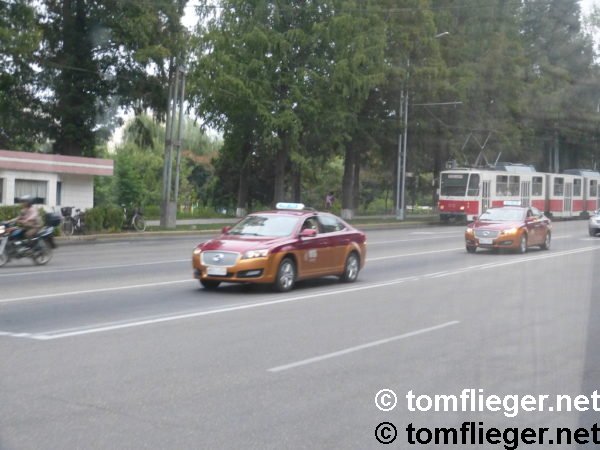 The licence plates in North Korea can be assigned by color:
– white are official vehicles / authorities vehicles (majority)
– white with a red star are VIP vehicles (some of them in front of our hotel) – note the many different Mercedes models, which you can also see everywhere in the city
– orange (yellow) are private vehicles
– black are military vehicles
– red (burgundy) are vehicles of joint ventures operating in the country
– blue are diplomats vehicles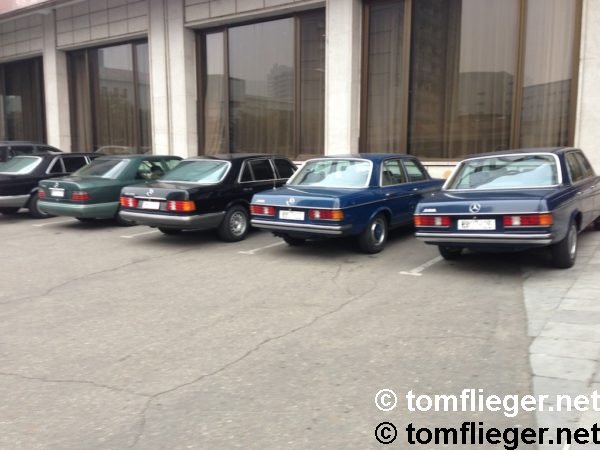 The main train station in Pyongyang. There are two international connections: one to Vladivostok and one to Beijing.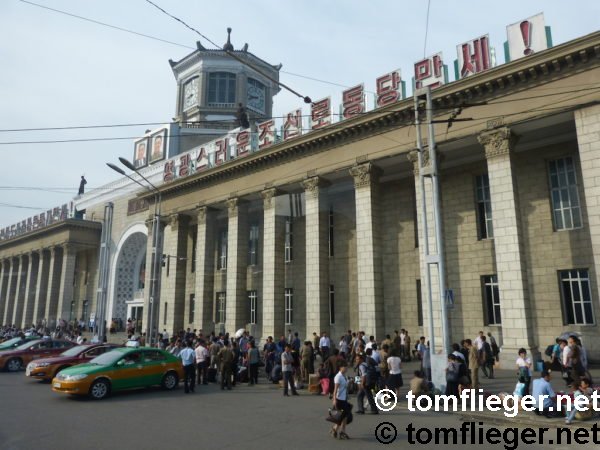 The station forecourt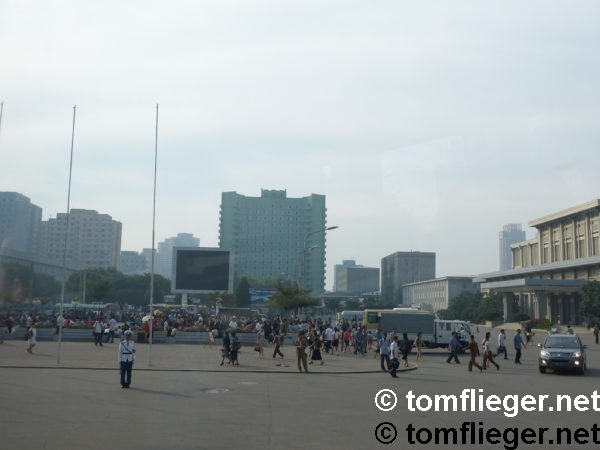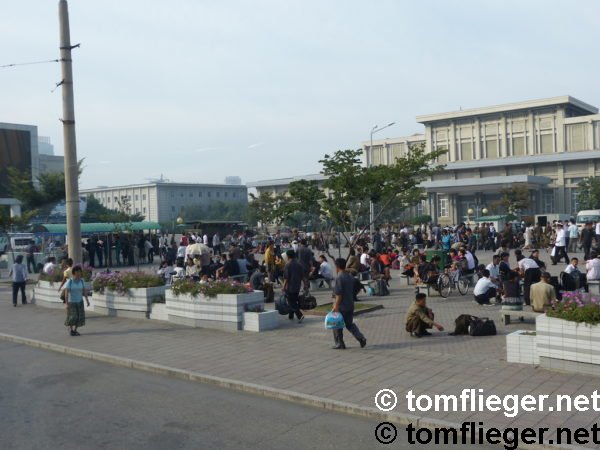 A striking feature of the North Koreans was that apparently everyone wore a red badge with Kim Il Sung and / or Kim Jong Il on it.
Today we took the bus to Panmunjom in the DMZ (Demilitarized Zone). Our guides Su Ryon ("Lotus") and Un Sok were in good mood and offered sweets.
The other group was supervised by Jong Chol ("little bear") and Jong Hua.
Gradually, single trip participants were unobtrusively involved into smalltalk by the guides, but also in the following days not everyone.
However, the residents on the streets in Pyongyang itself were partly skeptical, but far from all. The further we got out of the city, the more curious the citizens were. Children and young people rejoiced, laughed and waved, sometimes even adults.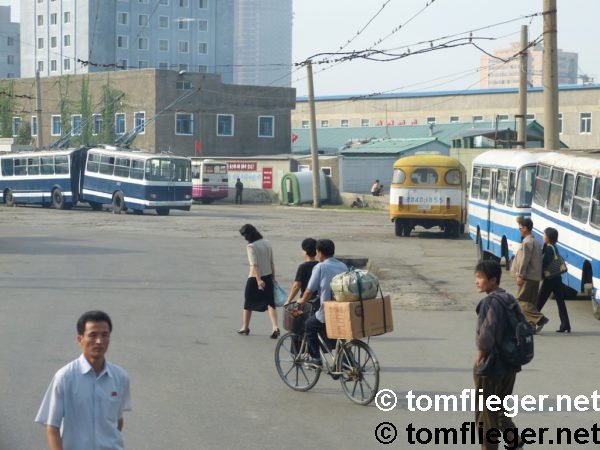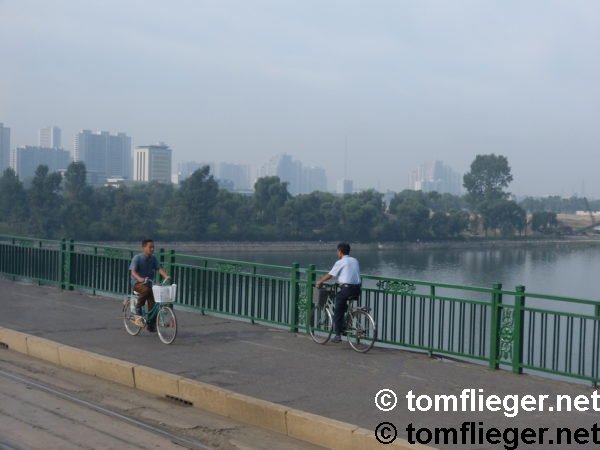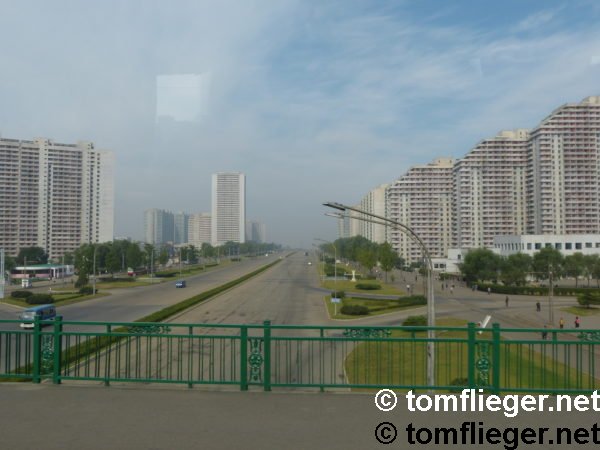 Panels and monuments with Kim Il Sung and Kim Jong Il were ubiquitous.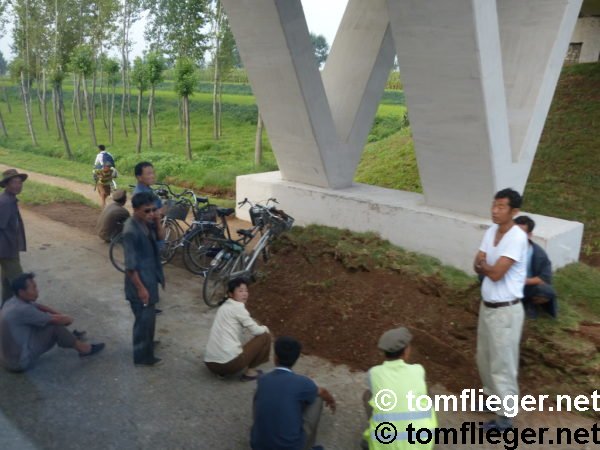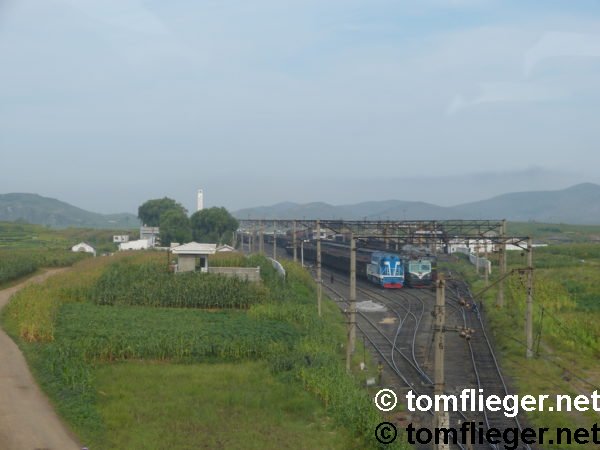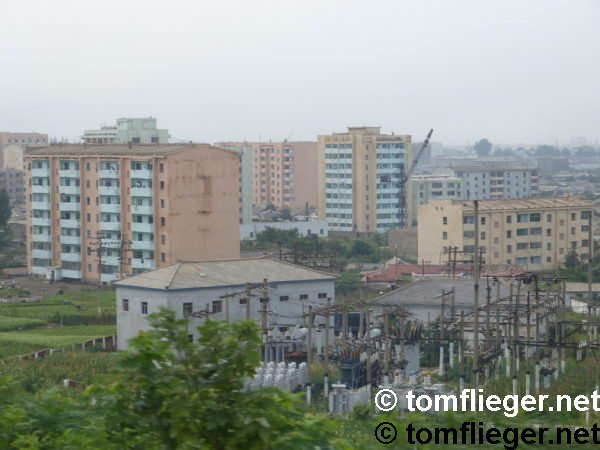 The landscape is dominated by trees, rice and corn fields. Overall, the nature is very green and multifaceted.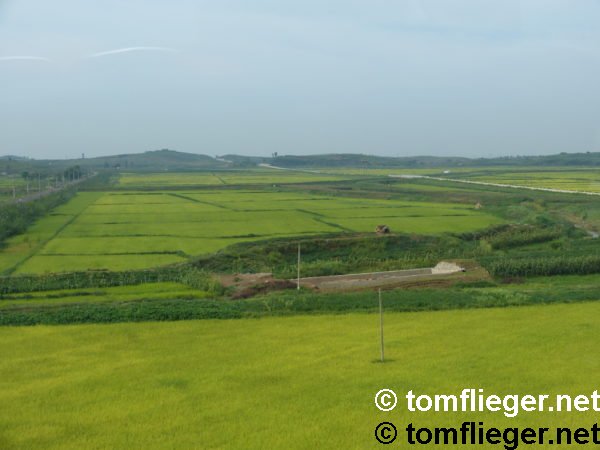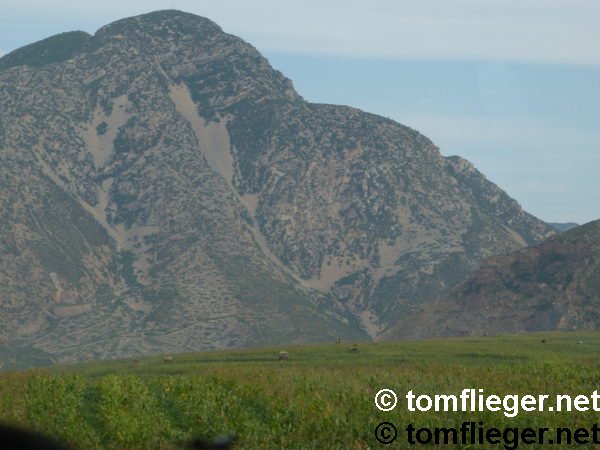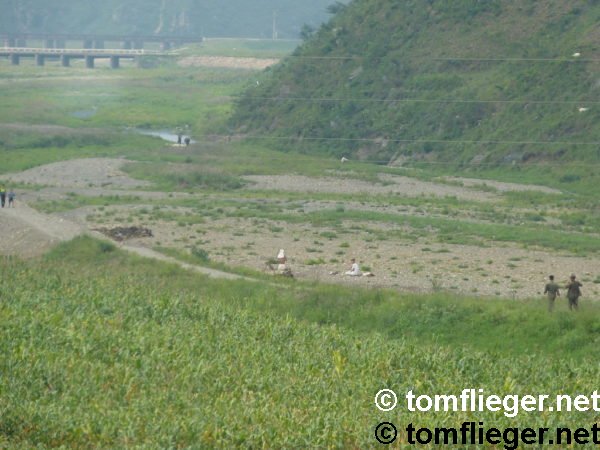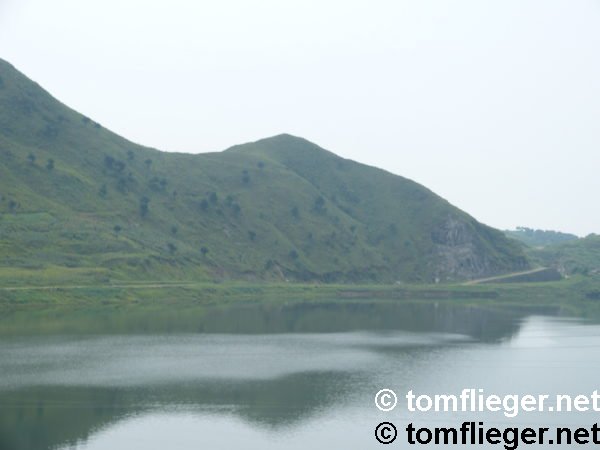 We paused at the service area "Frankenwald" (or similar).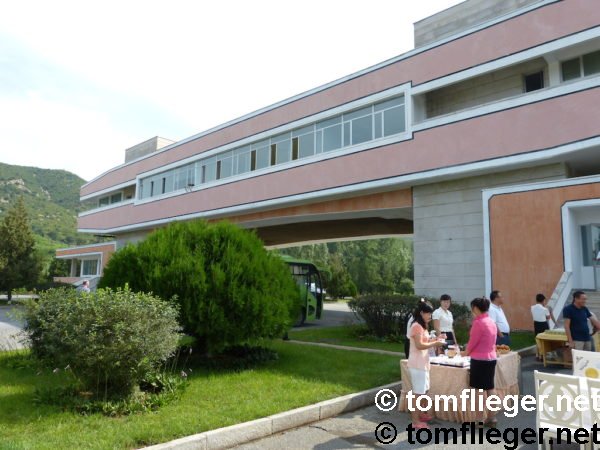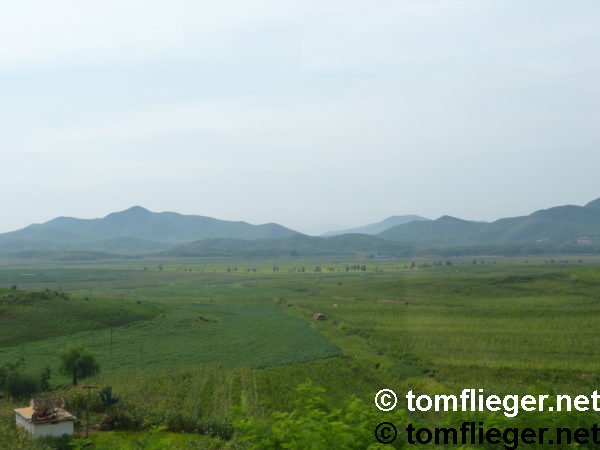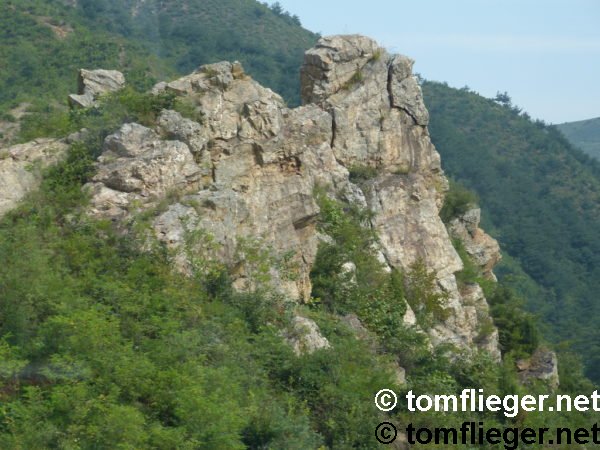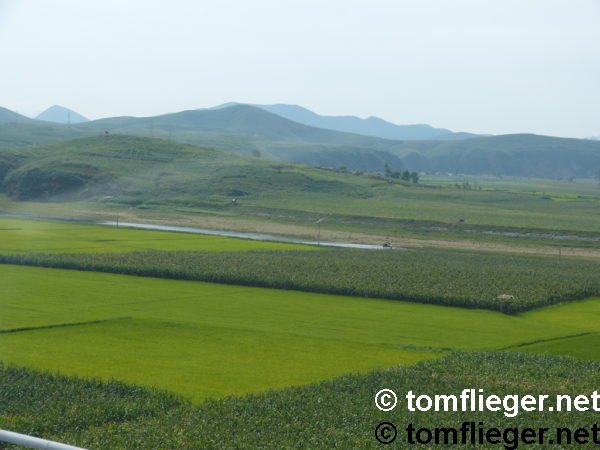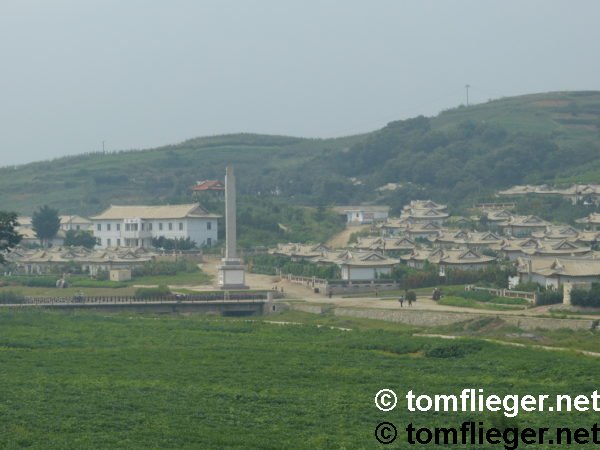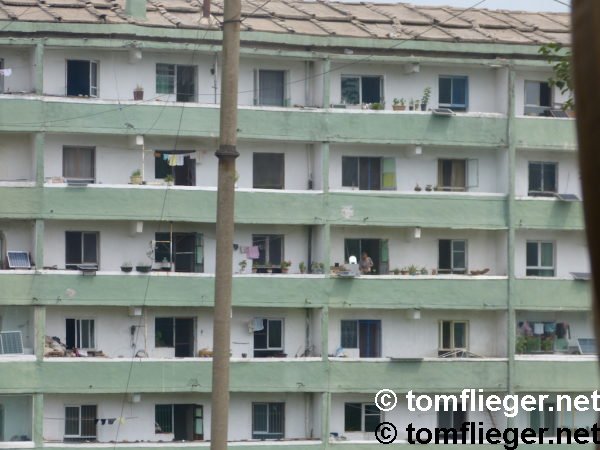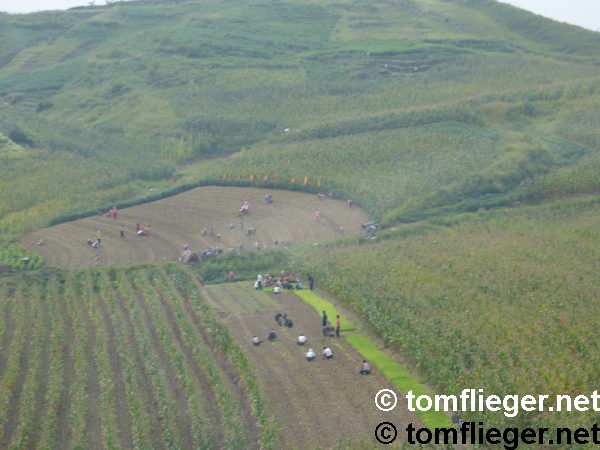 The streets got more empty, the closer we got to the DMZ.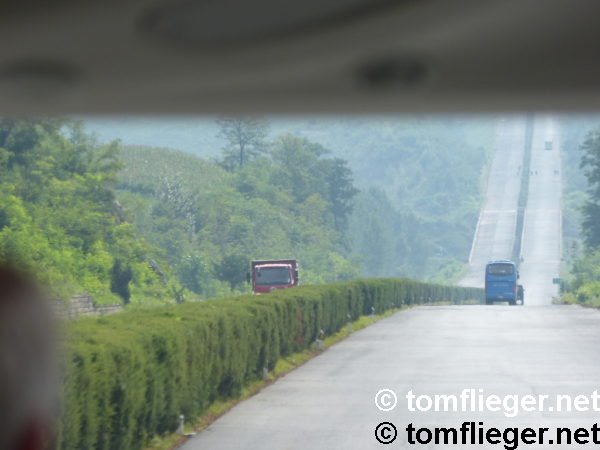 There were checkpoints with roadblocks. Apparently, we had been observed from the outside. Two participants photographed the checkpoints from the bus, because of that our bus was stopped at the next checkpoint and those two photographers were selected, they had to hand out their camera for checking. However, they got the cameras back unchanged with all the photos.
Regularly there were tank traps on the roadside, which can be blown up when needed, falling on the street and thus blocking for enemy traffic.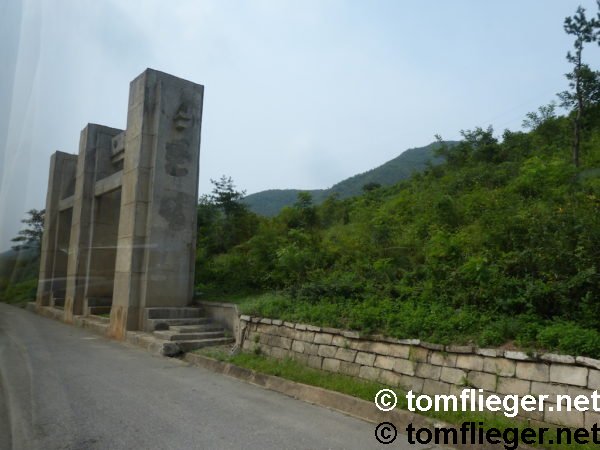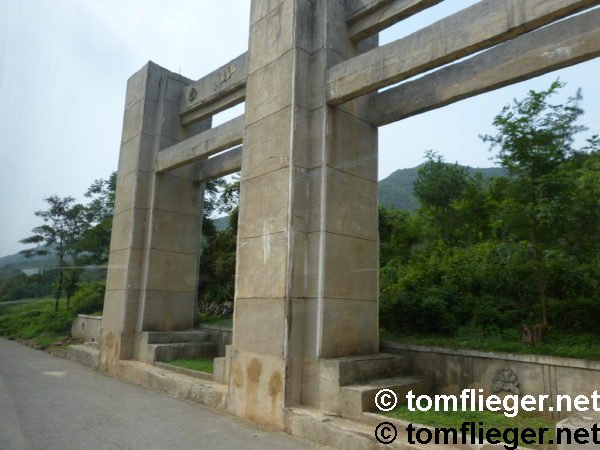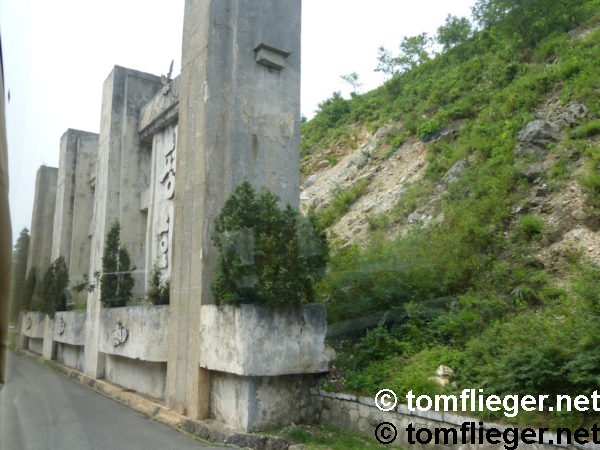 Arrived in Panmunjom.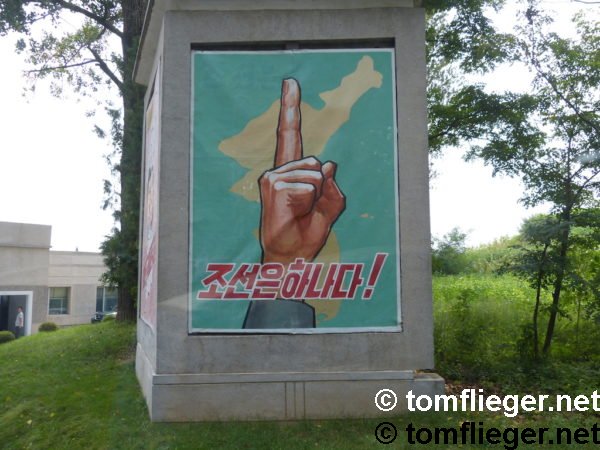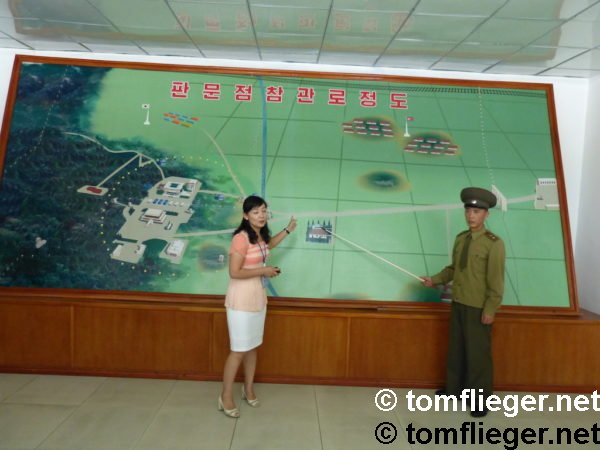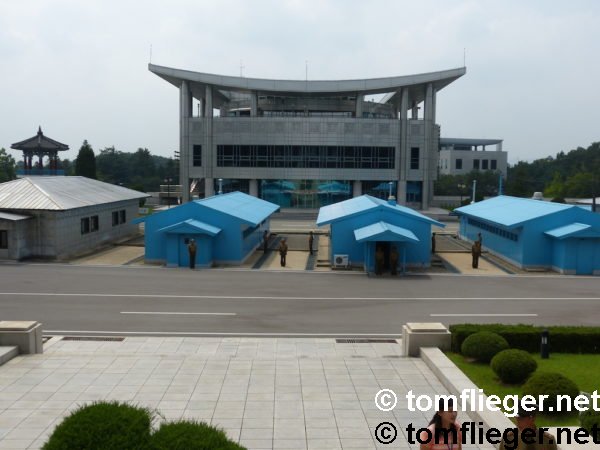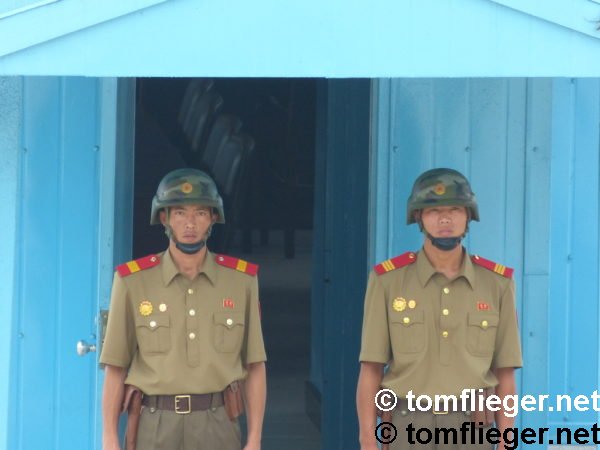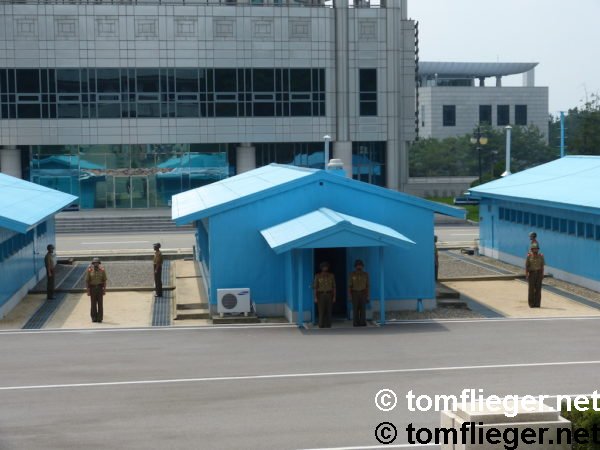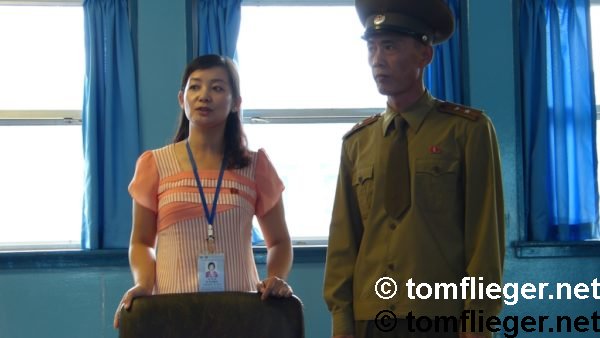 I was sitting right on the boundary / demarcation line between North and South Korea (38th degree of latitude – middle of the table, line of microphones). Exceptionally a visa-free entry and exit is possible in the center blue barrack.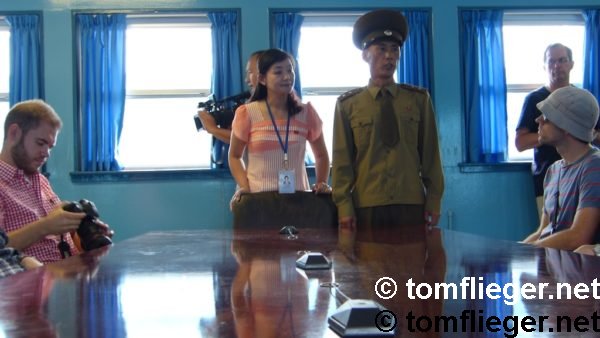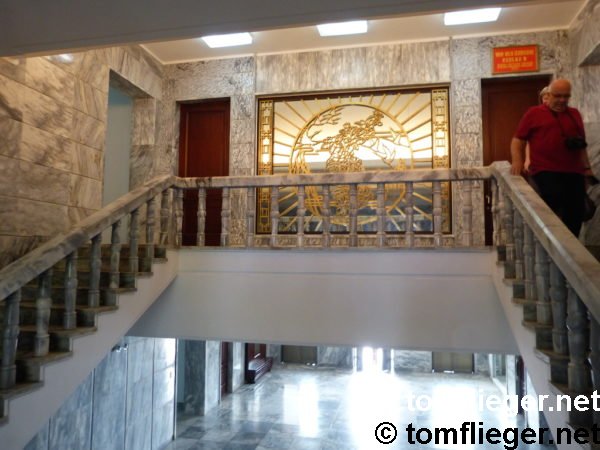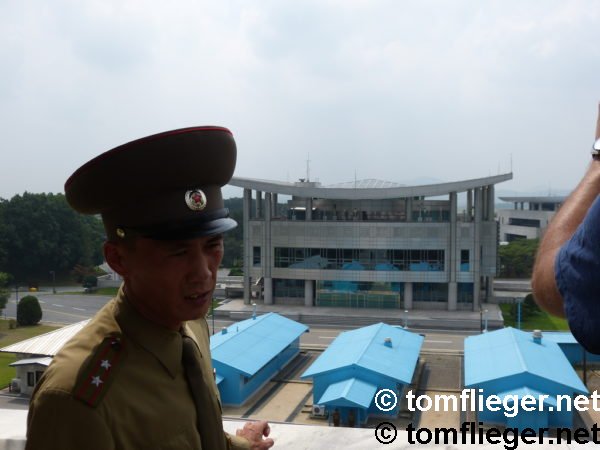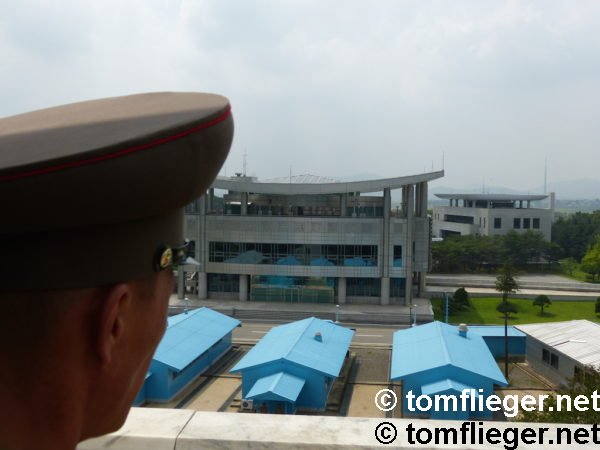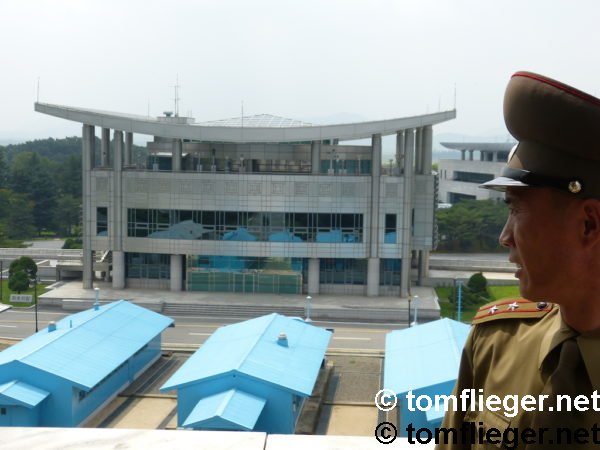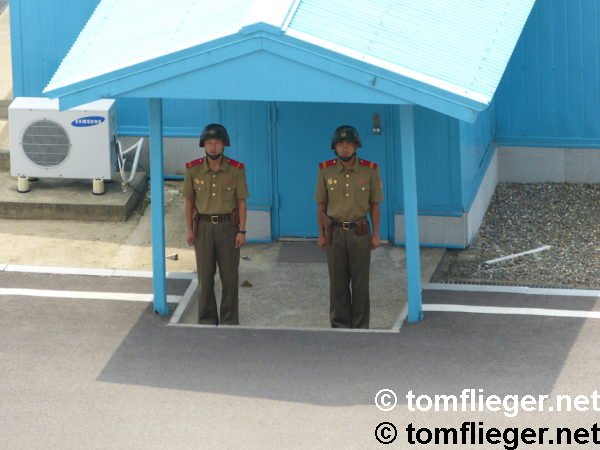 We had a lot of fun – and the Yanks new videos for evaluation 🙂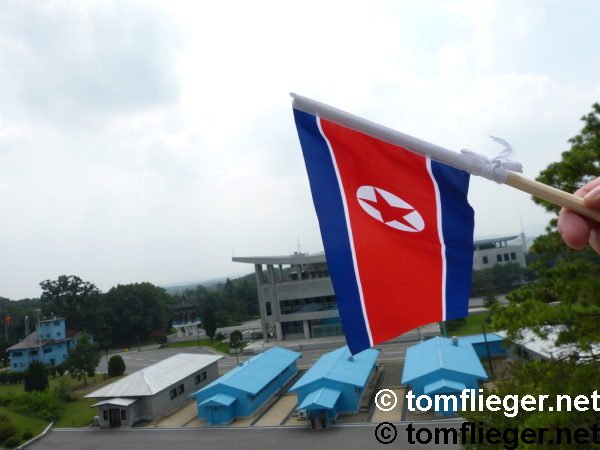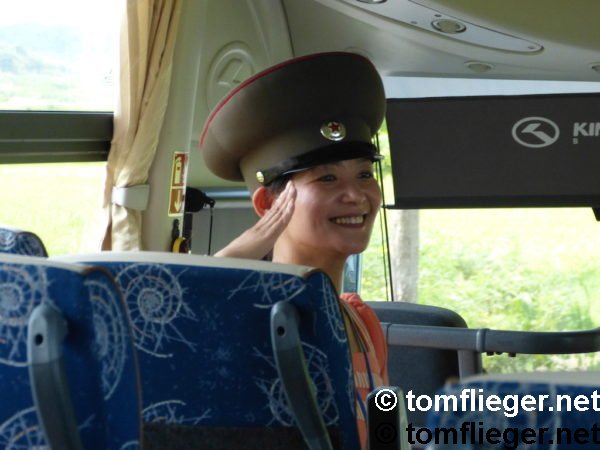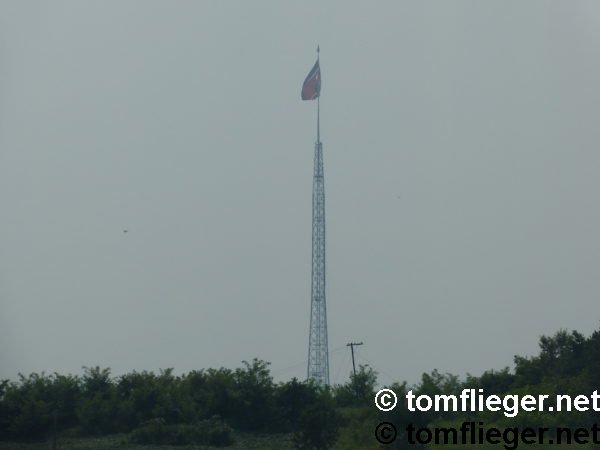 At this table the cease-fire was negotiated.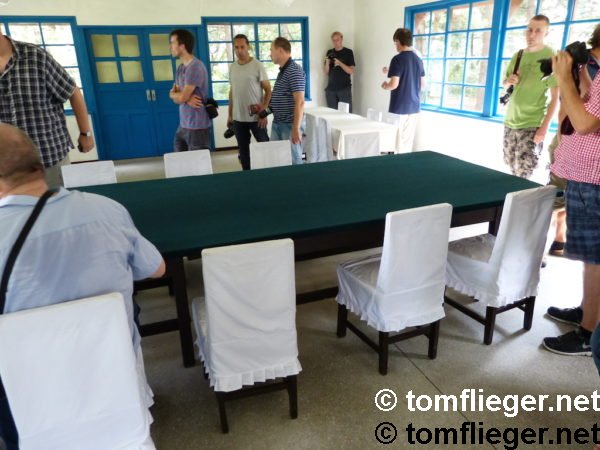 On a positive note, I felt that always also historical backgrounds were taught. These were indeed interpreted in the interest of North Korea, but you could still win a number of new insights.
We had lunch in Kaesong, after that a walking tour and a museum visit.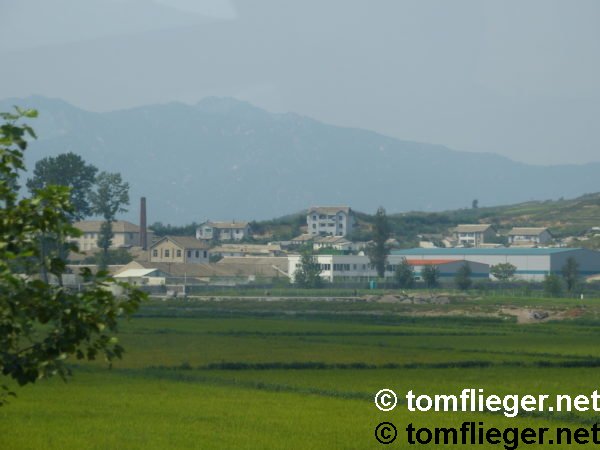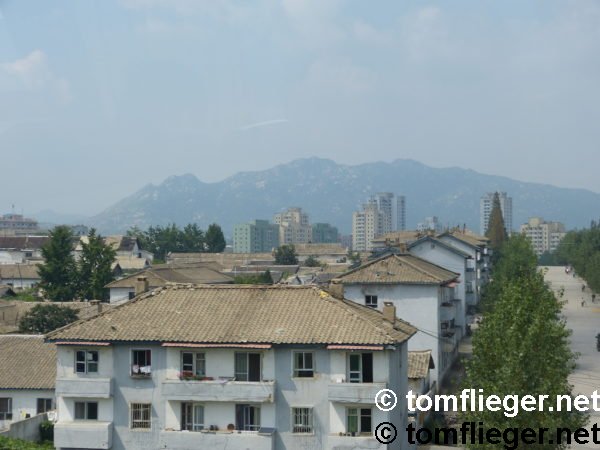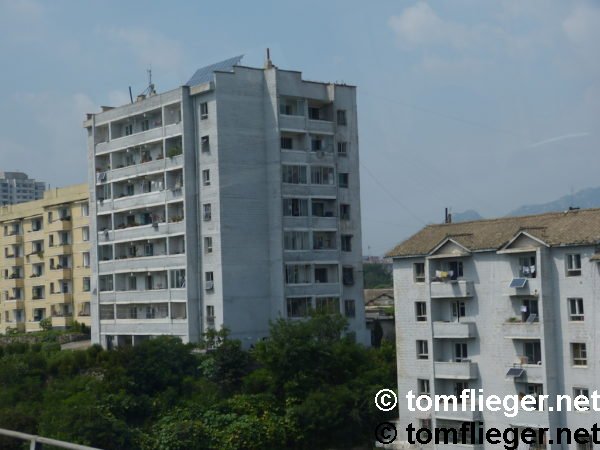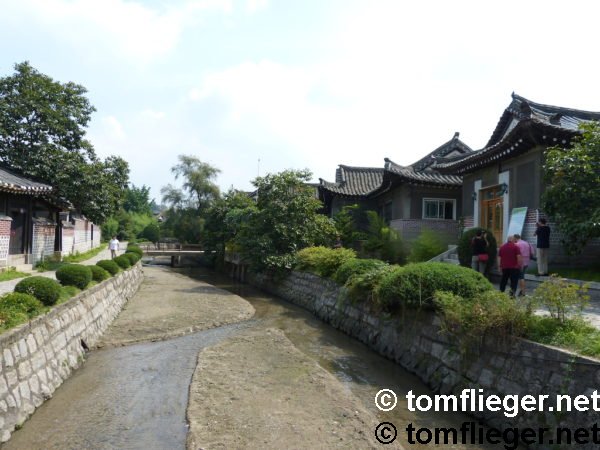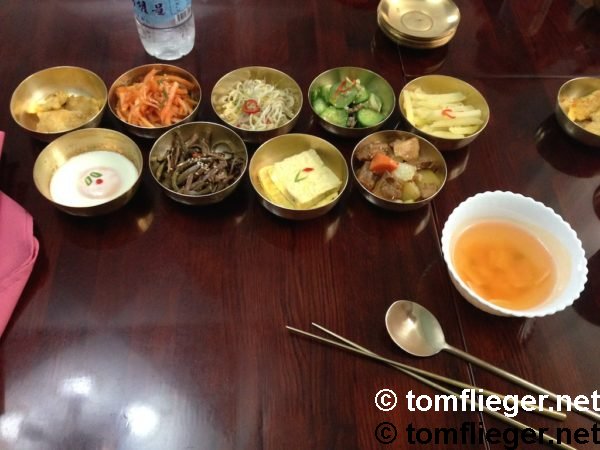 Souvenir

shops

were everywhere

,

in the hotel,

every restaurant

,

museum or

tourist attraction

.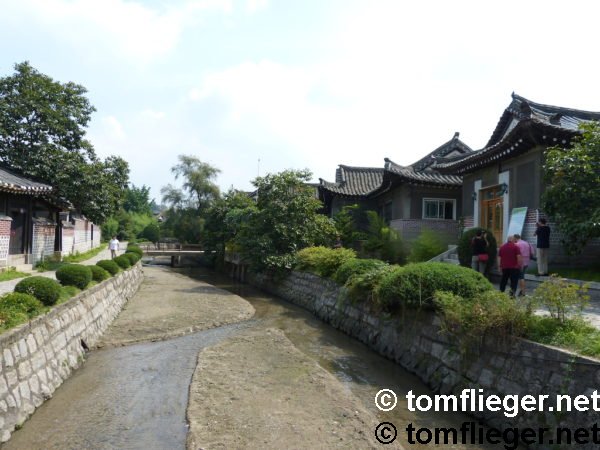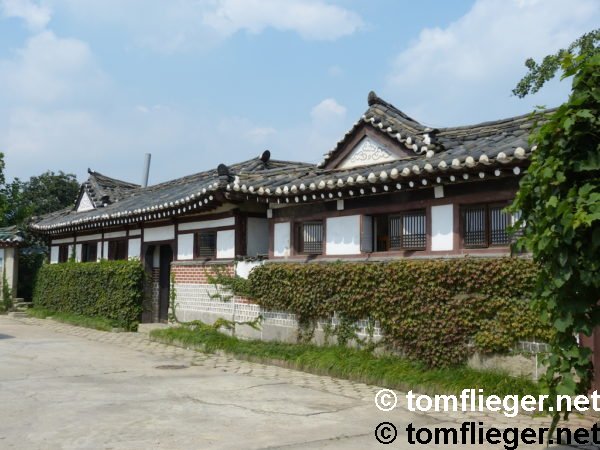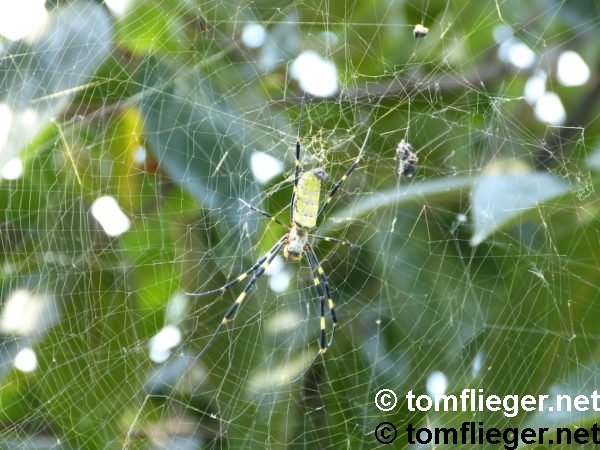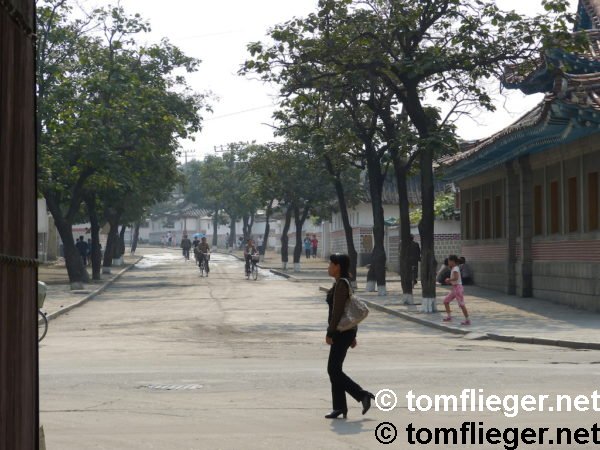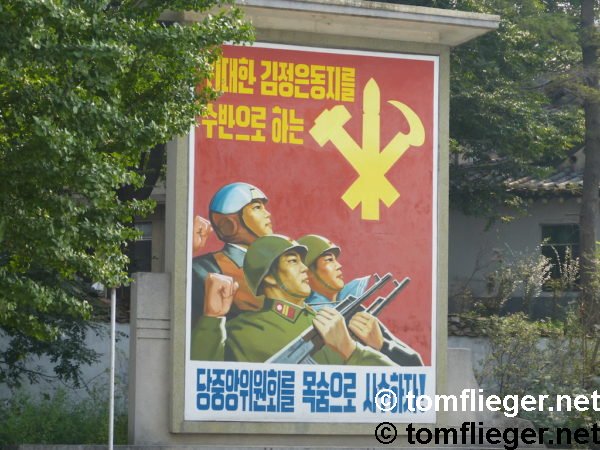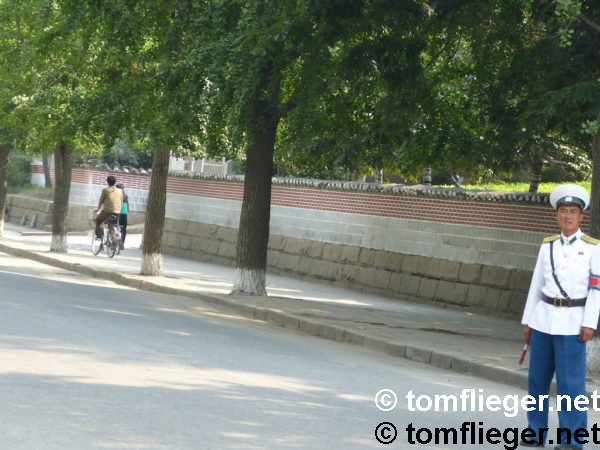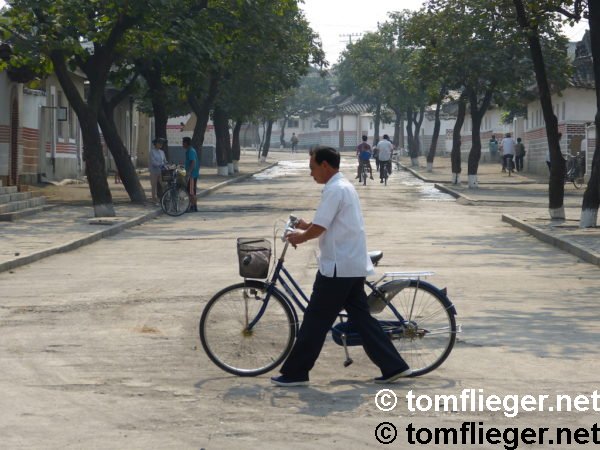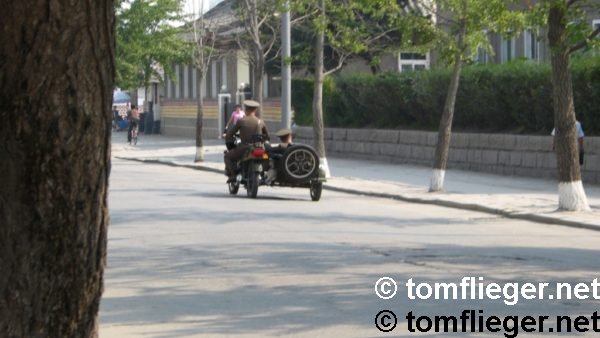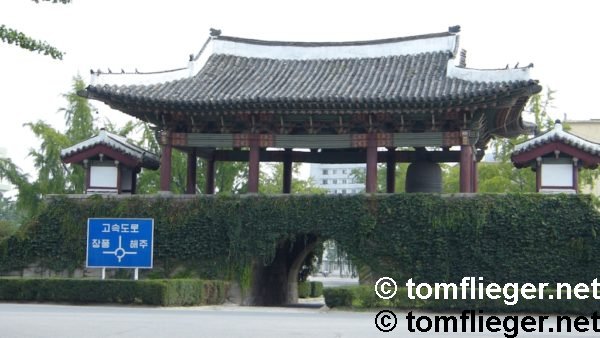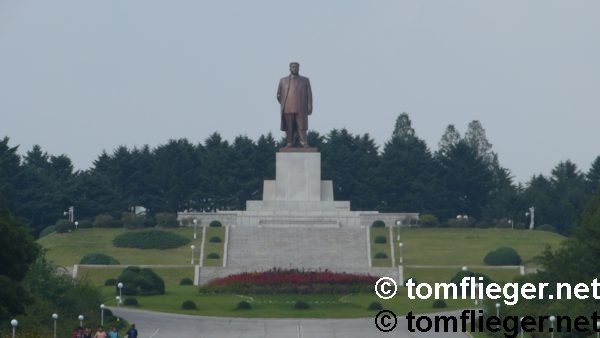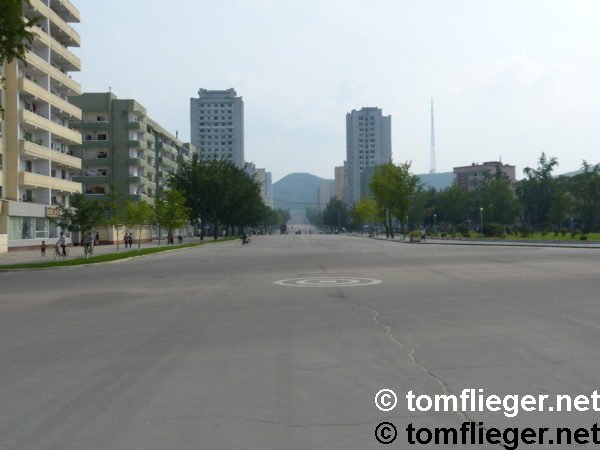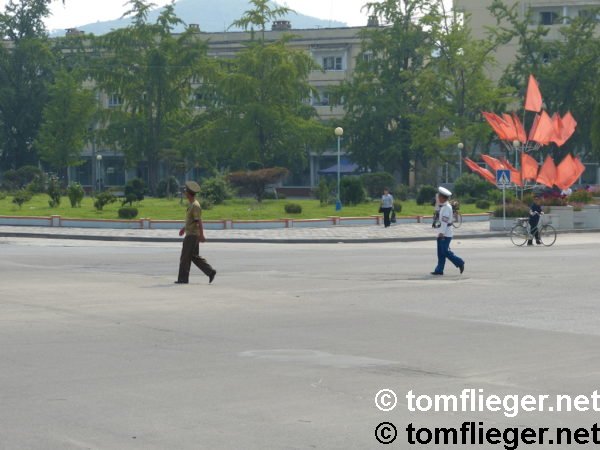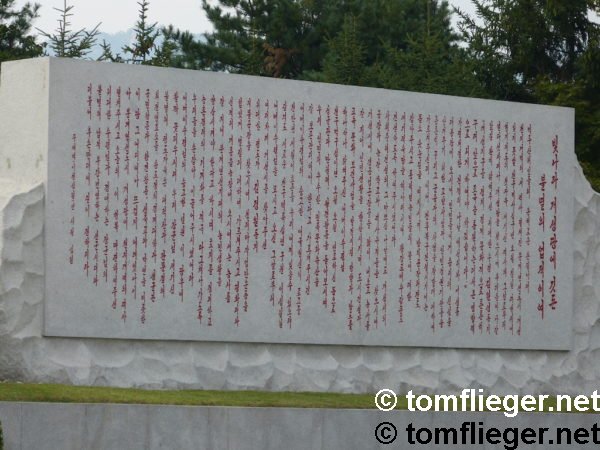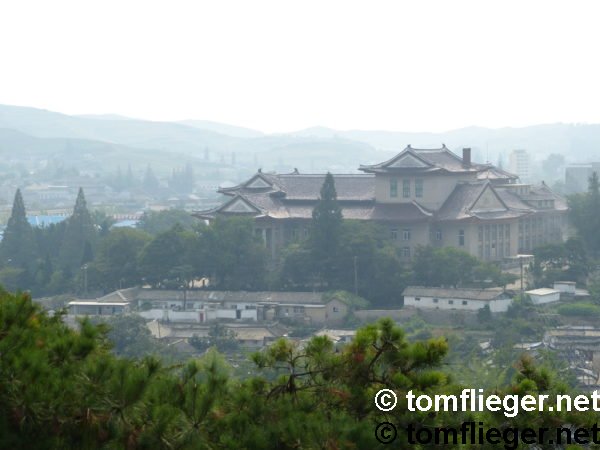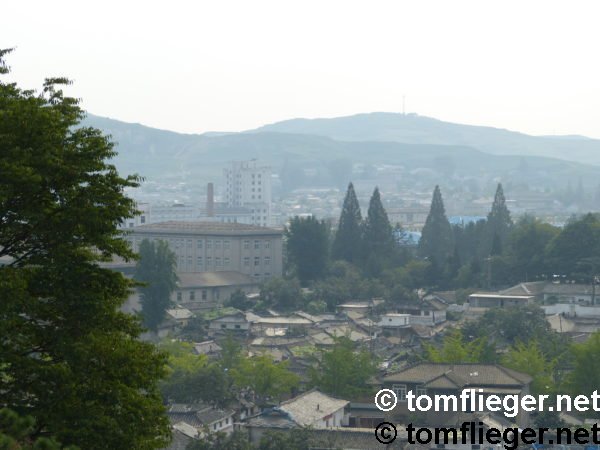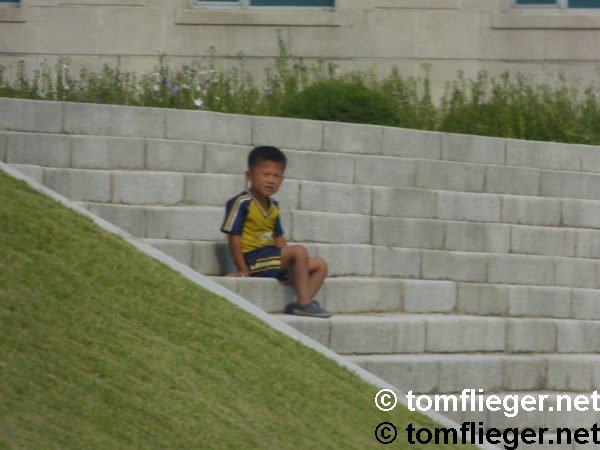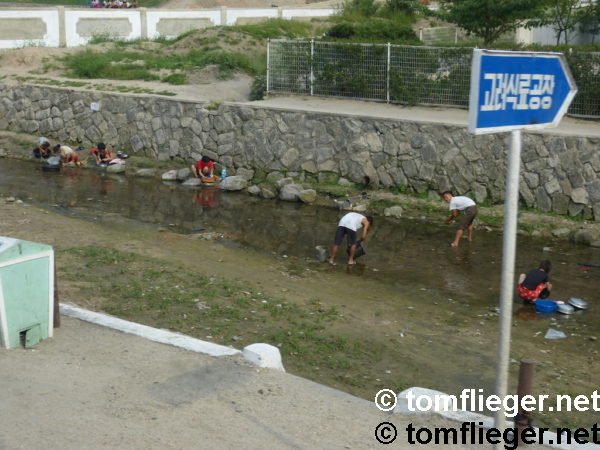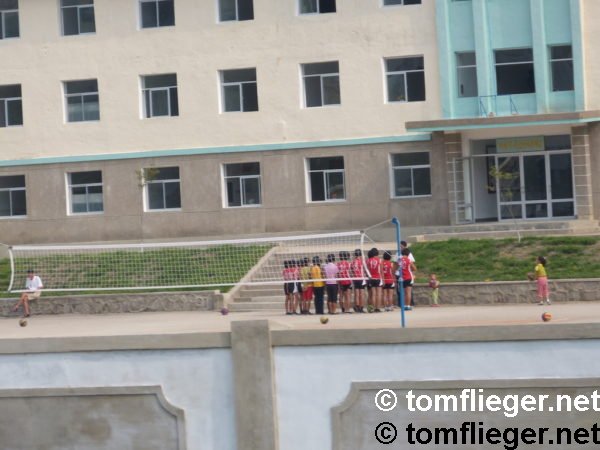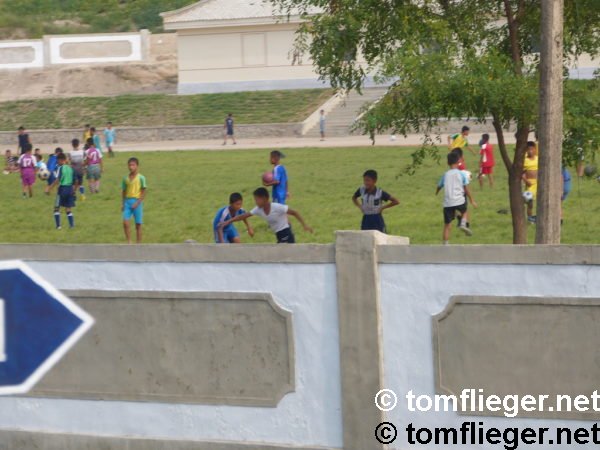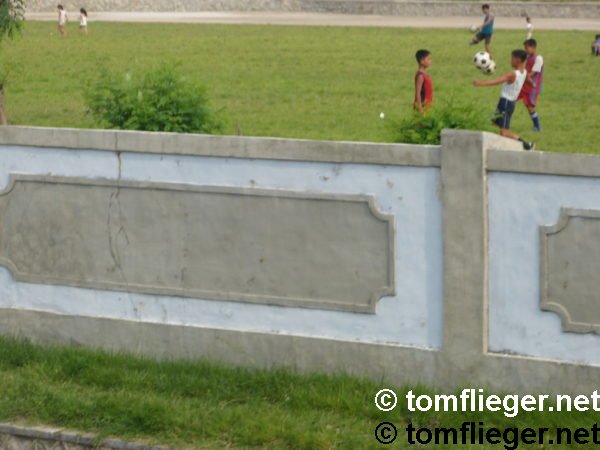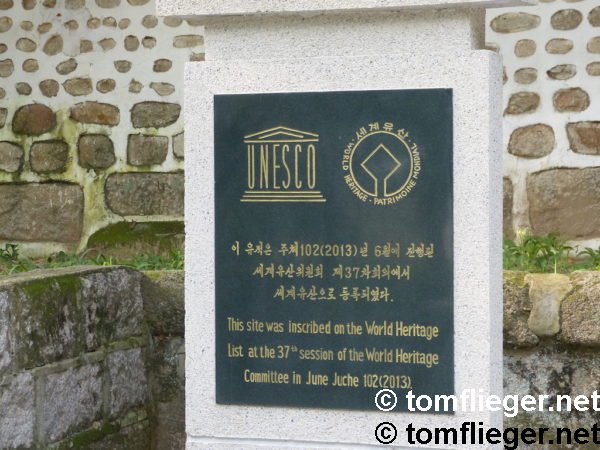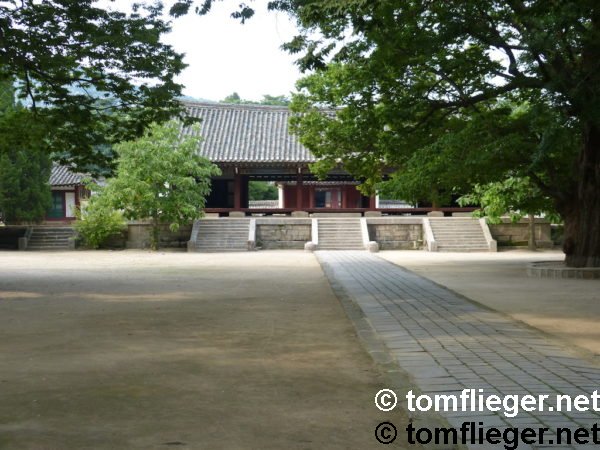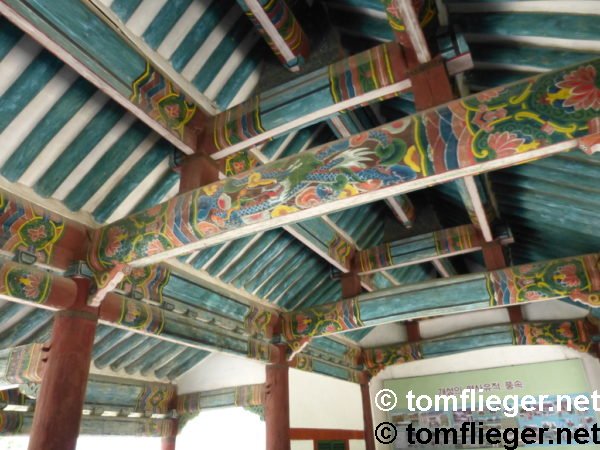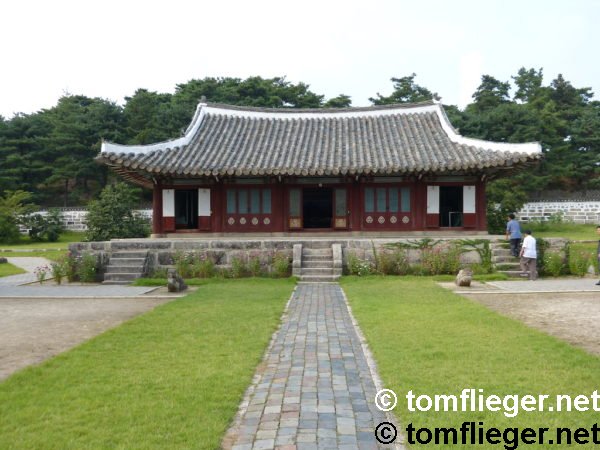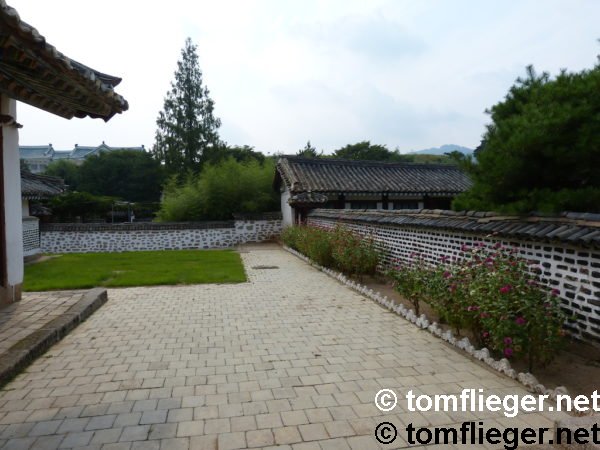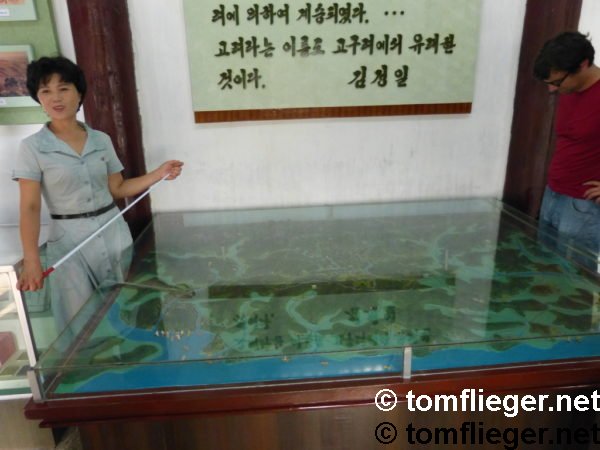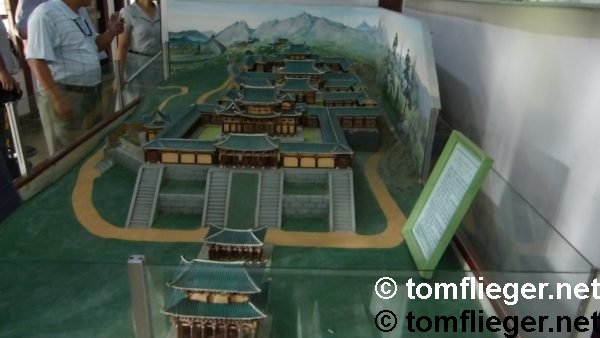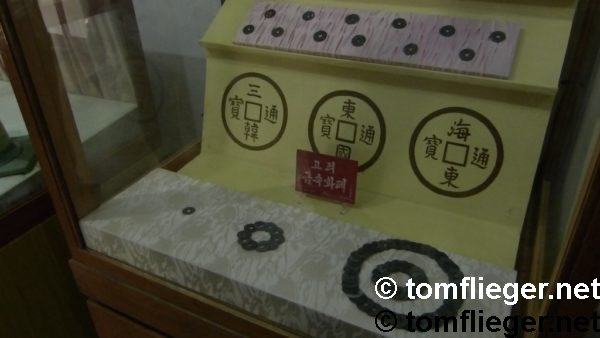 Ginseng roots of different ages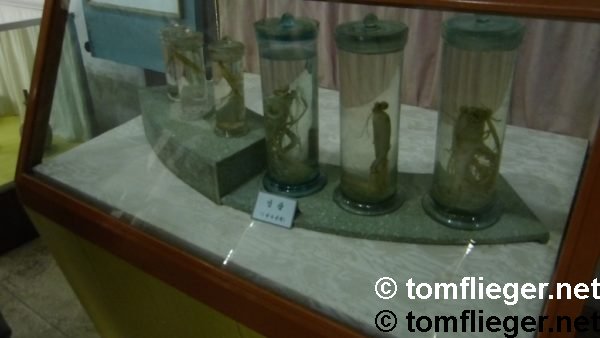 What did a slave cost again?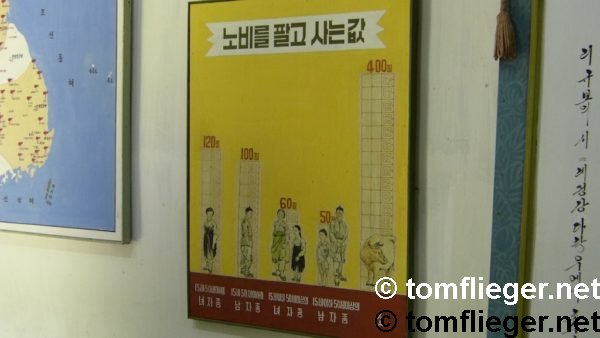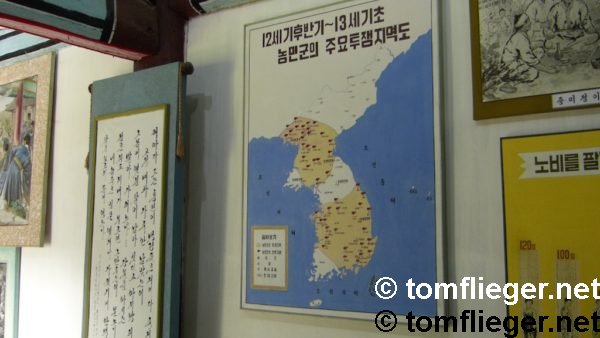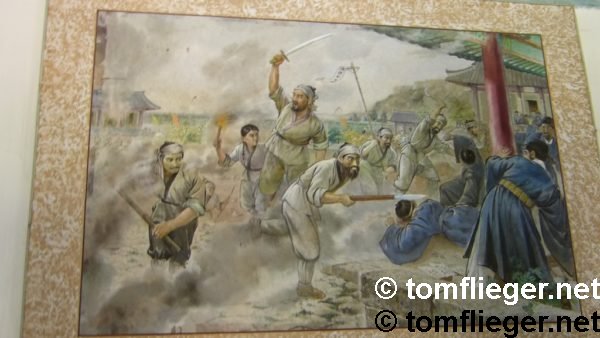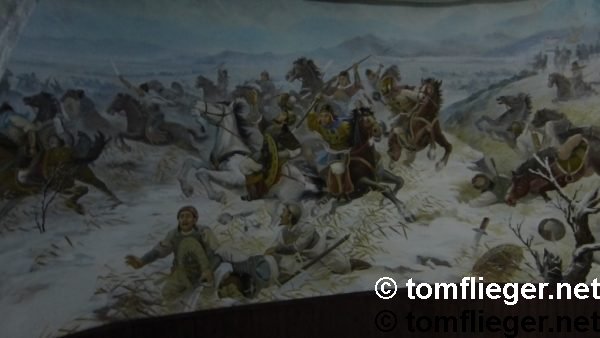 Always included: Photographer and Cameraman from KITC (Korea International Travel Company), through which all tourist activities in the country are organized.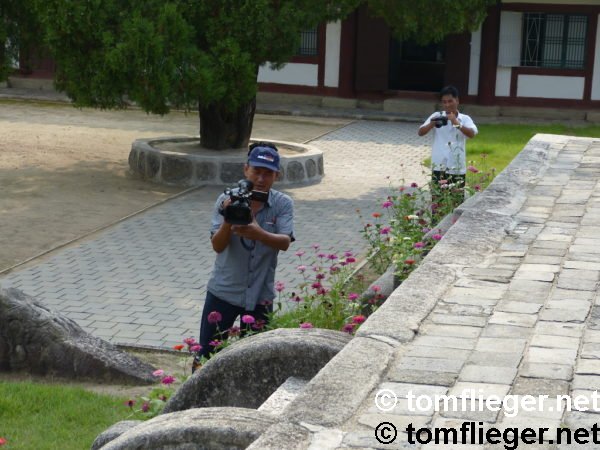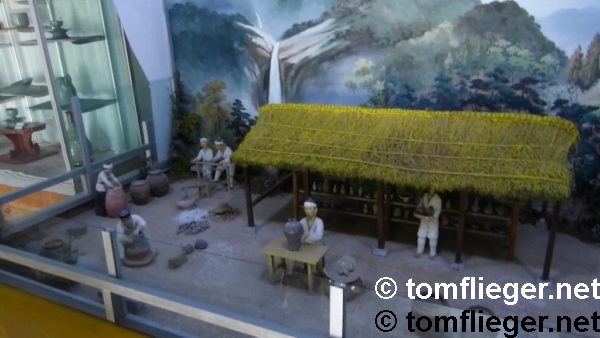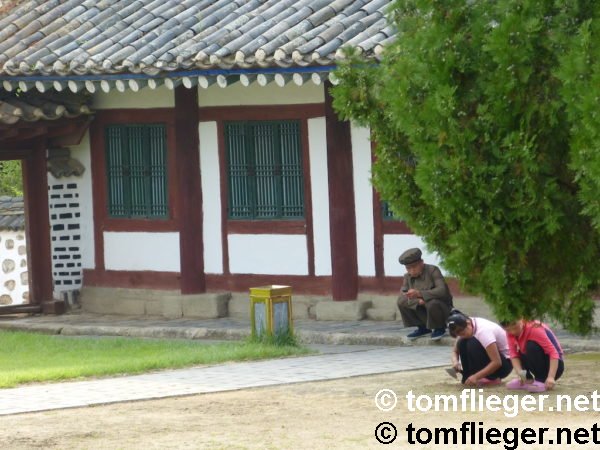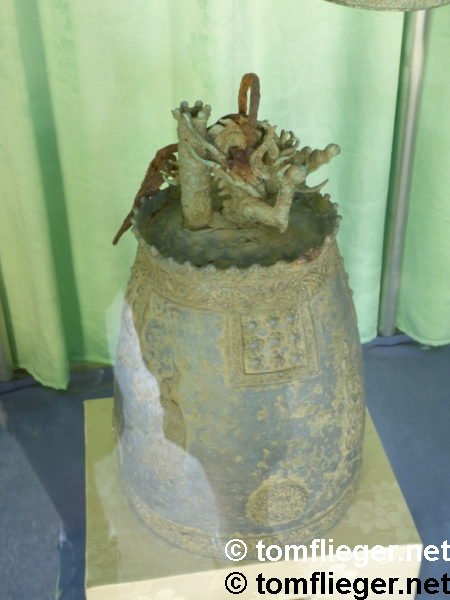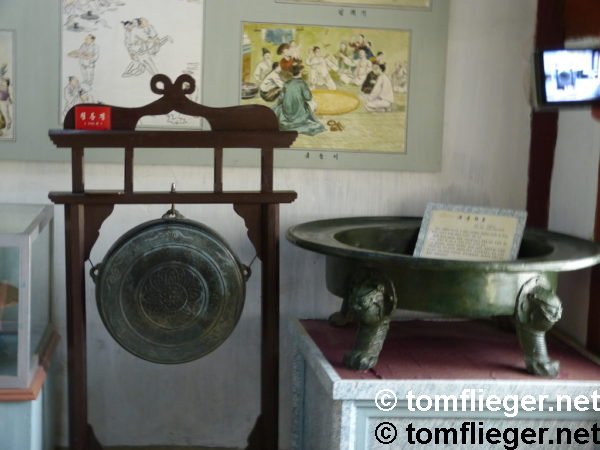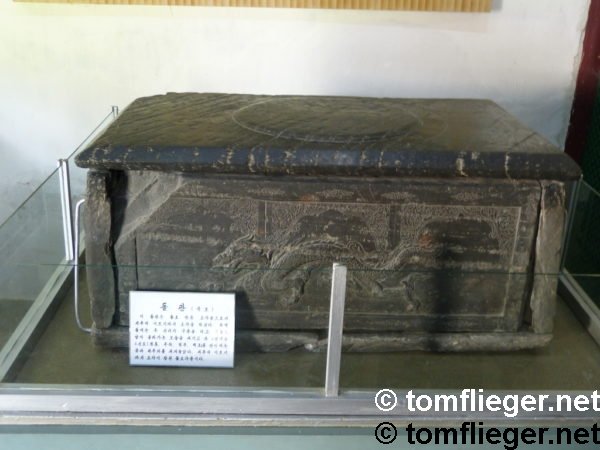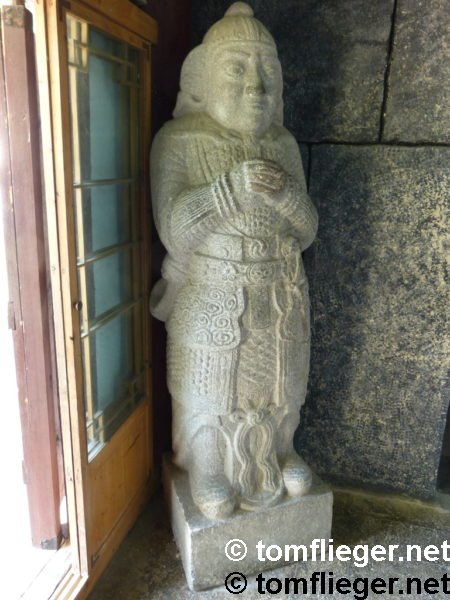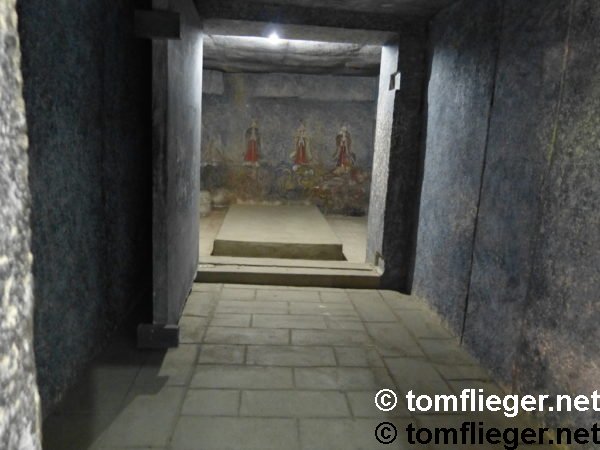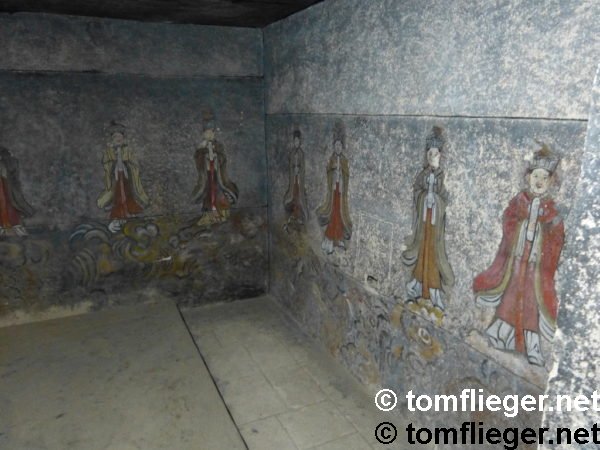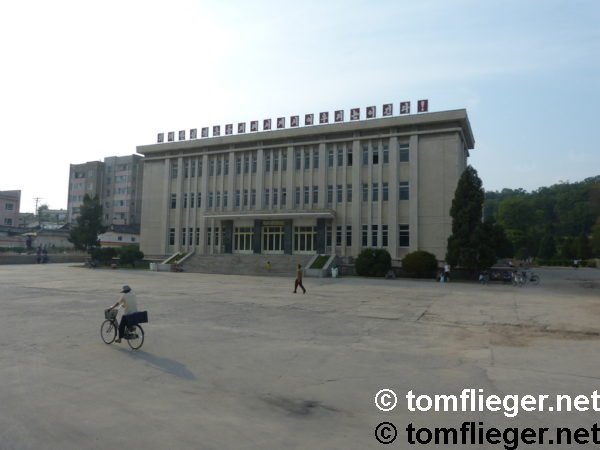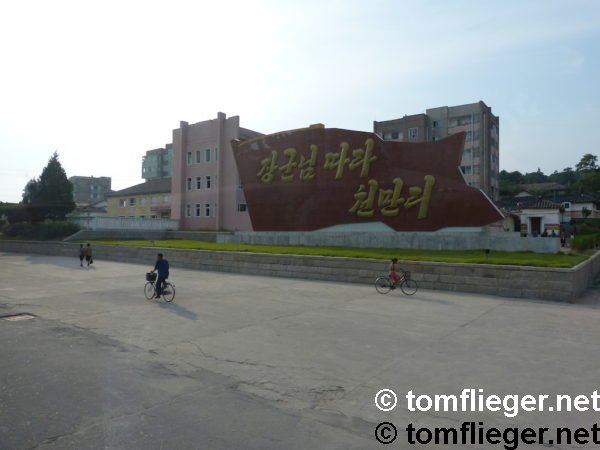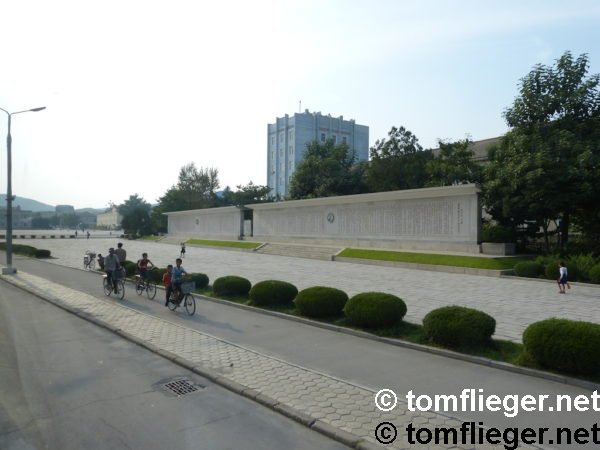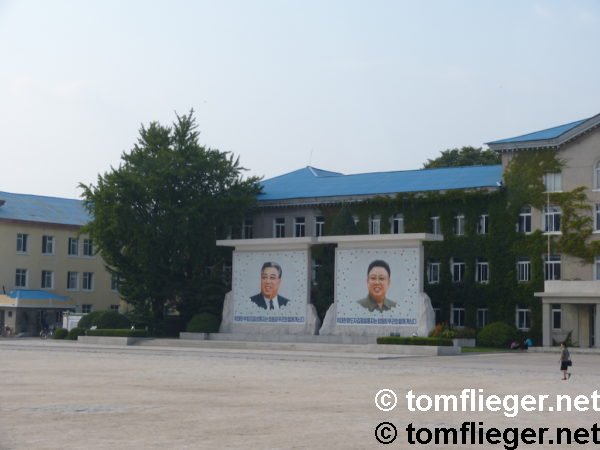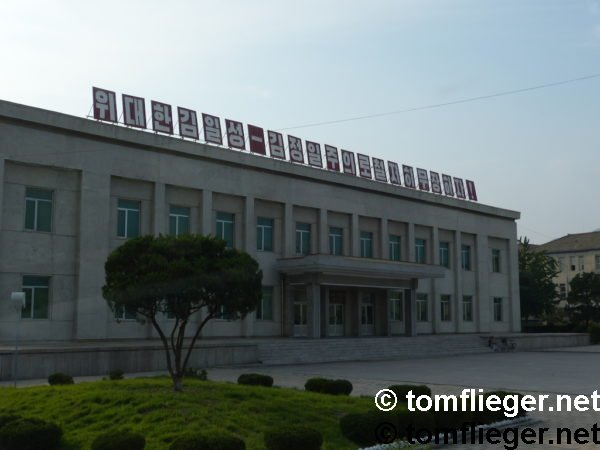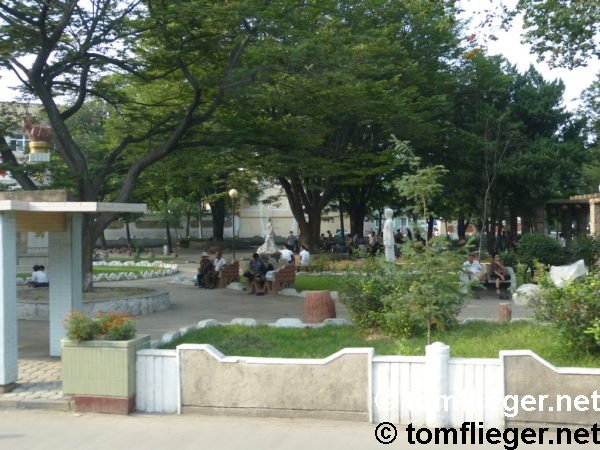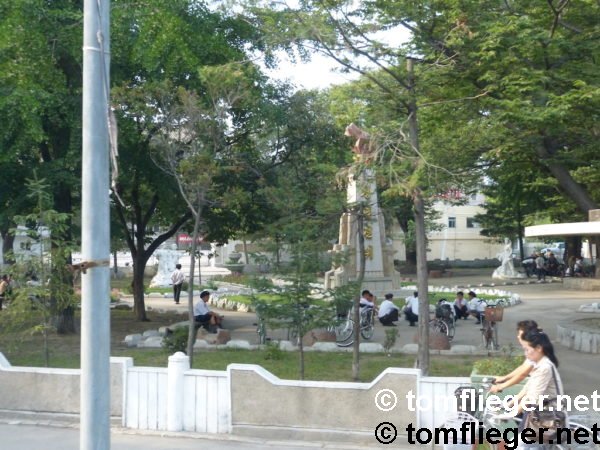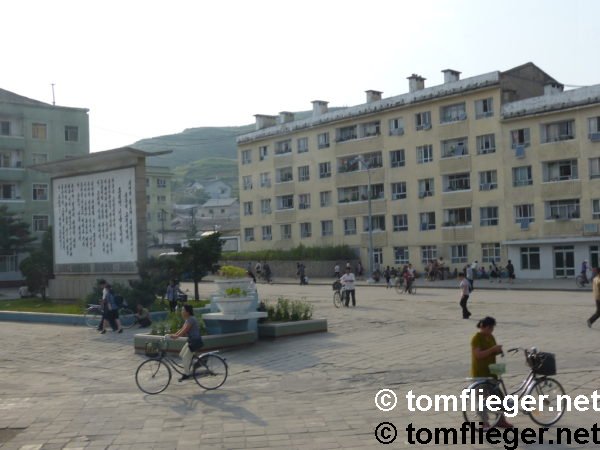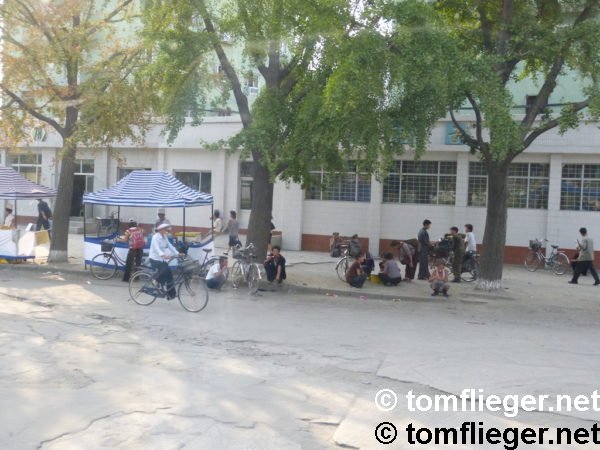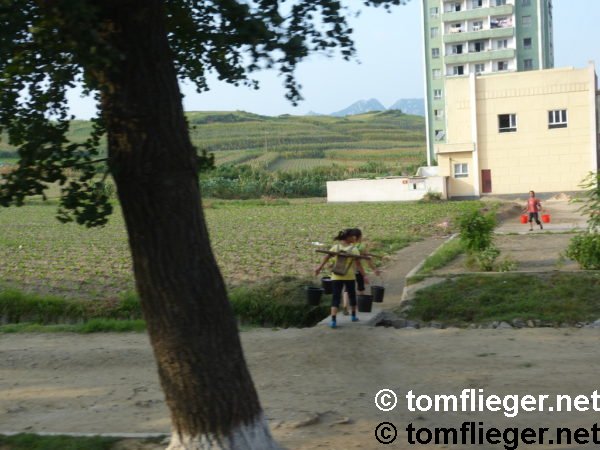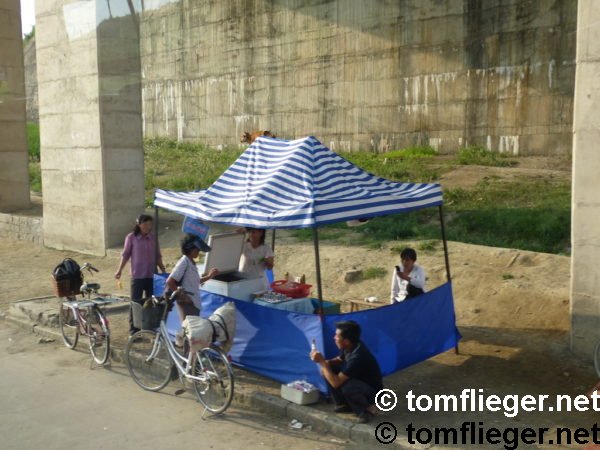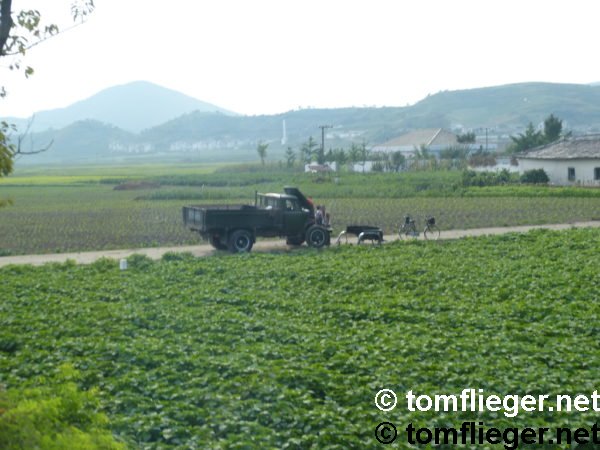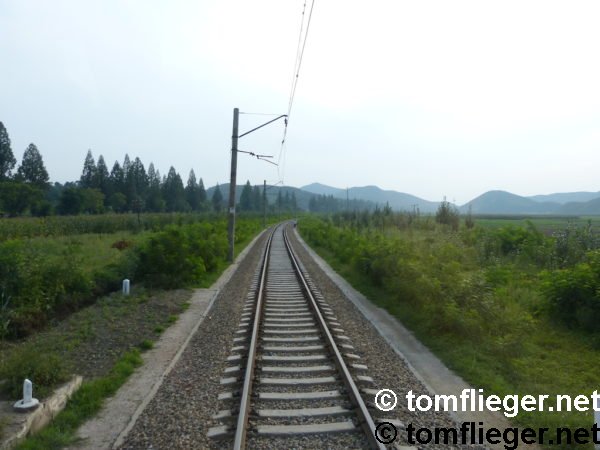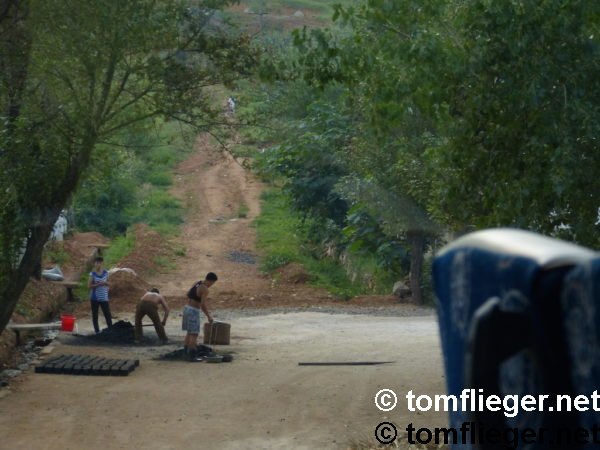 Tomb of King Kongmin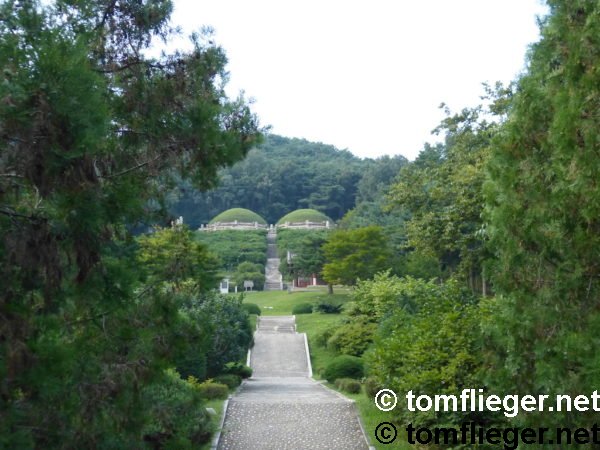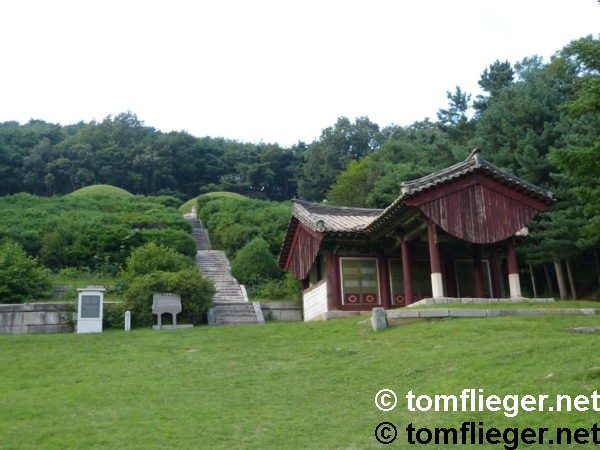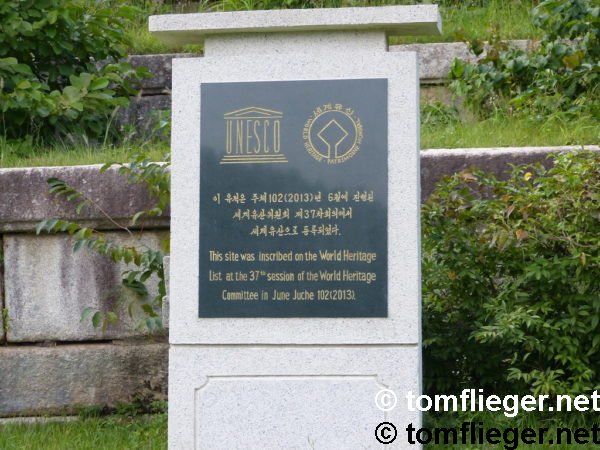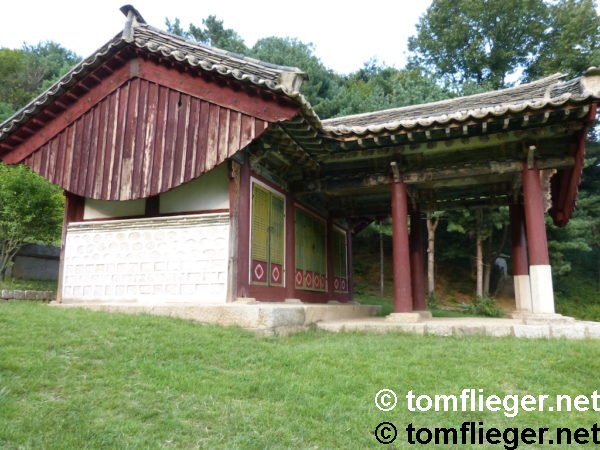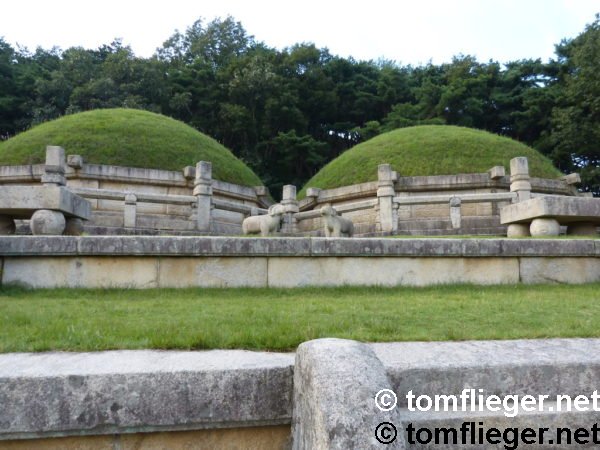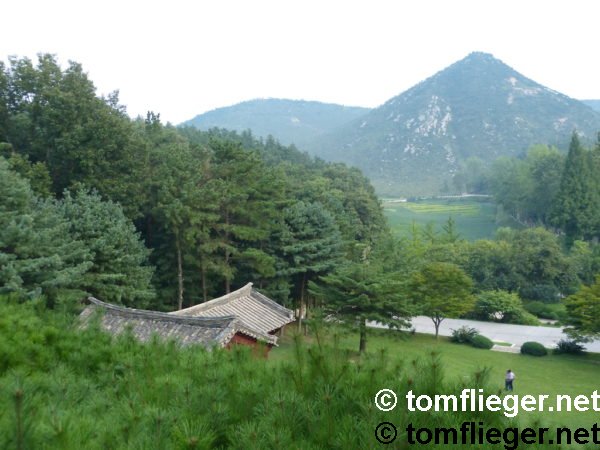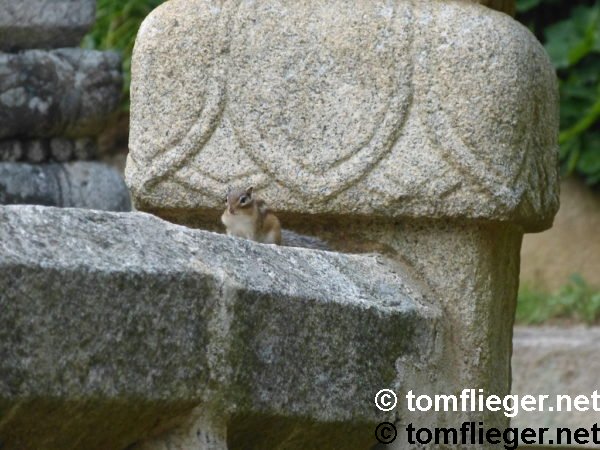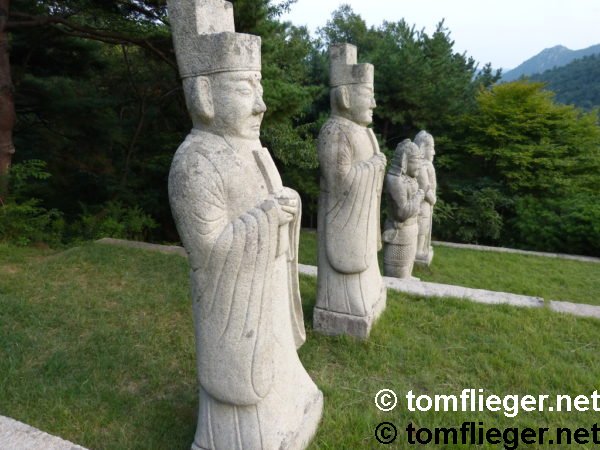 What does a bus driver do when he gets hungry on the way? Exactly: eating pinecone.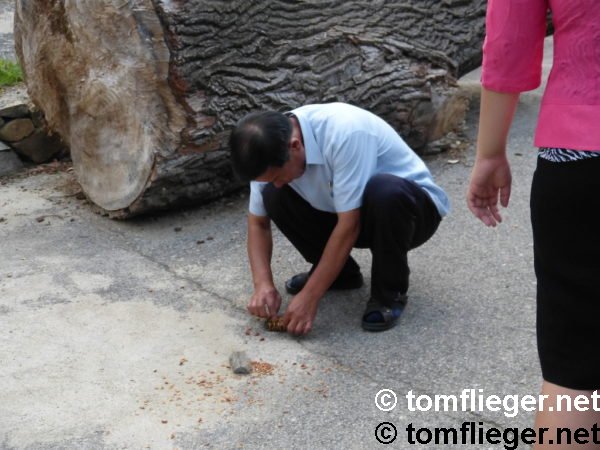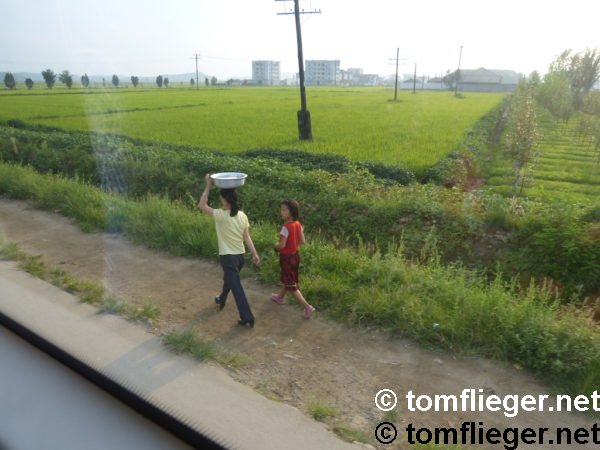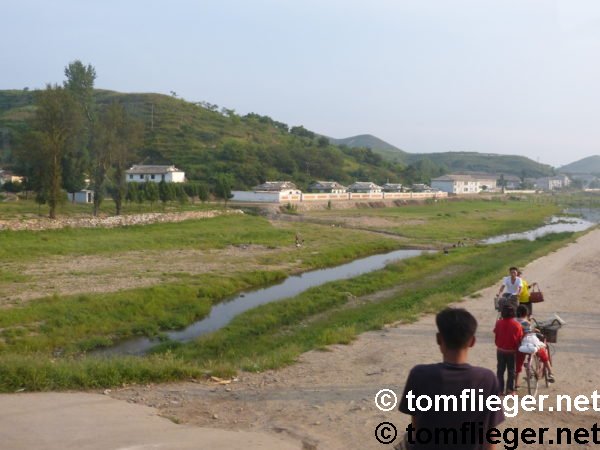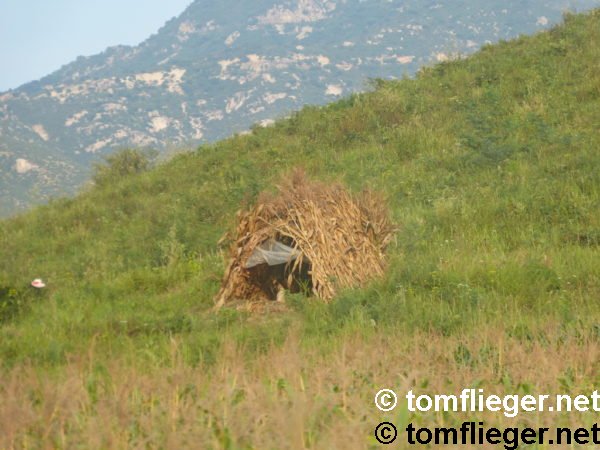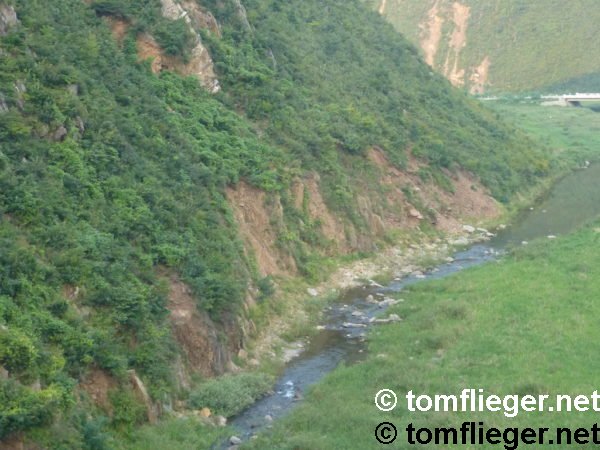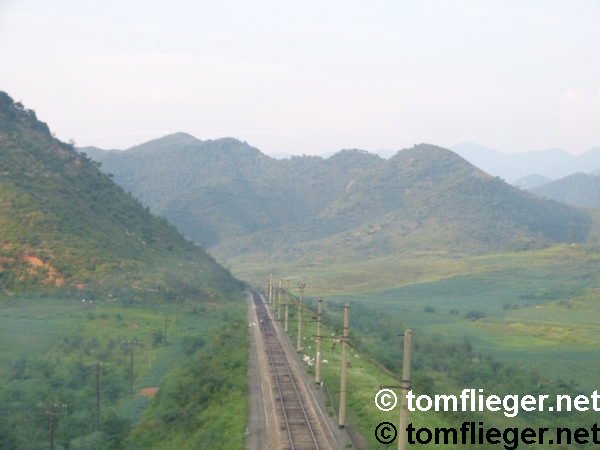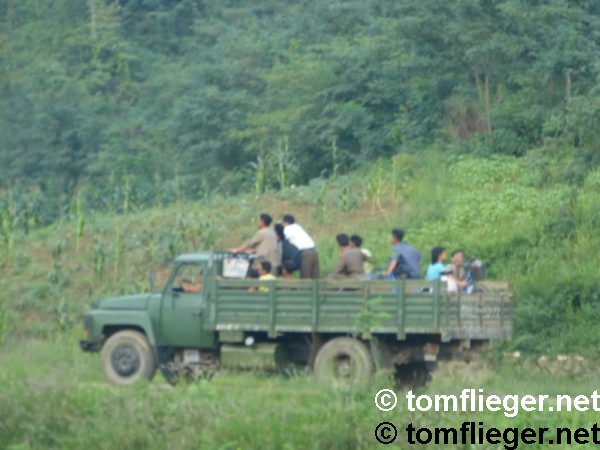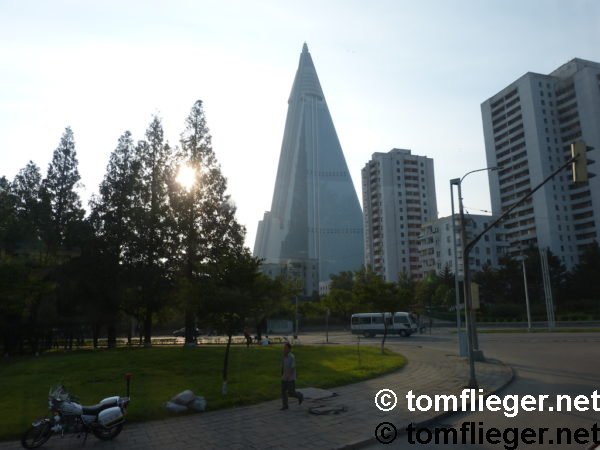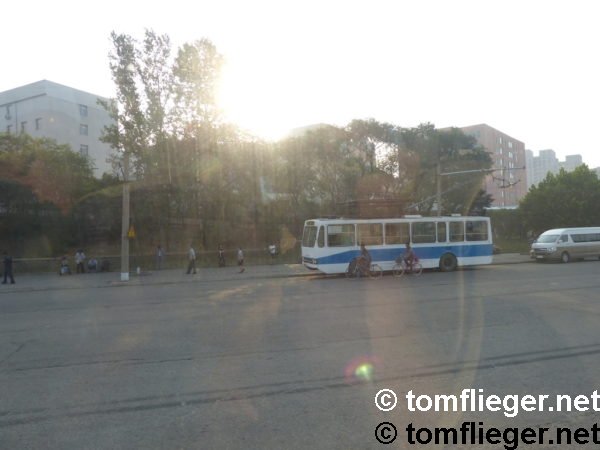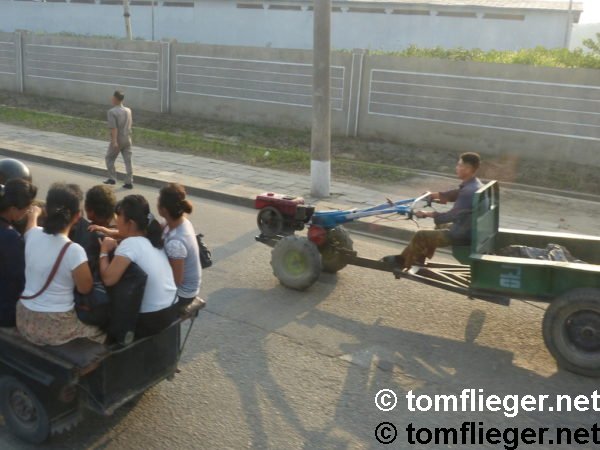 Dinner. At almost every meal there was the Korean national dish, Kimchi, spicy pickled cabbage (here at the right edge).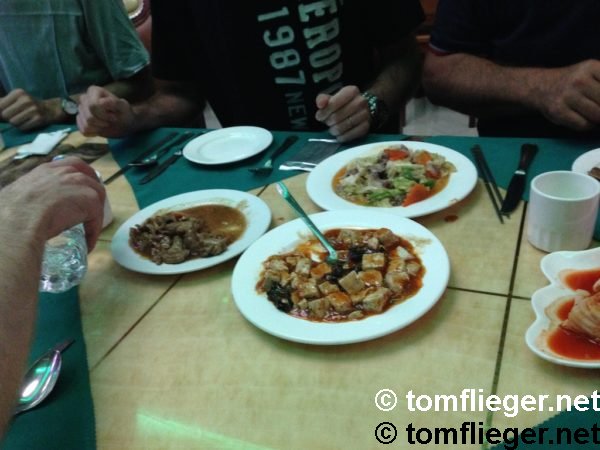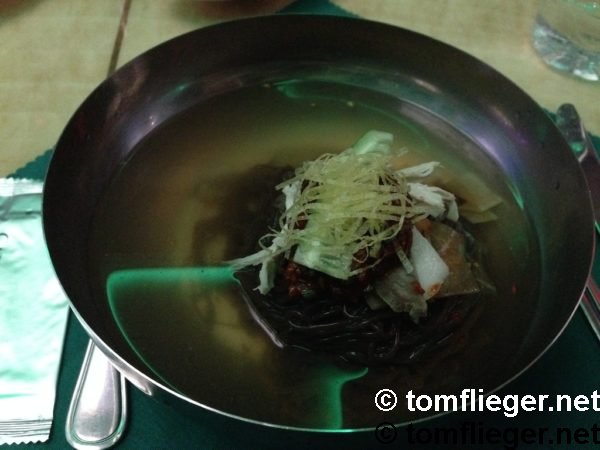 The dinner was accompanied by a short blackout, but the staff was well prepared and ready with lamps on the spot.
At night in Pyongyang there are also roadblocks and checkpoints.
Monday
The next day we flew to Samjiyon with the Ilyushin IL–18, registration P–835. We were given boarding passes, which were stamped individually. One meter further it was validated and handed out the remaining part. Of course, the boarding pass was checked again at boarding.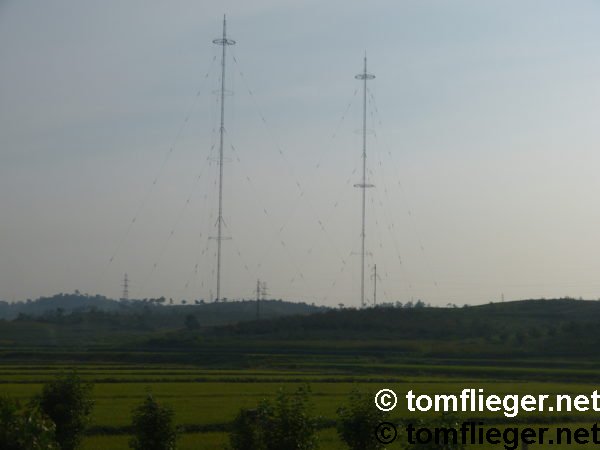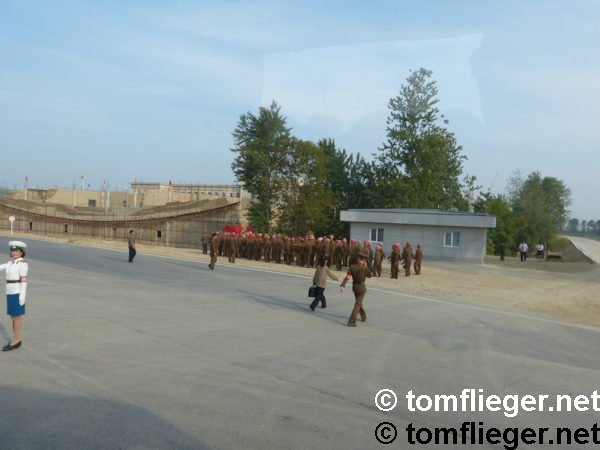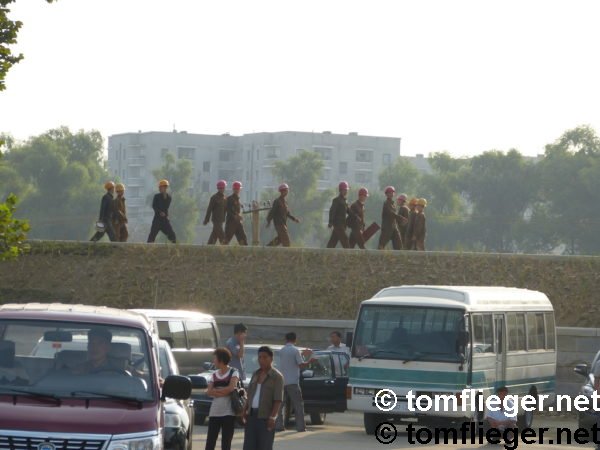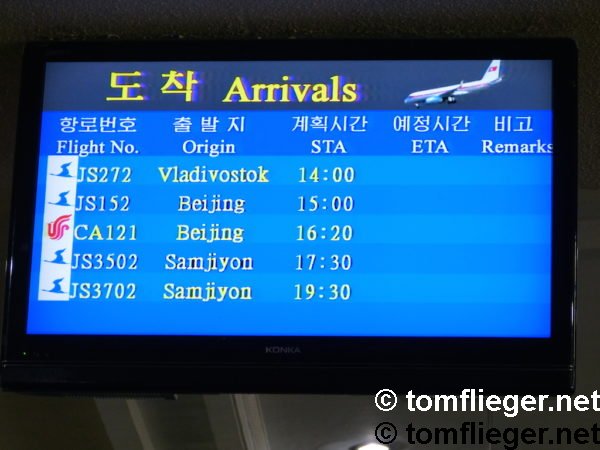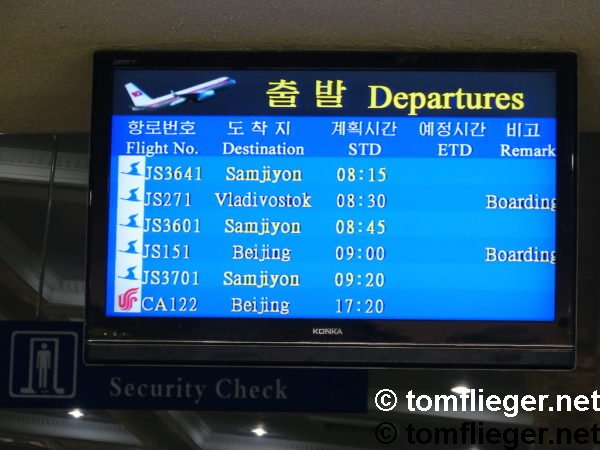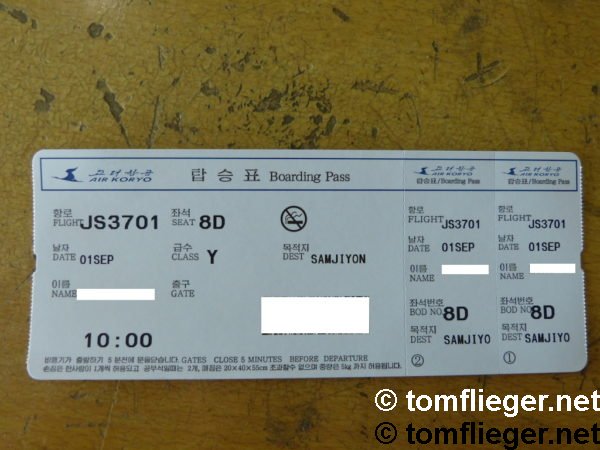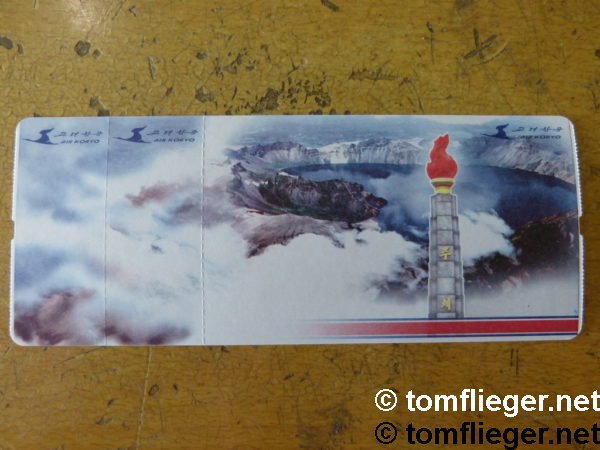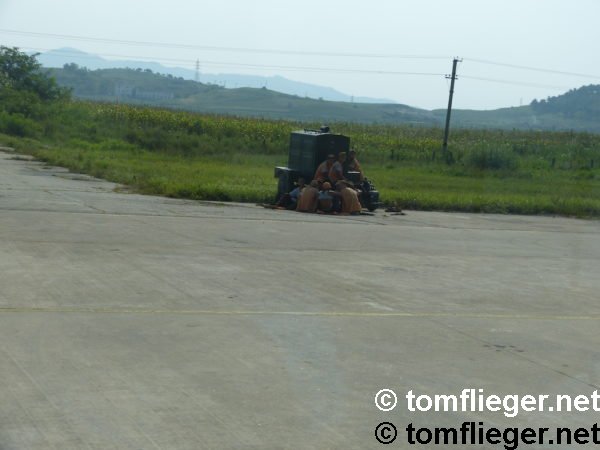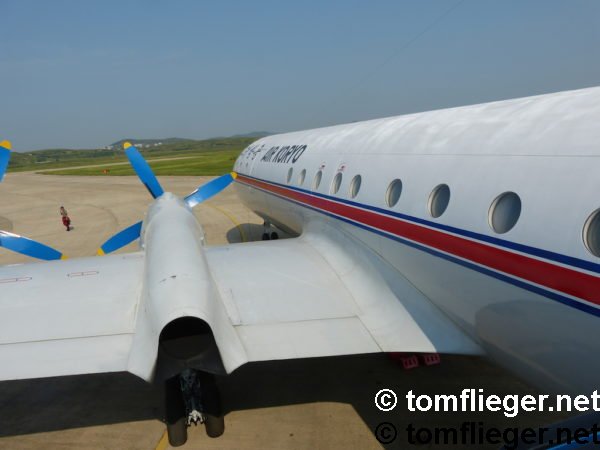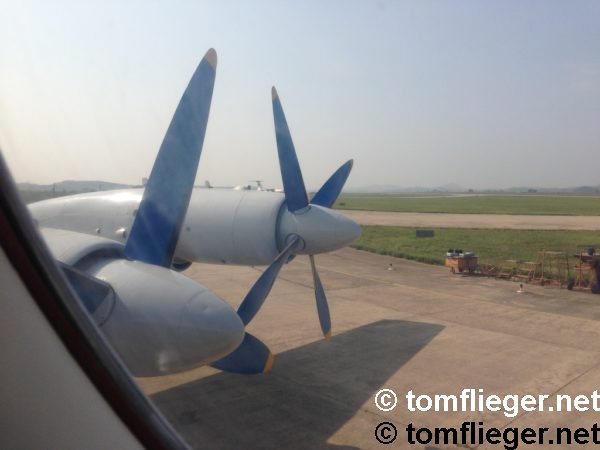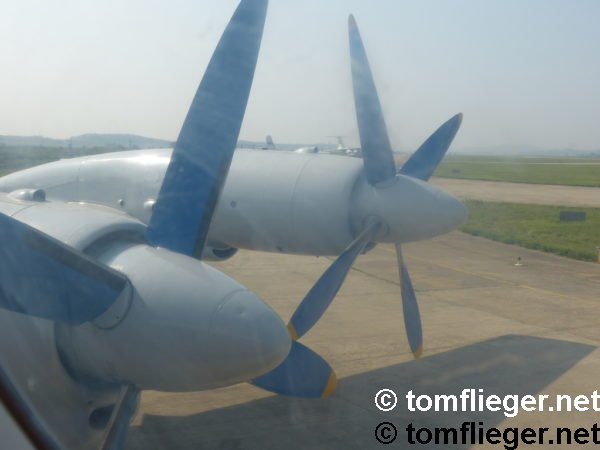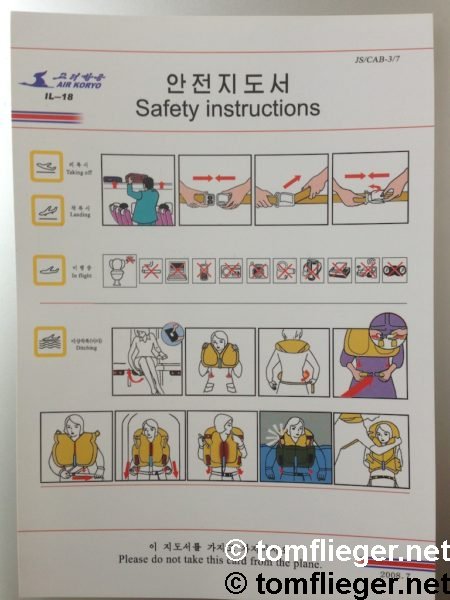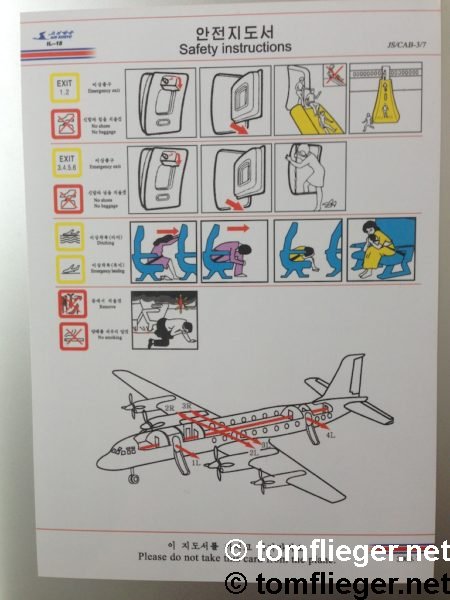 For those who wanted some information about world affairs, there was a local newspaper. Just be careful that you do not accidentally kink or wrinkle a photo of Kim Il Sung, Kim Jong Il or Kim Jong Un – I can currently do without a stay in prison camp 🙂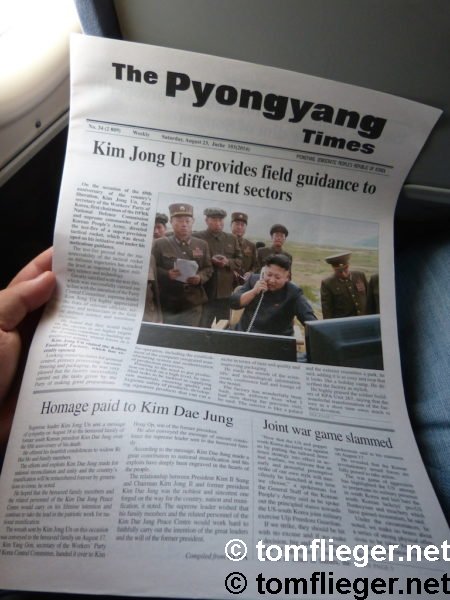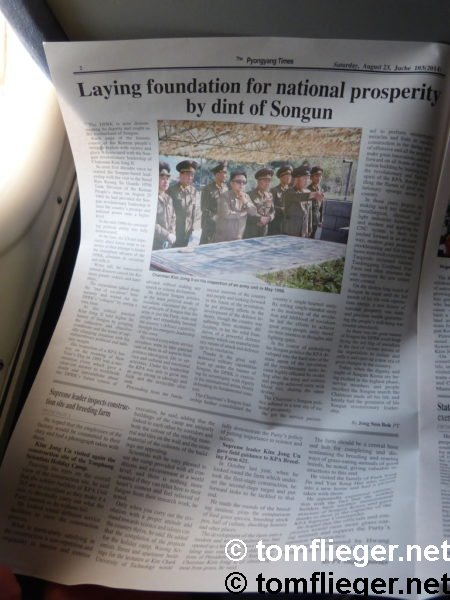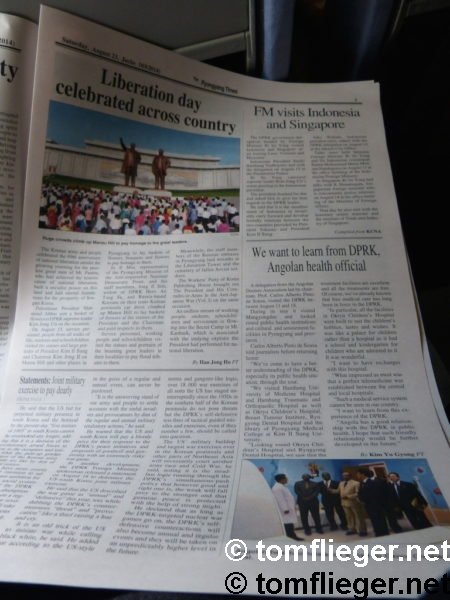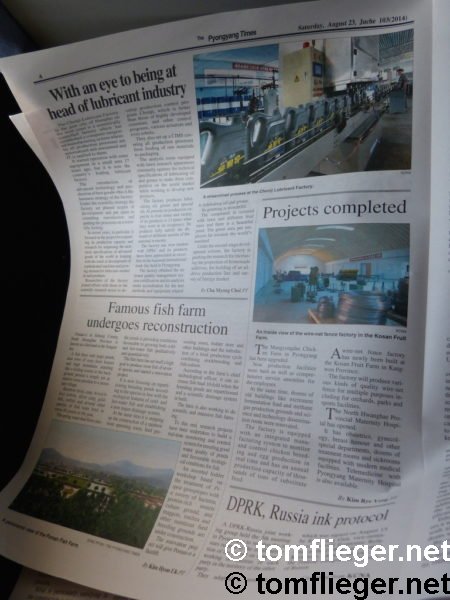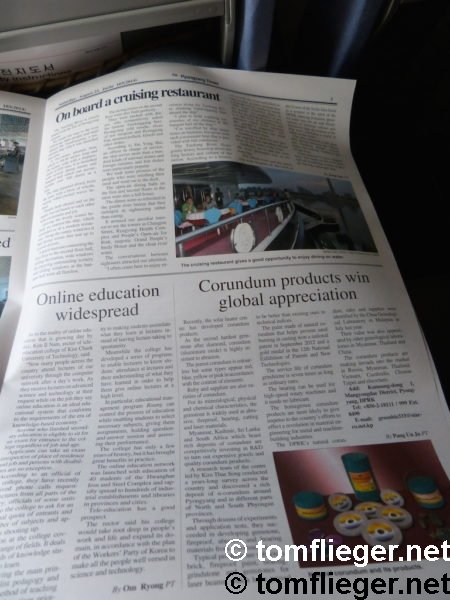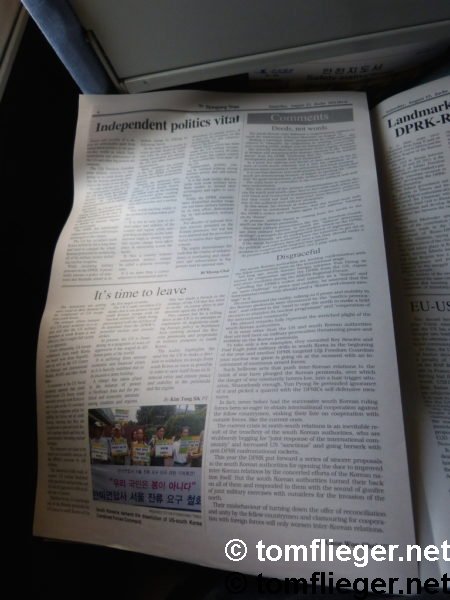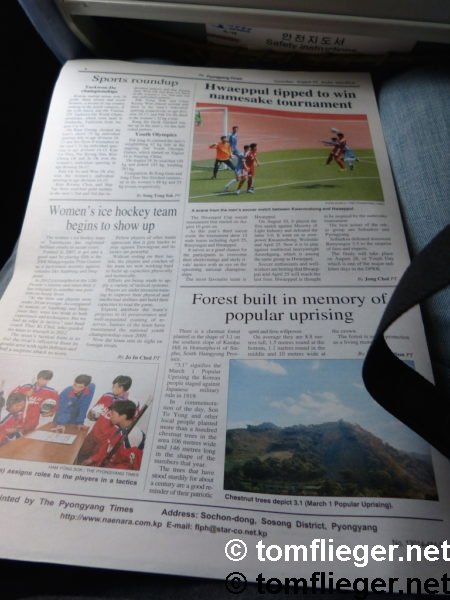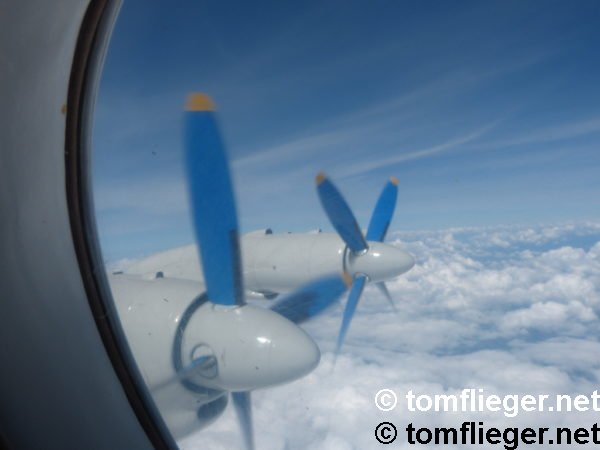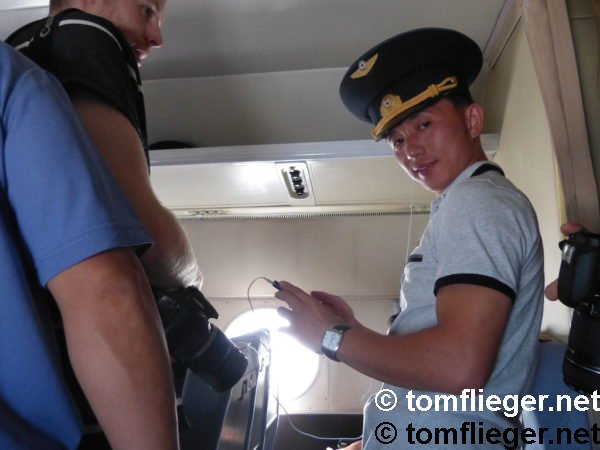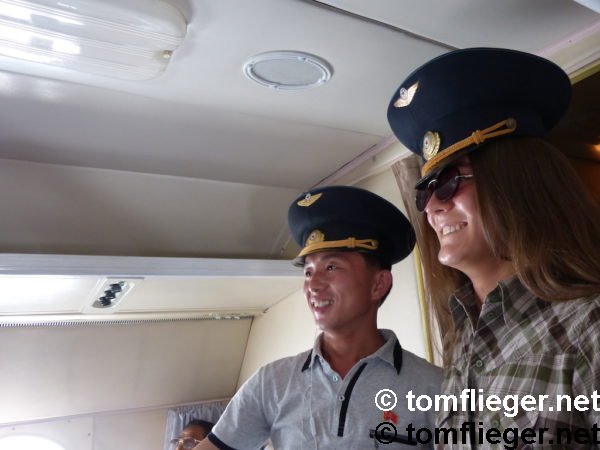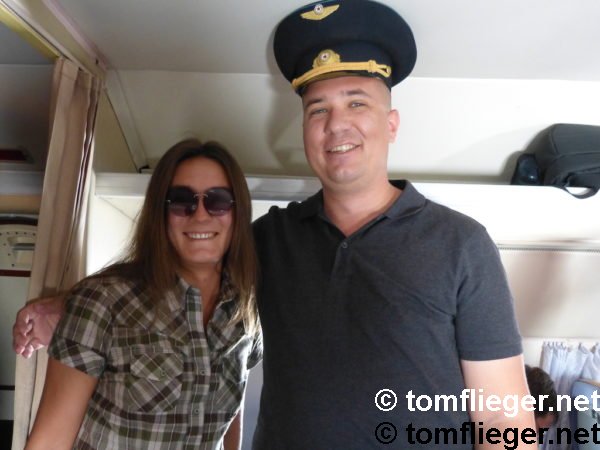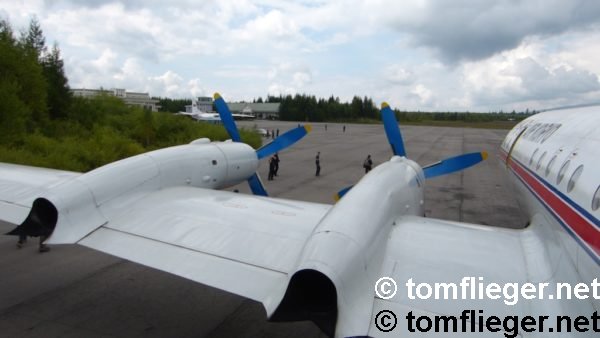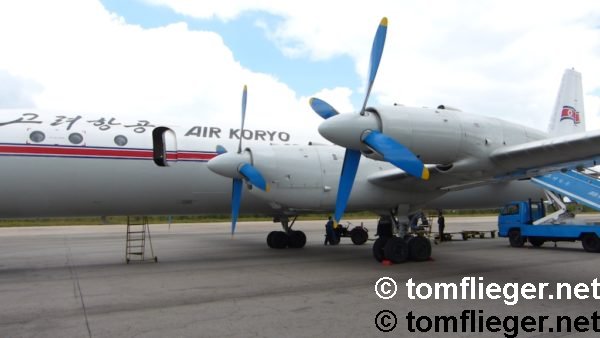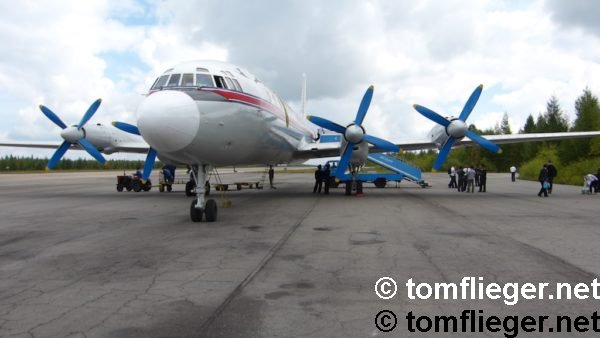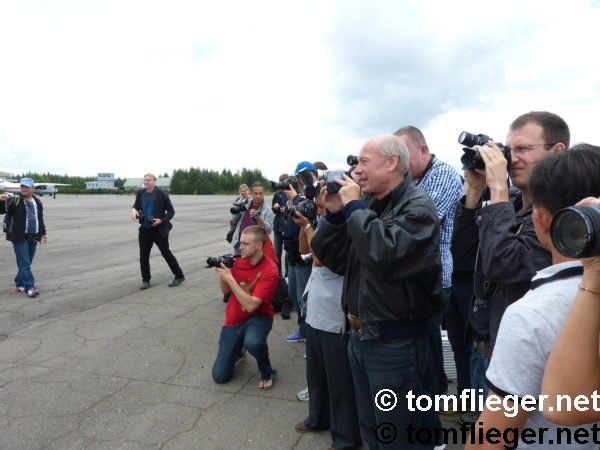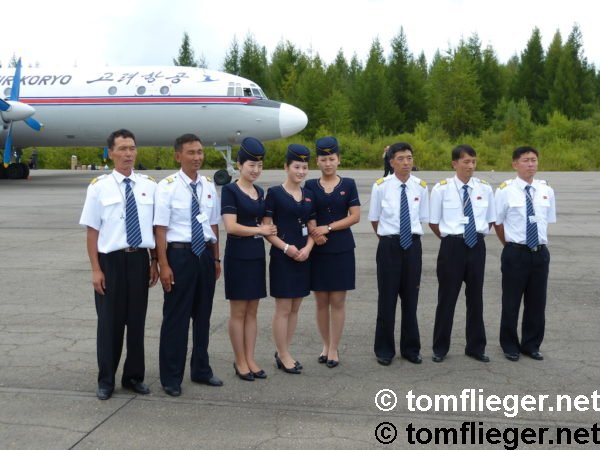 Always careful watching what those nutty Germans are doing!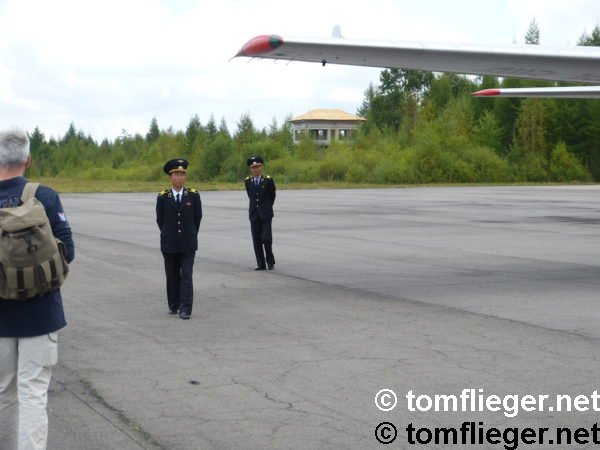 Special requests were fulfilled with pleasure.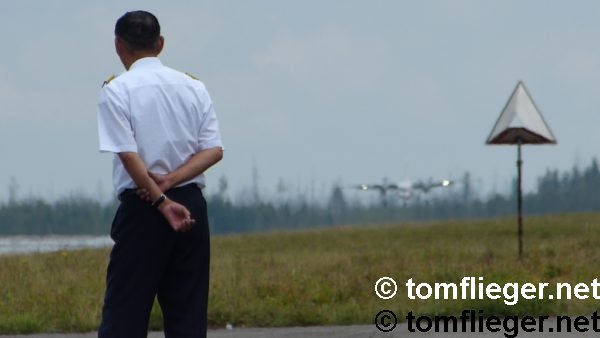 After landing and an extensive photo session we had to get on the bus to drive as much as 50 meters to the restroom 🙂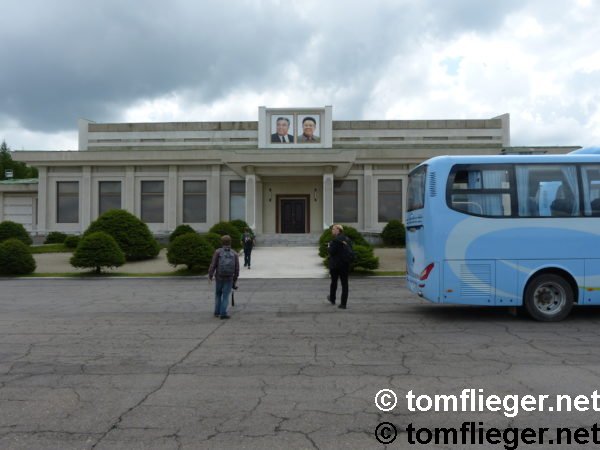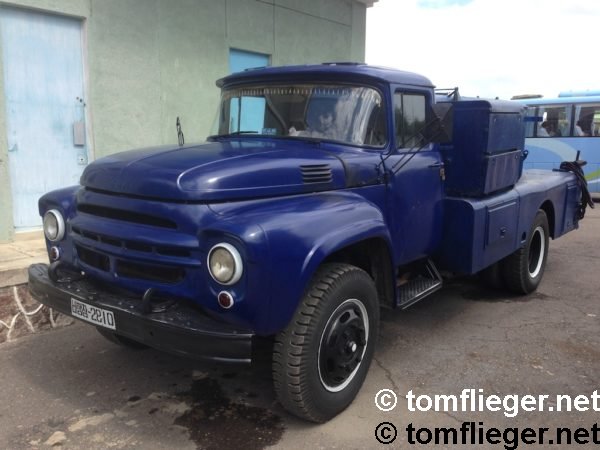 From there we went to Mount Paektu by bus, an extinct volcano (height about 2,700 meters) with crater lake.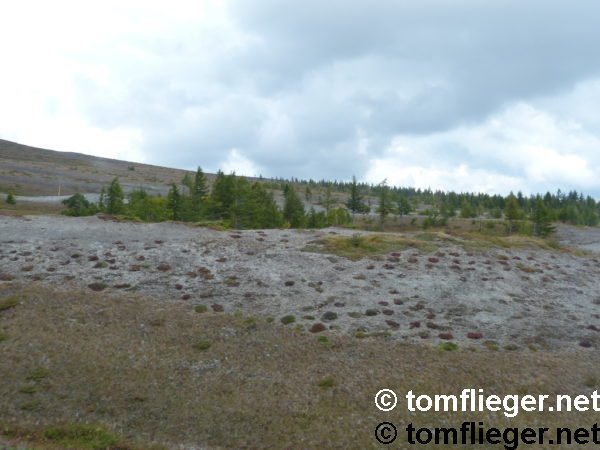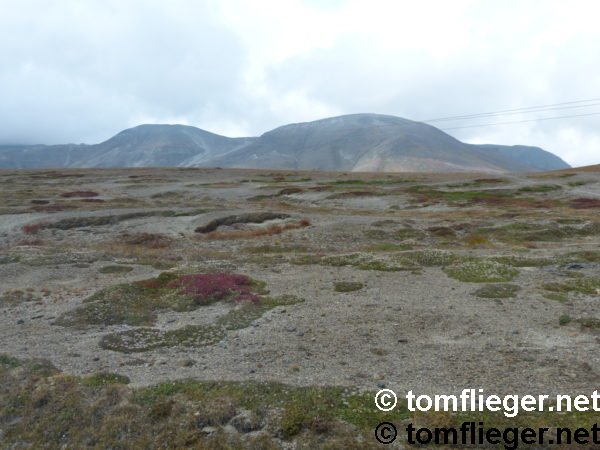 The way up we were able to complete with a train.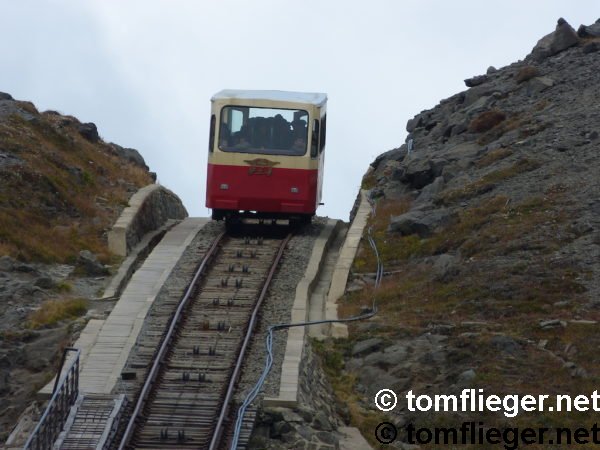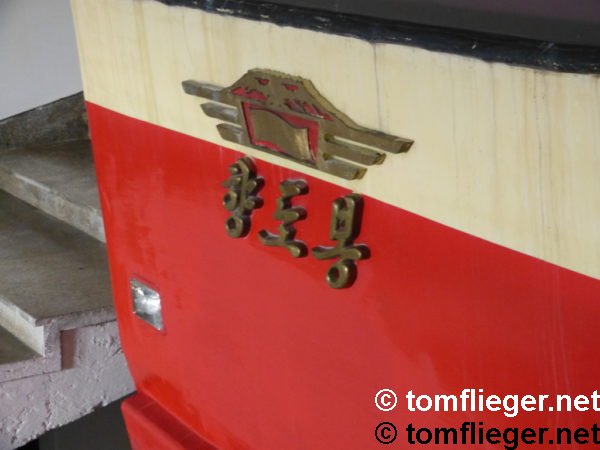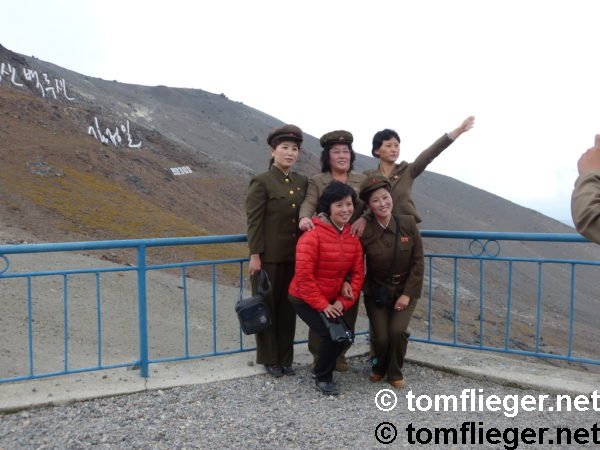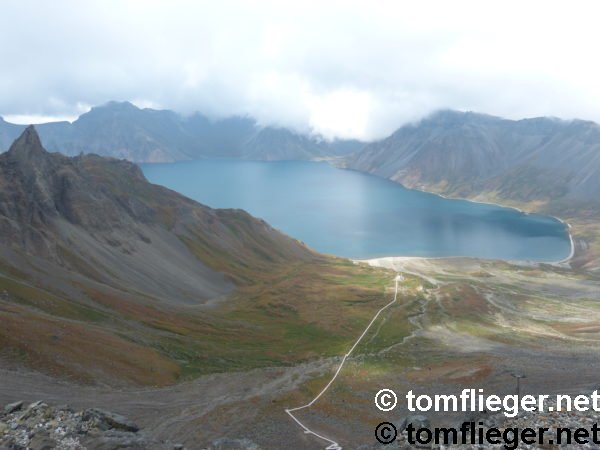 Marking our area…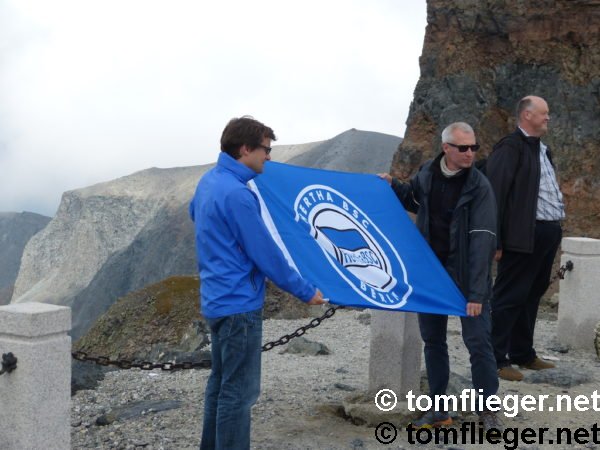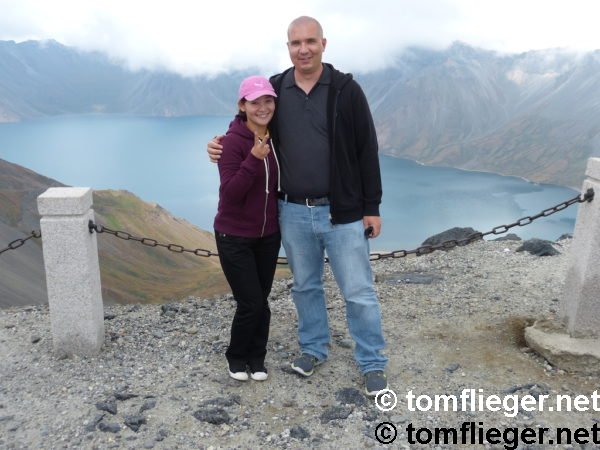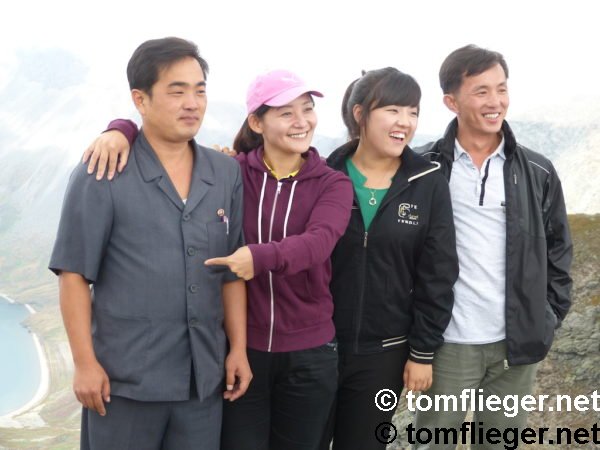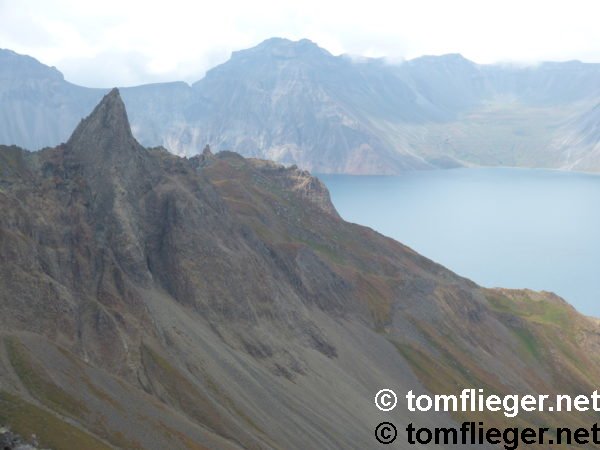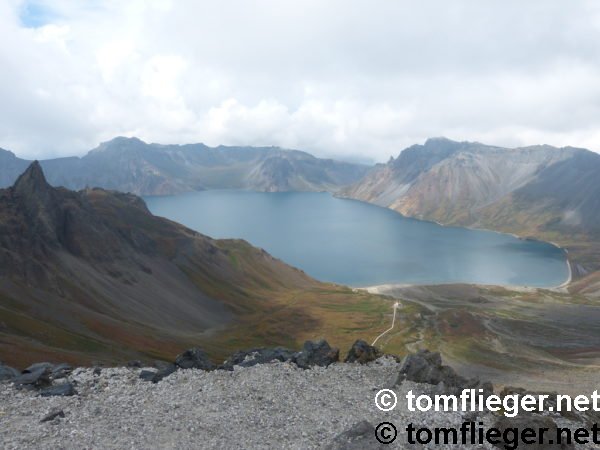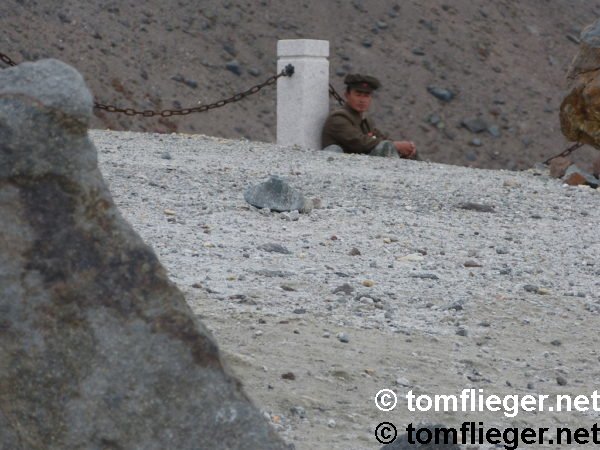 On the way back the punctual Germans were too late, so we had to start our return journey too late also.
It came as it had to come: halfway the electricity was switched off, which is only available in a certain window of time (what we did not know before though).
So we got out halfway and went to the base station by foot next to the tracks, on concrete slabs and ominous creaking wooden bridges.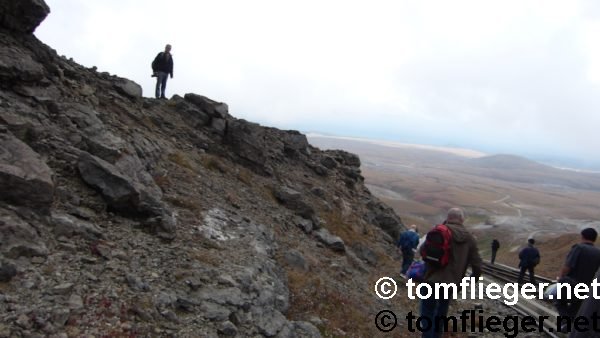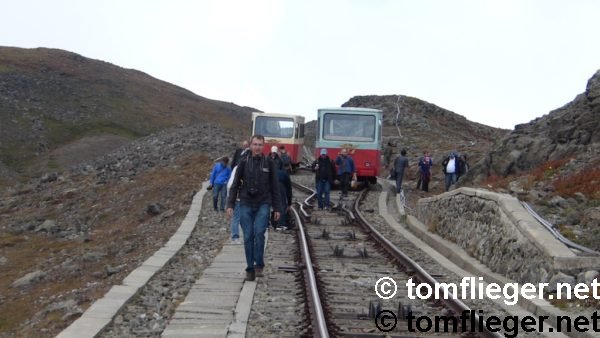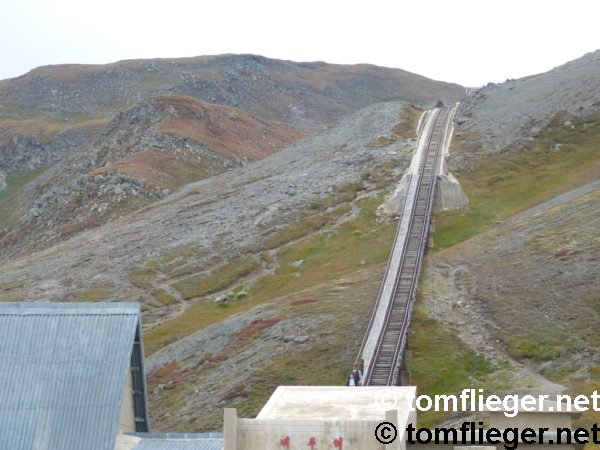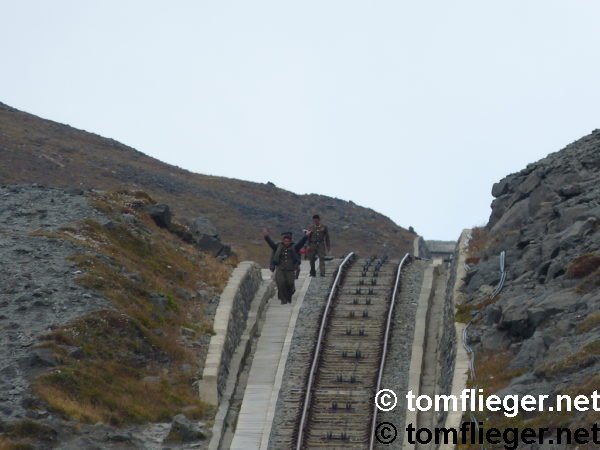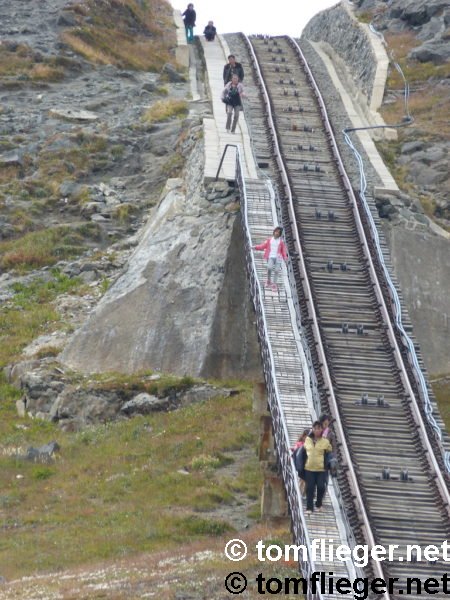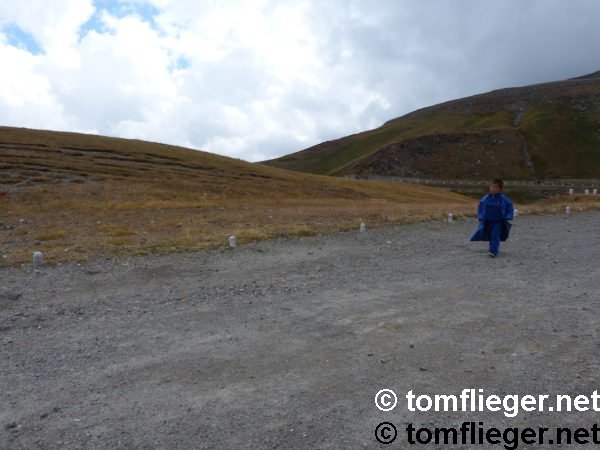 Once at the bottom we went to lunch by bus.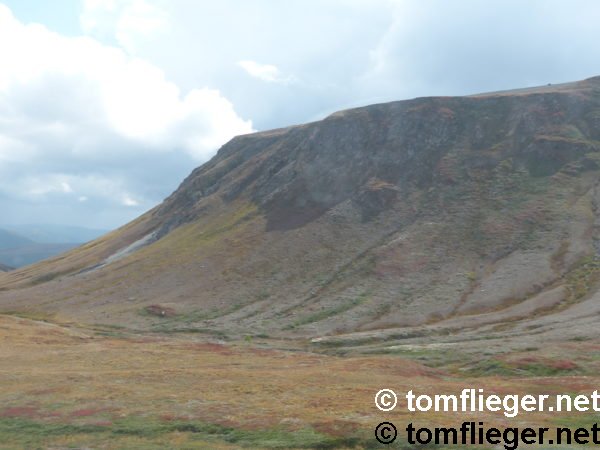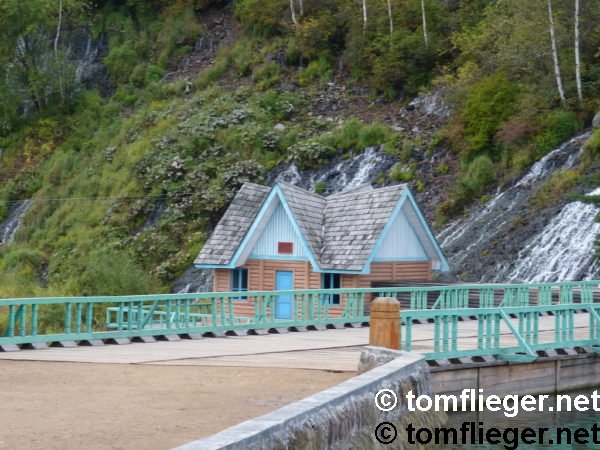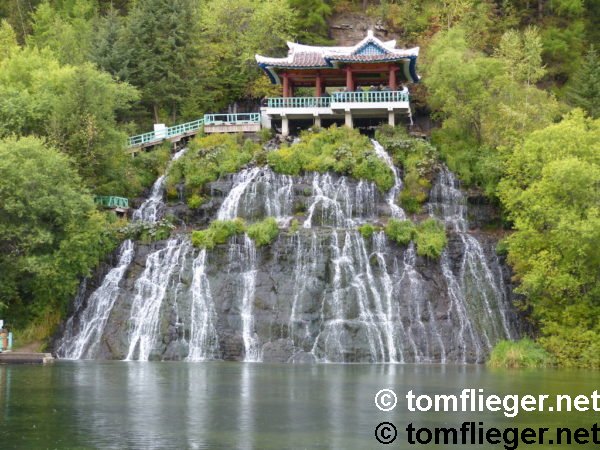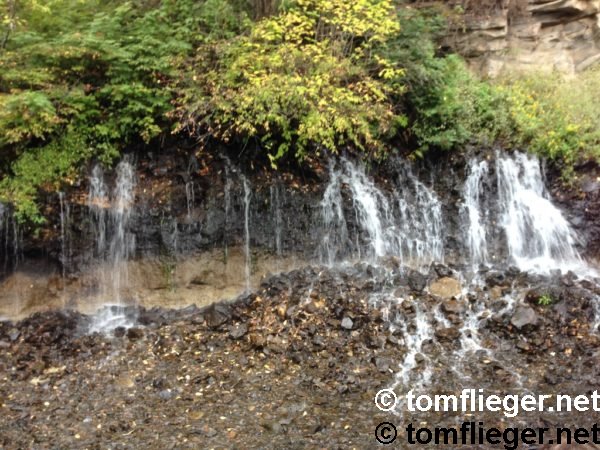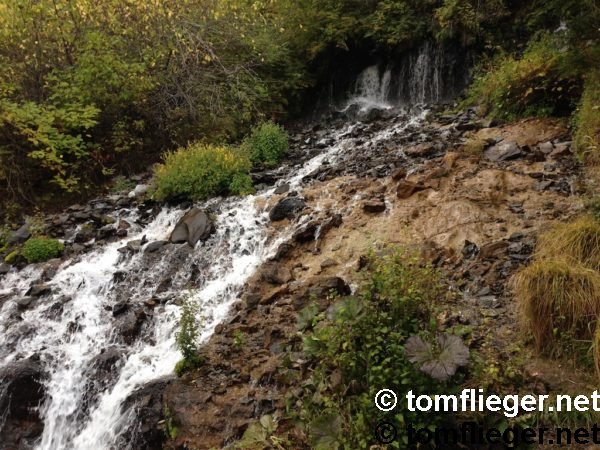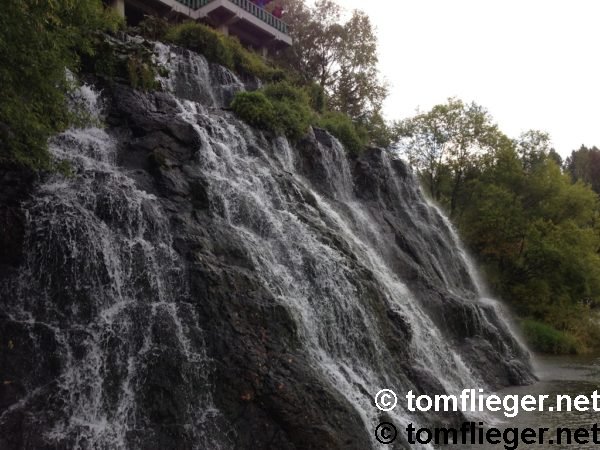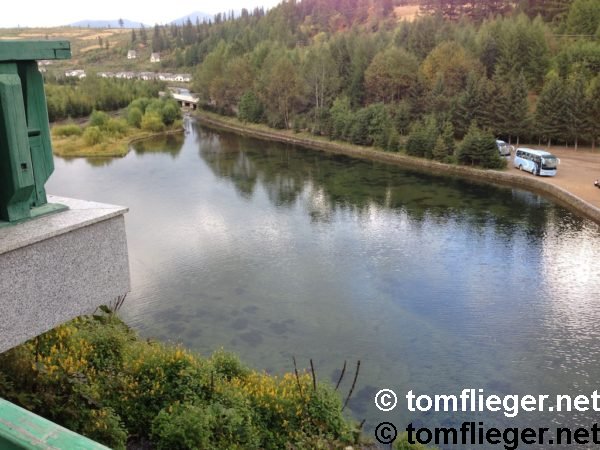 Sushi with Krakauer sausage. Whether that was the punishment because we had not eaten the sausage at breakfast?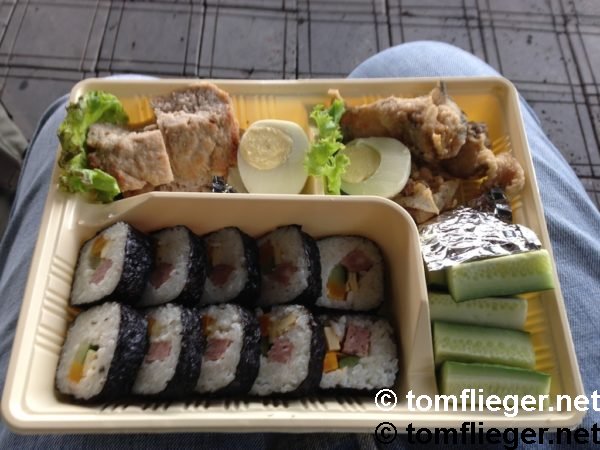 On the way back to the airport, the bus could barely dodge a truck on the narrow road twice, we also hat do stop because of a gearbox problem and a smoking bus. However, the driver knew his vehicle very well, after a few minutes it was repaired so far that we could continue our journey.
Back at the airport we were allowed to enter the building for a security check.
Of course, before that a boarding pass had to be distributed, stamped and validated.
First, we went through a metal detector which was switched off before a manual check was performed.
The first, muted hand metal detector was used for the body check. Although he shone, but did not make a sound. So everything was ok. Hand luggage was controlled with a second, switched off hand metal detector thoroughly from all sides (but only from the outside). In the absence of sound of course everything was right.
Thus, we were all "clean" and were allowed to board.
We also went back with the P–835.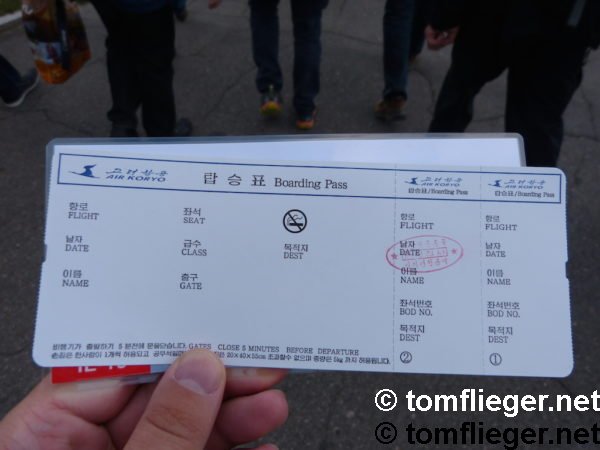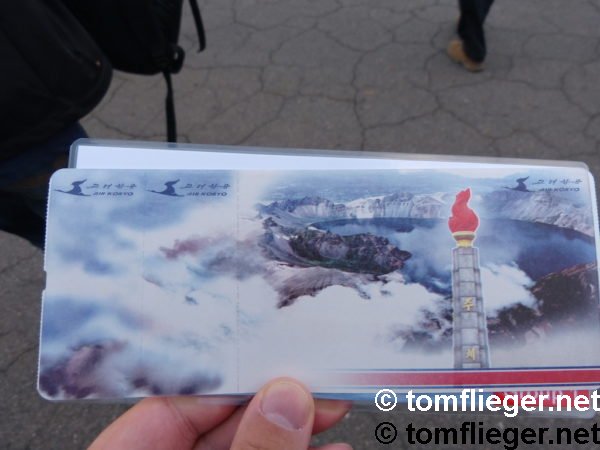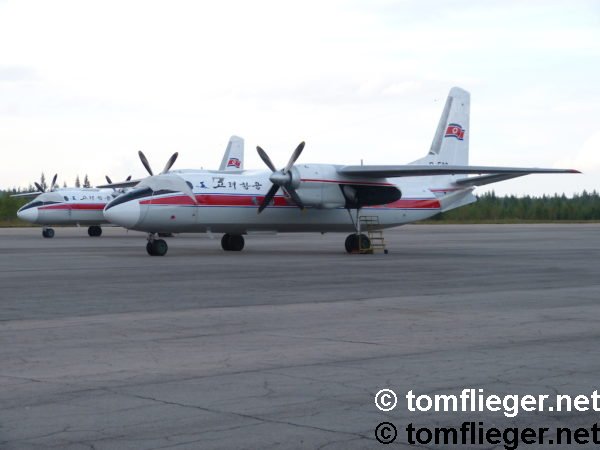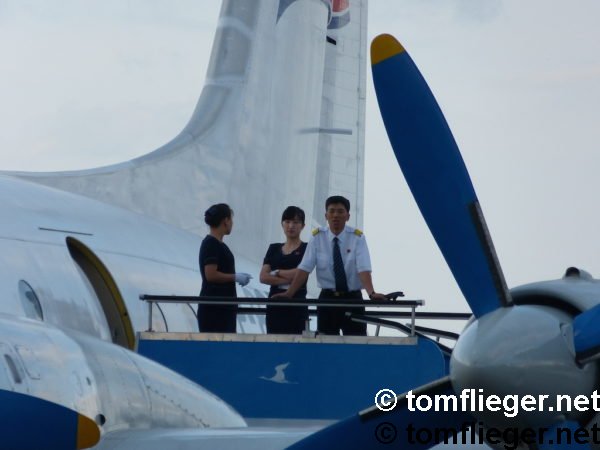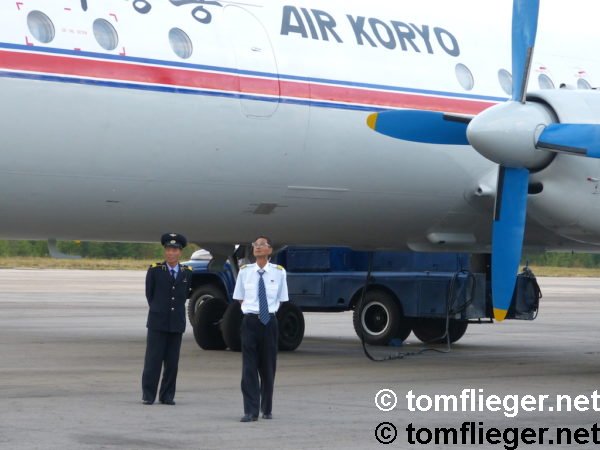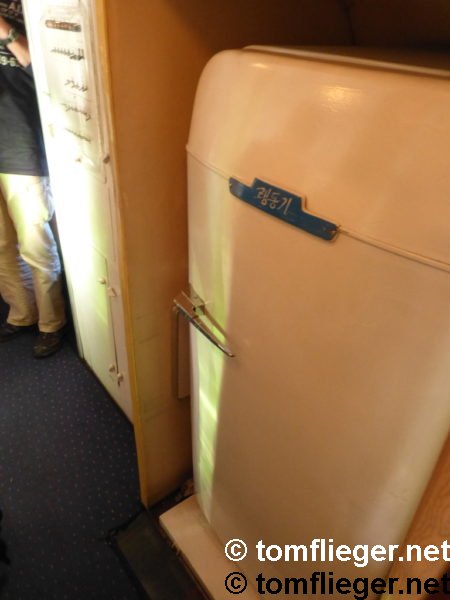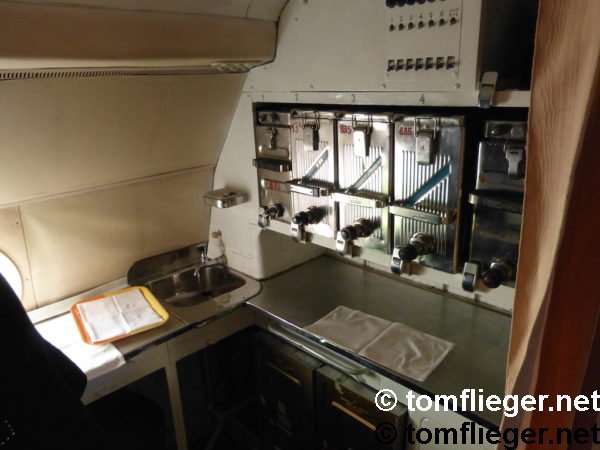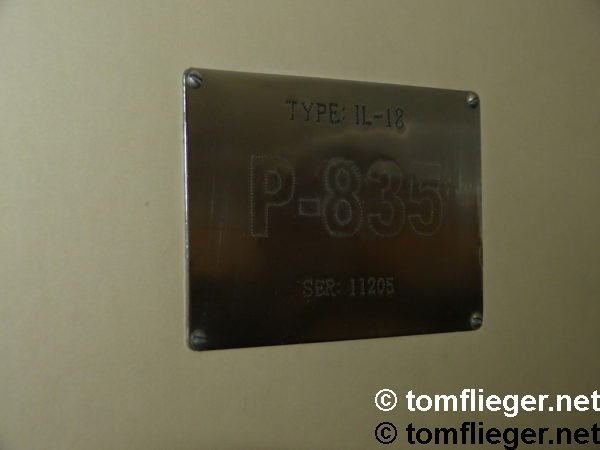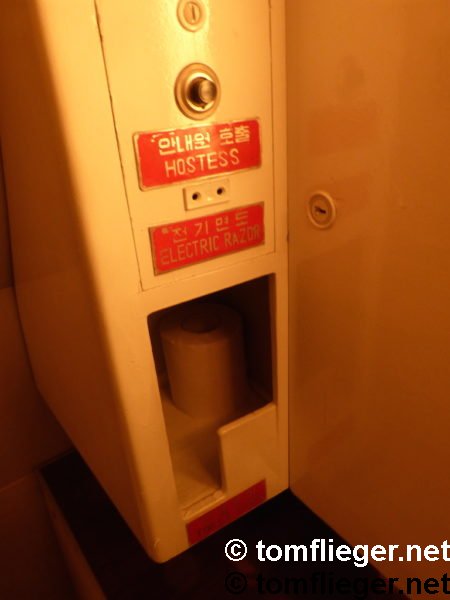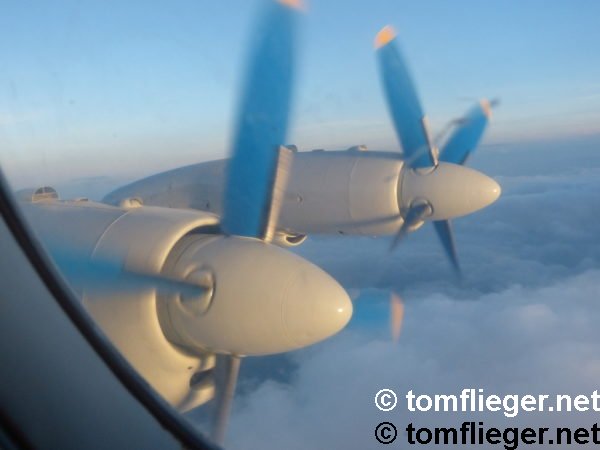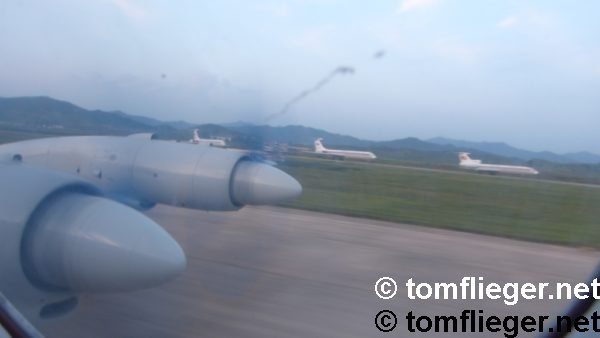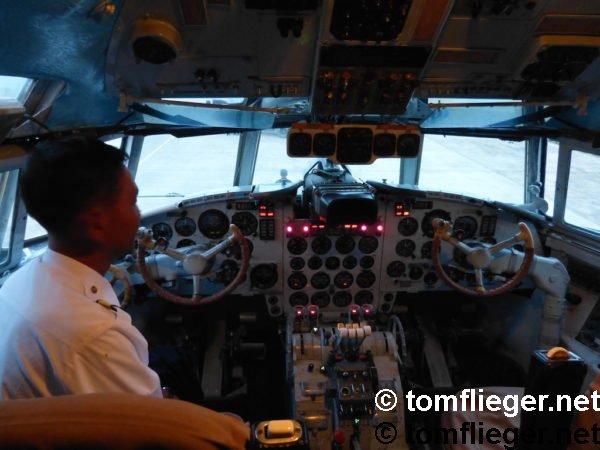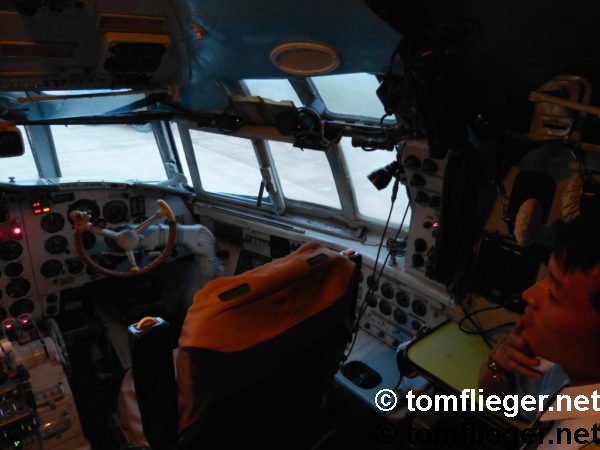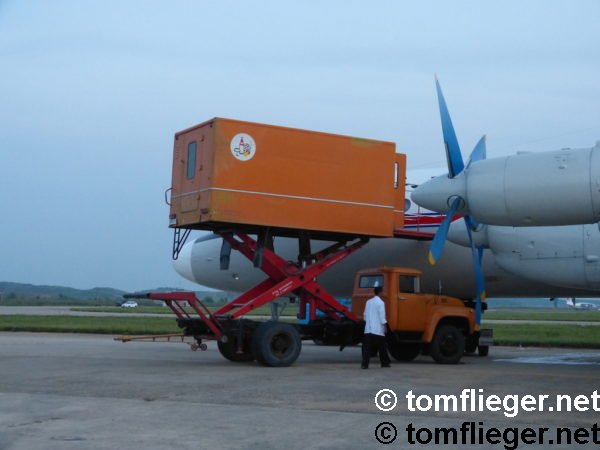 Dinner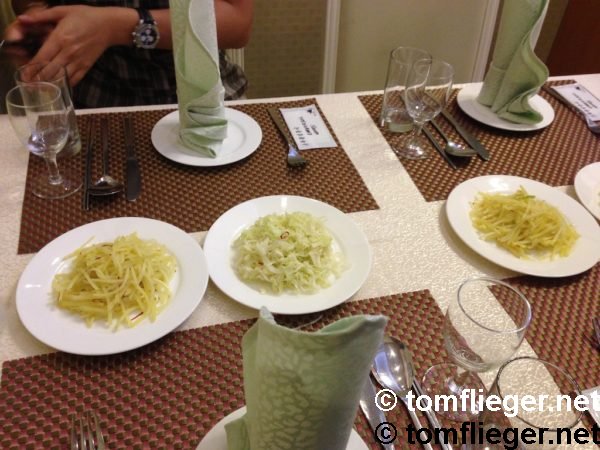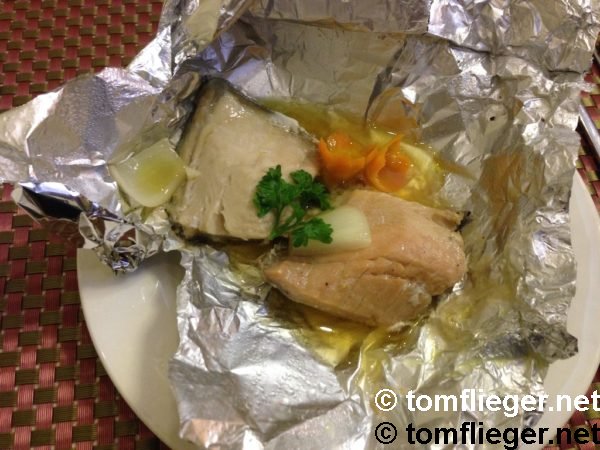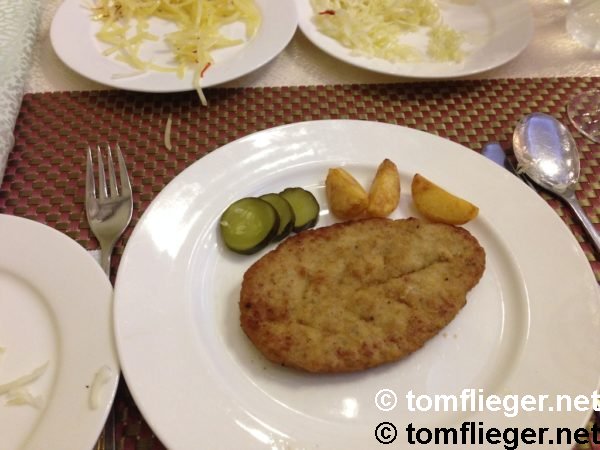 At dinner we could listen to the music of a military band.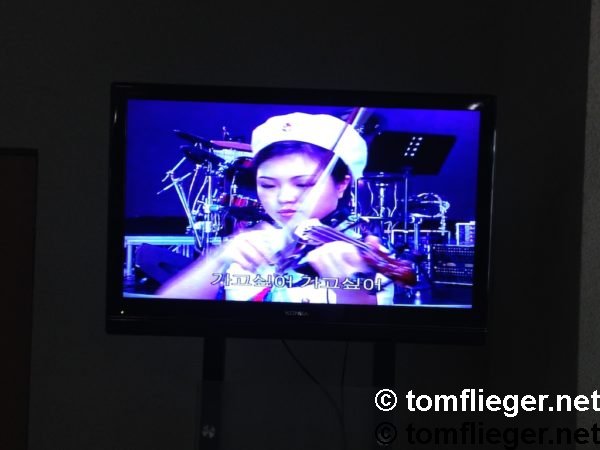 We had a tight program every day. After breakfast we left the hotel early and returned late after dinner. So there was no time for other things except for sleep.
Postcards could be submitted at the hotel in the Communication Center. What happened there everyone can think for themselves.
Pyongyang seemed to be very clean. All citizens worked diligently, were busy cleaning or doing other work.
Outside of Pyongyang, there was hardly any traffic up to bicycles and pedestrians.
Tuesday
The following day a flight with the Antonov An-148 P–671 was on the program.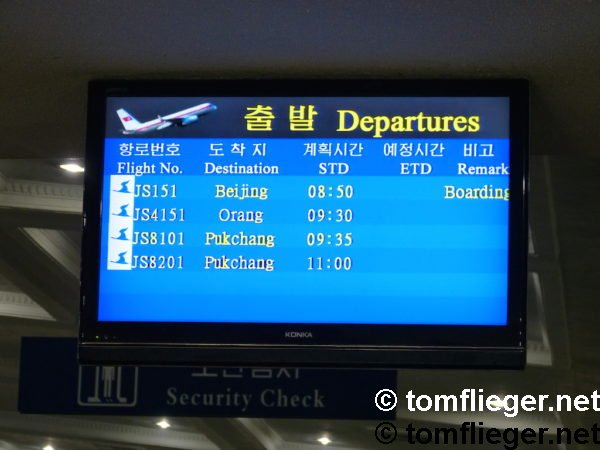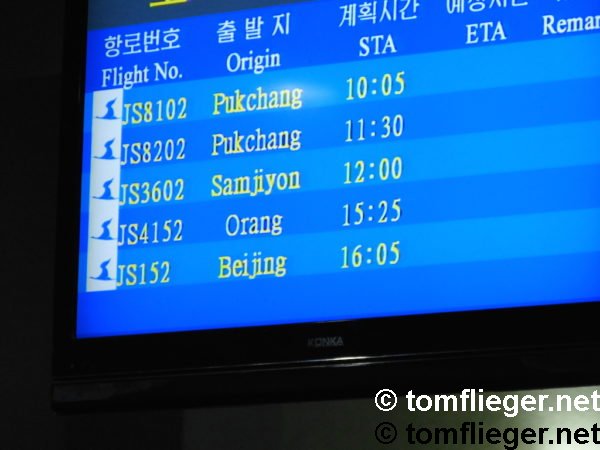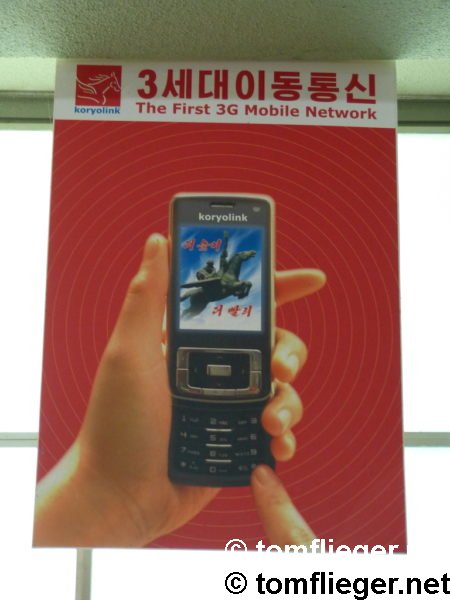 Who has more baggage carousels? Berlin TXL or Pyongyang FNJ? Still not sure… 🙂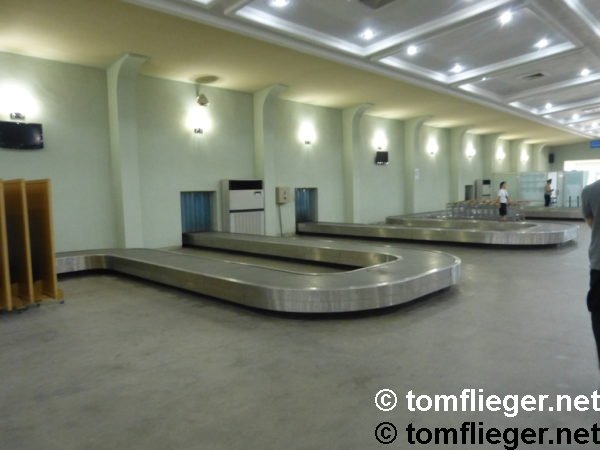 On this day there was a power failure in the terminal. However, all operations could also be handled easily without electricity.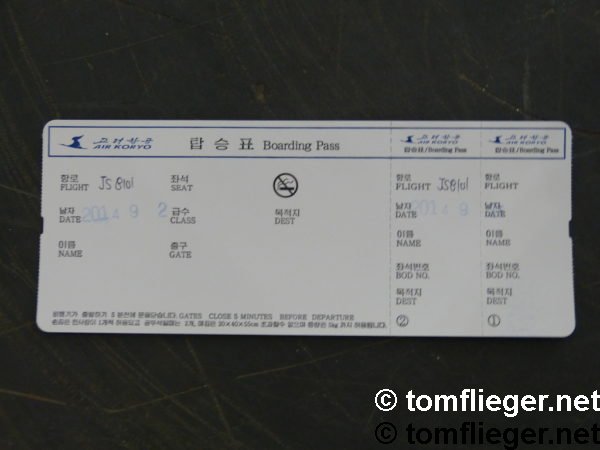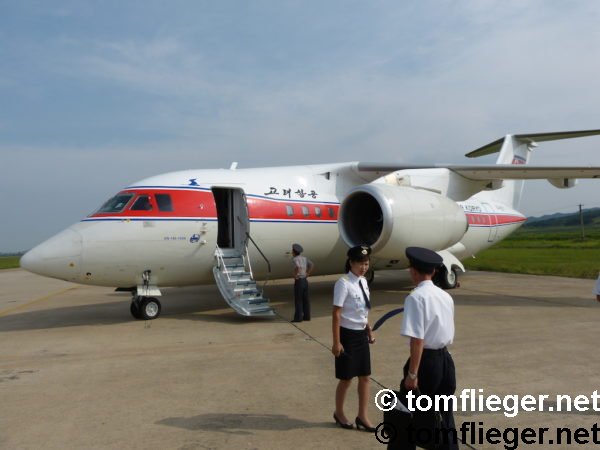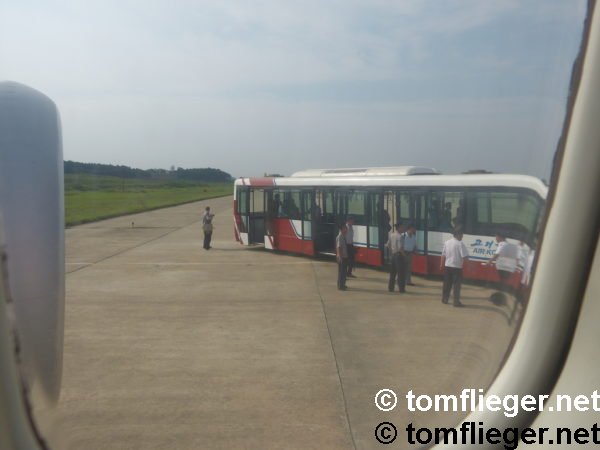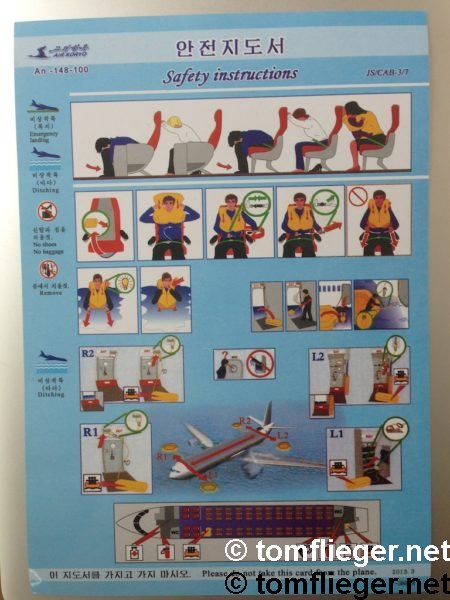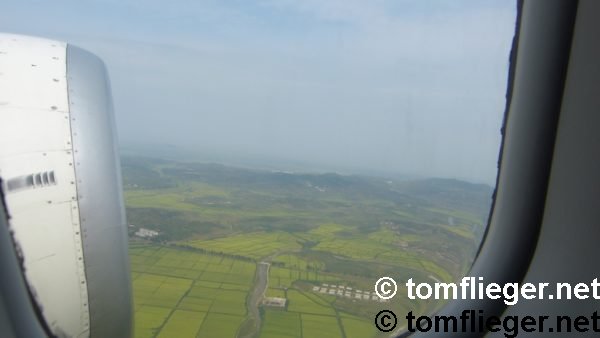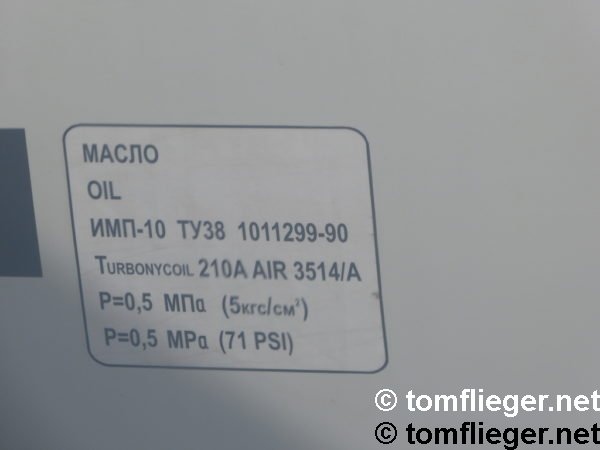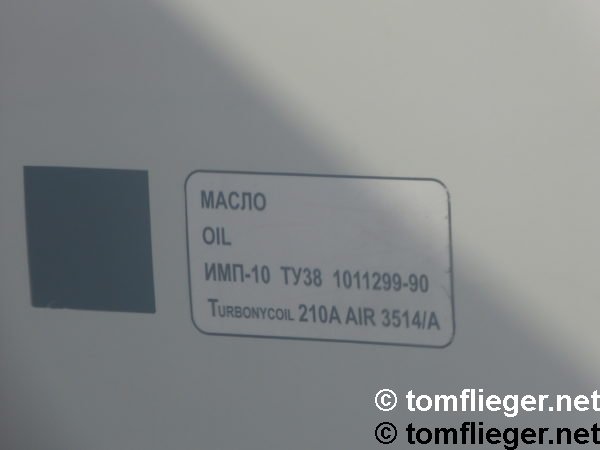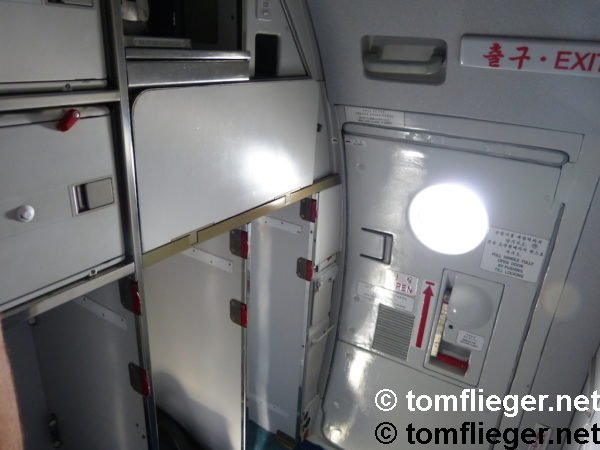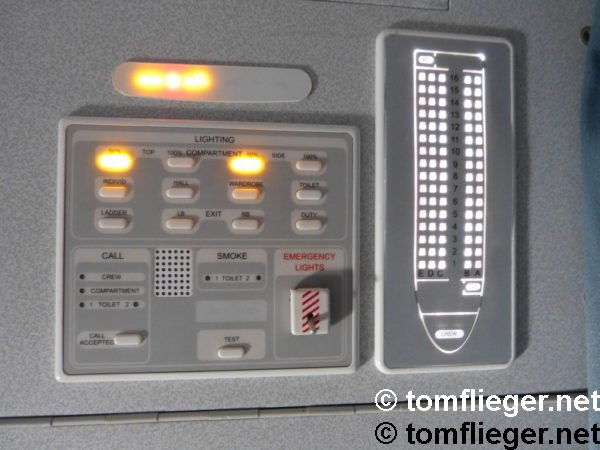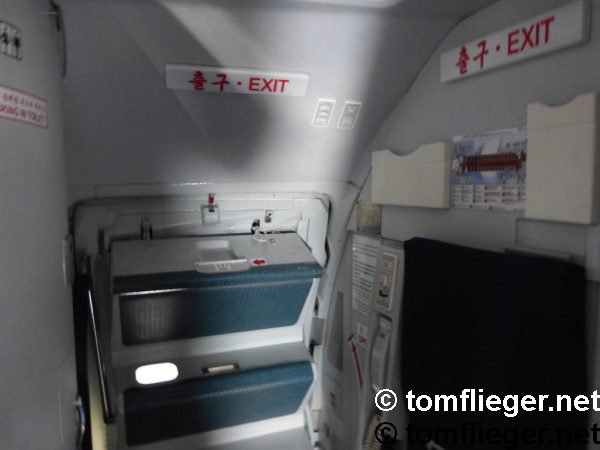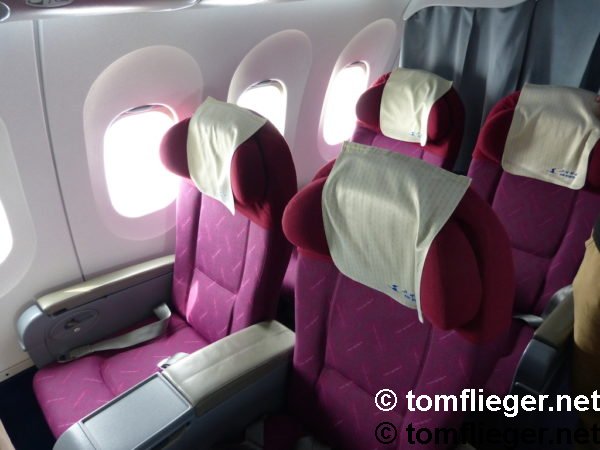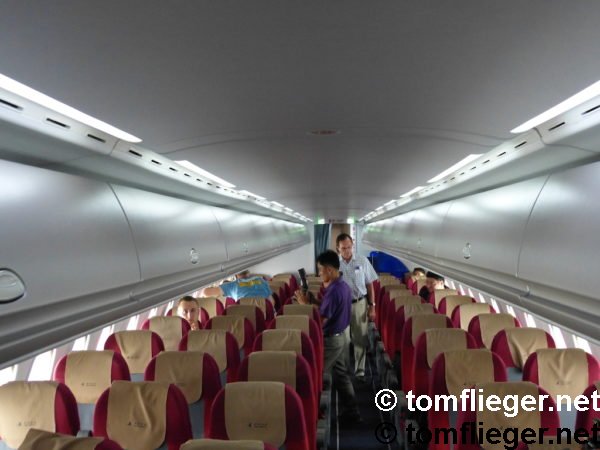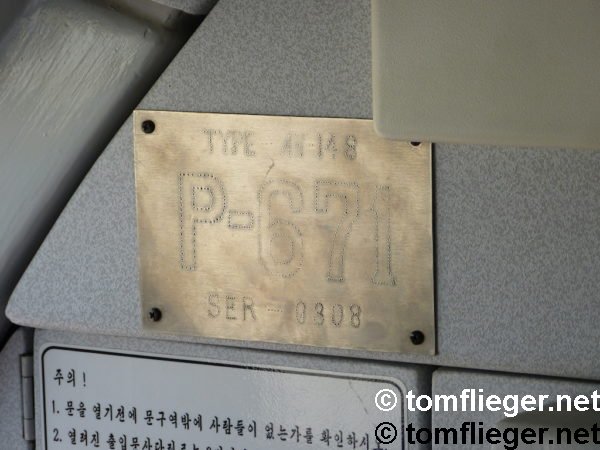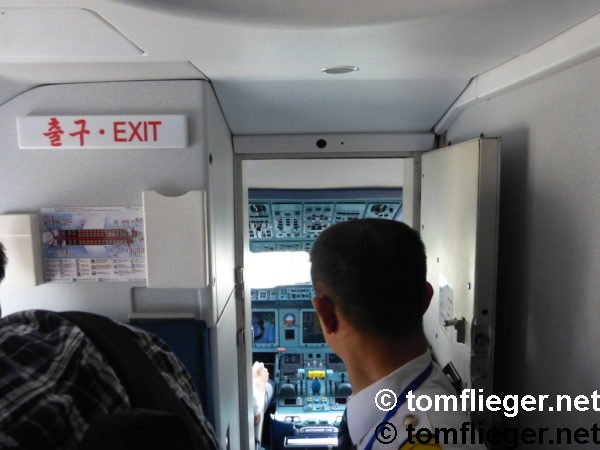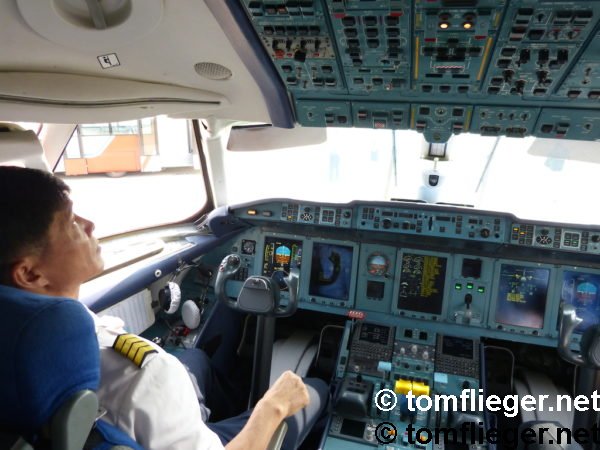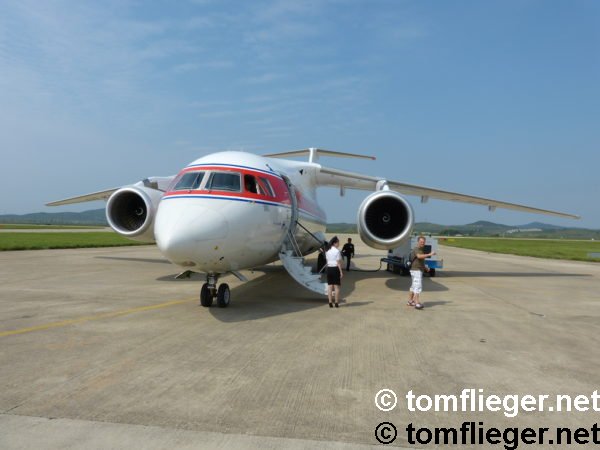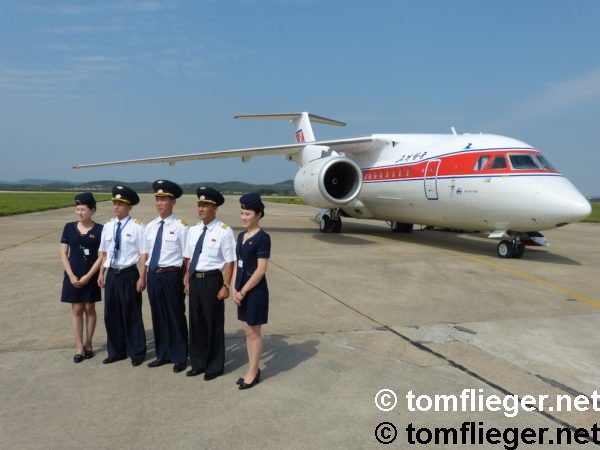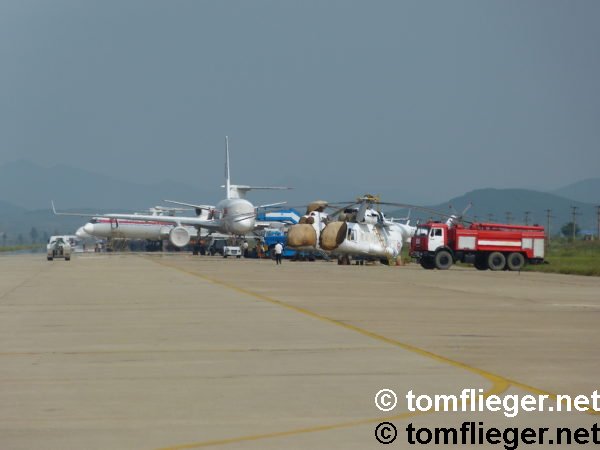 After the flight, someone had taken a headrest cover. This was noticed and we had to wait until it was brought back.
The Antonov An-24 P–532 afterwards.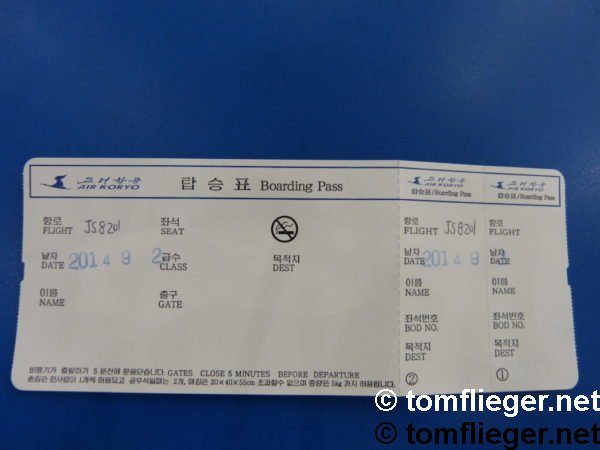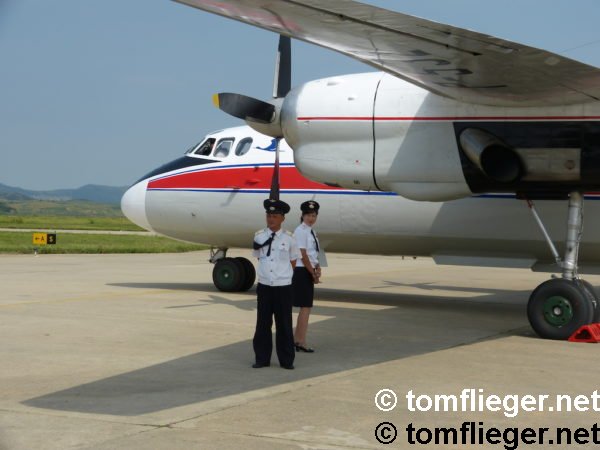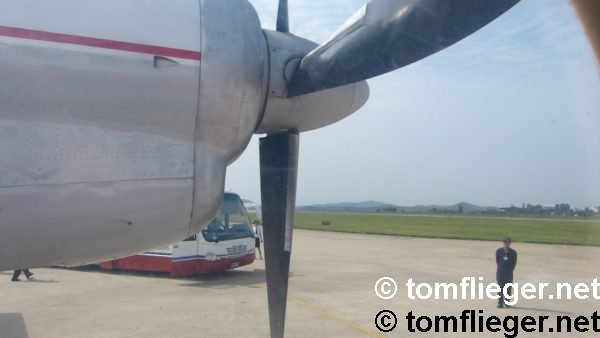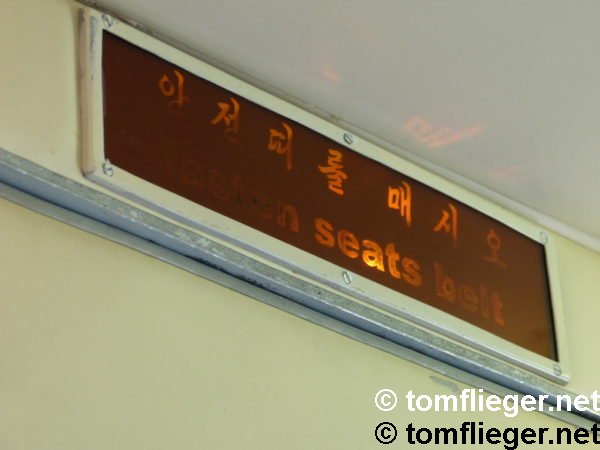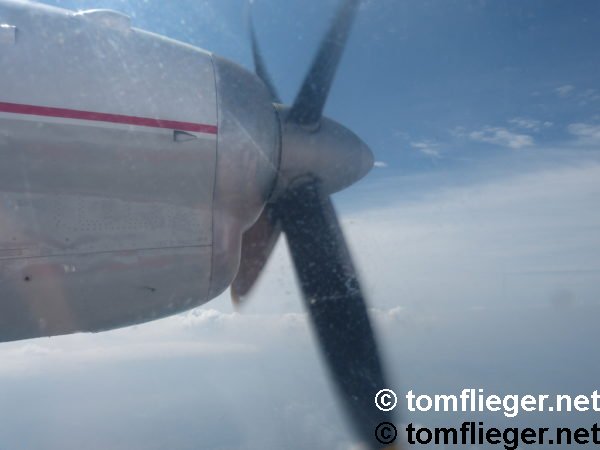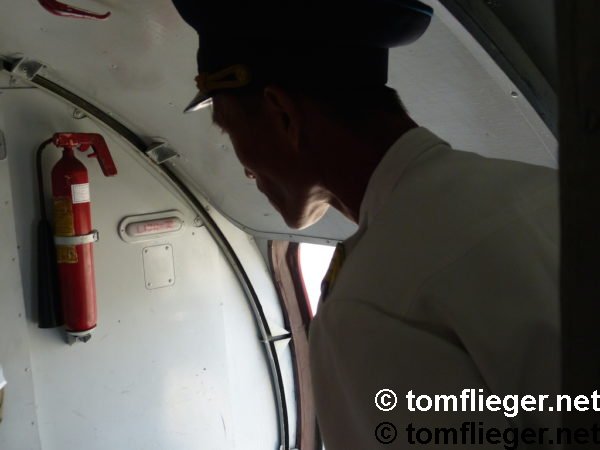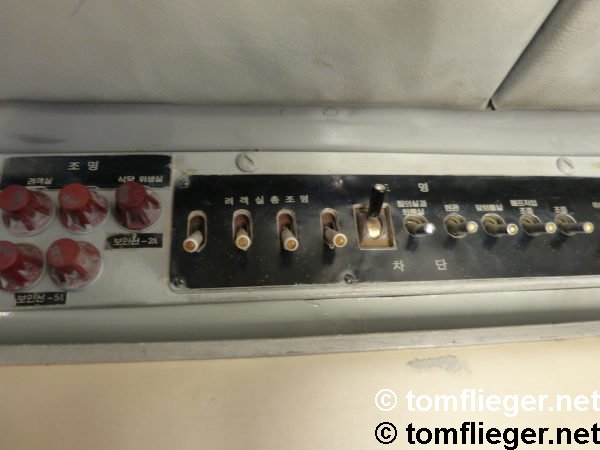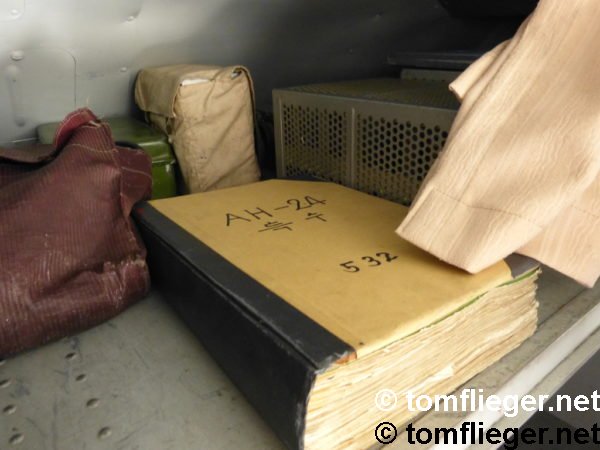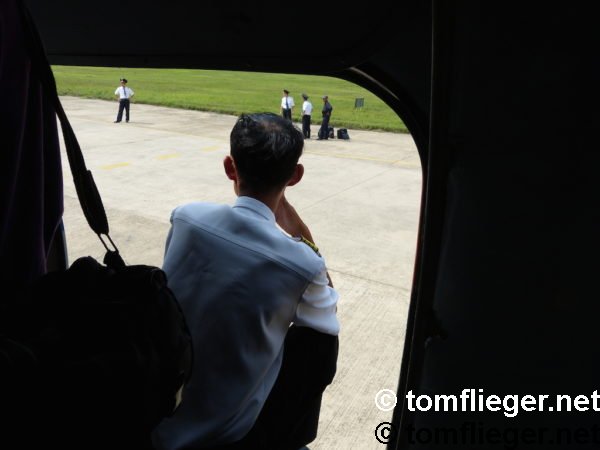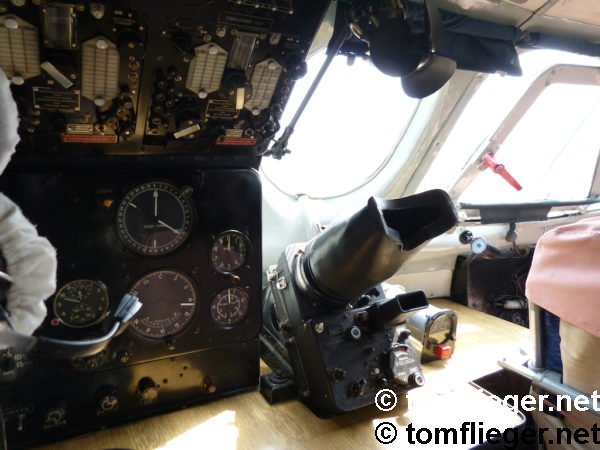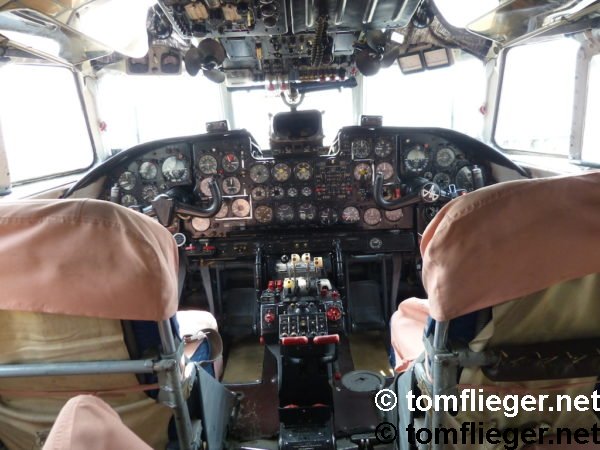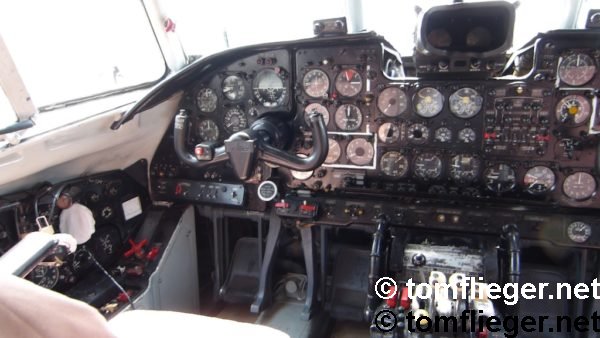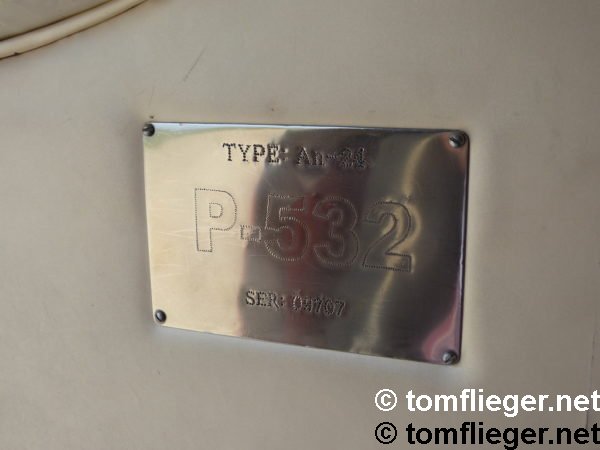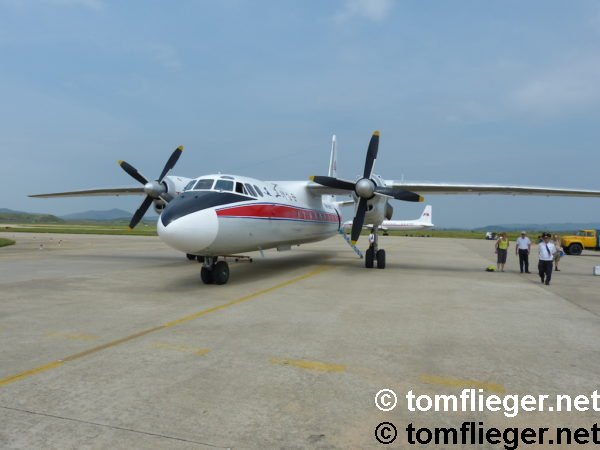 There is also female female crew staff.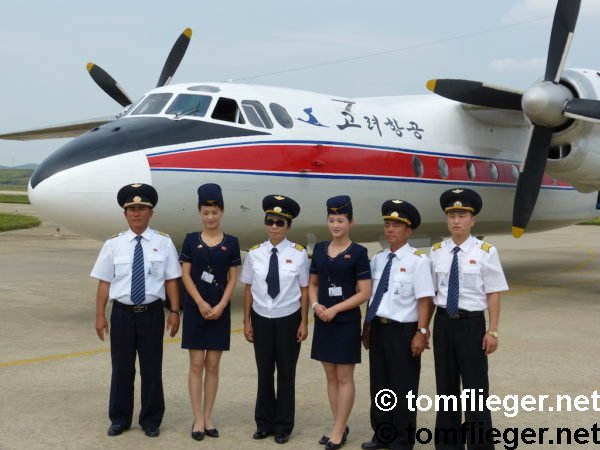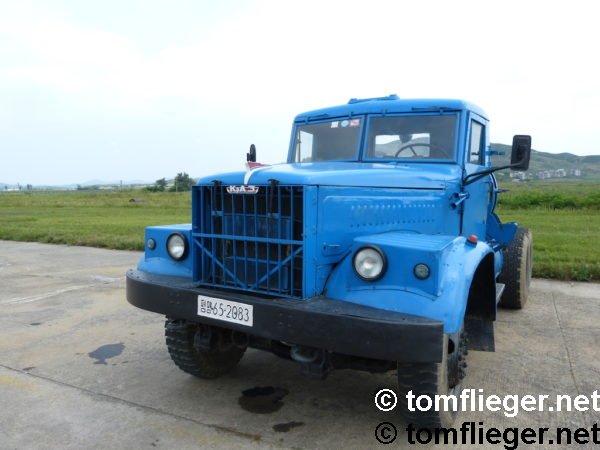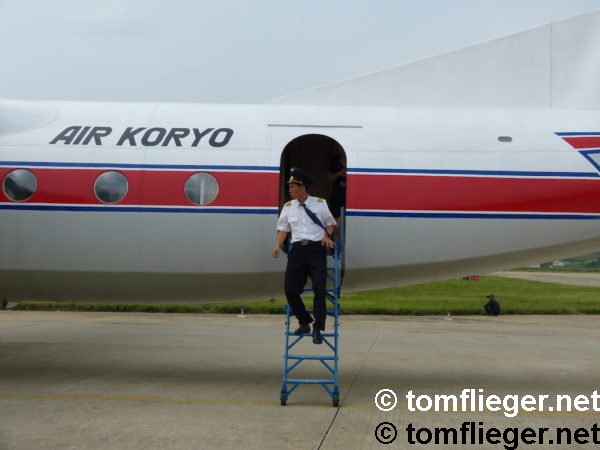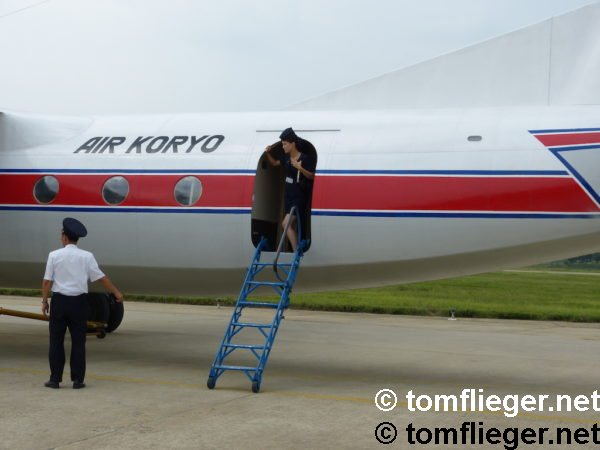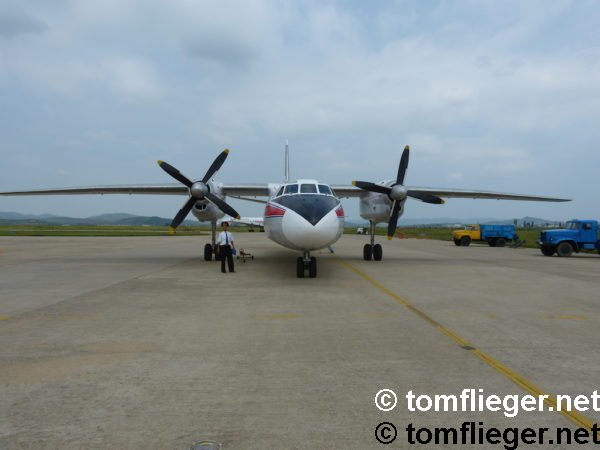 Who do we have here? The government aircraft of Kim Jong Un.
– photos have been removed on North Korean "request" –
This mistake was not committed a second time. On the next day the machines were no longer visible to us.
But there were motivating posters.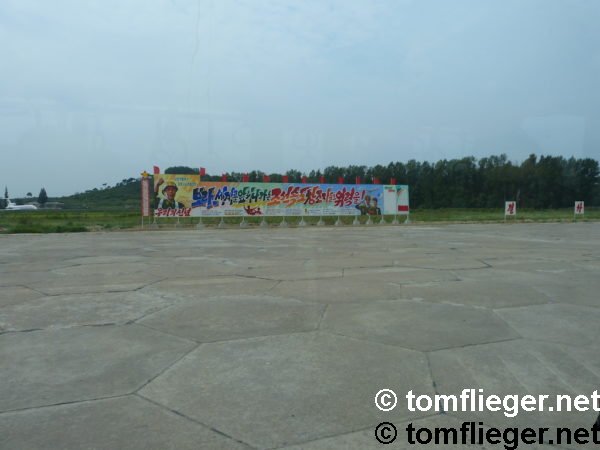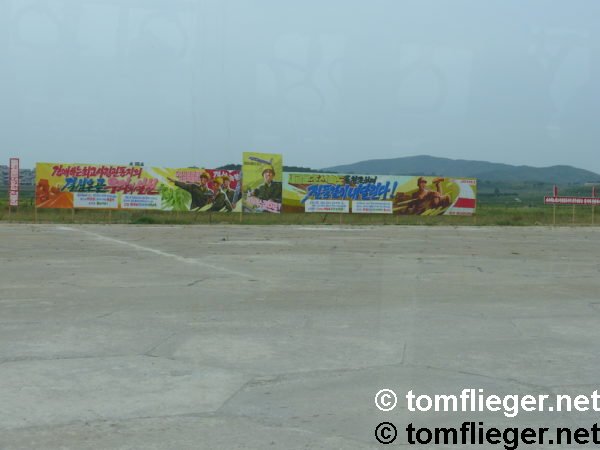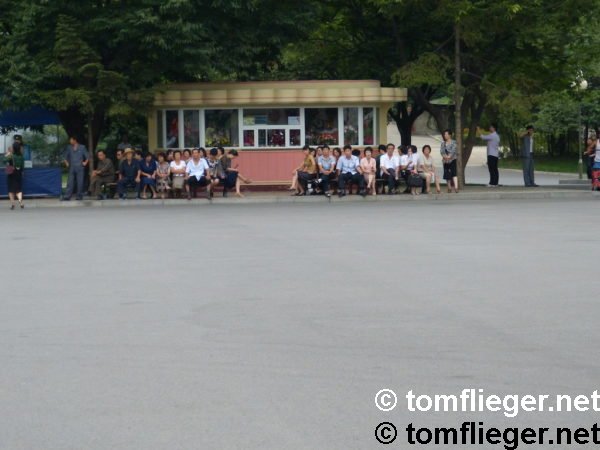 Mayday Stadium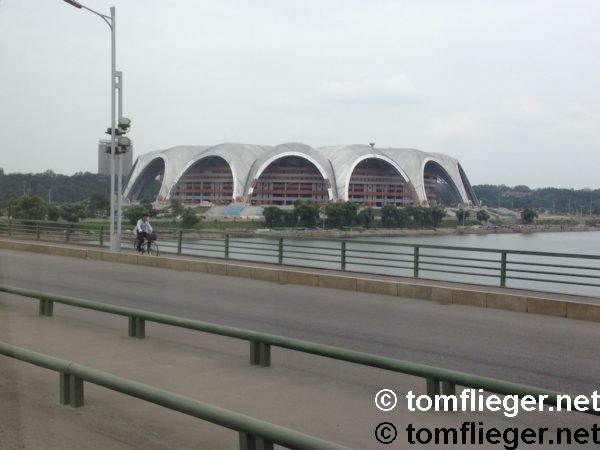 After lunch the Victorious Fatherland Liberation War Museum was visited.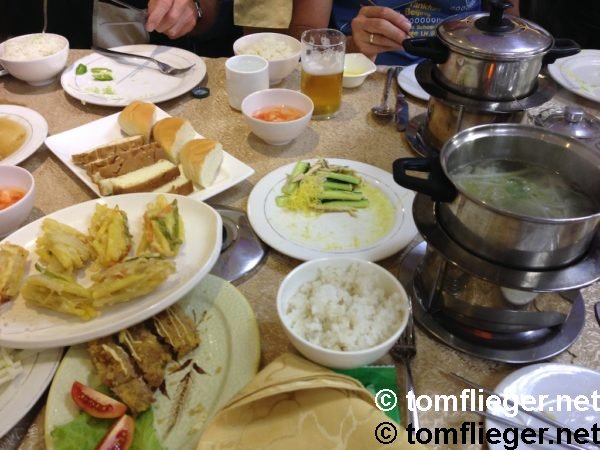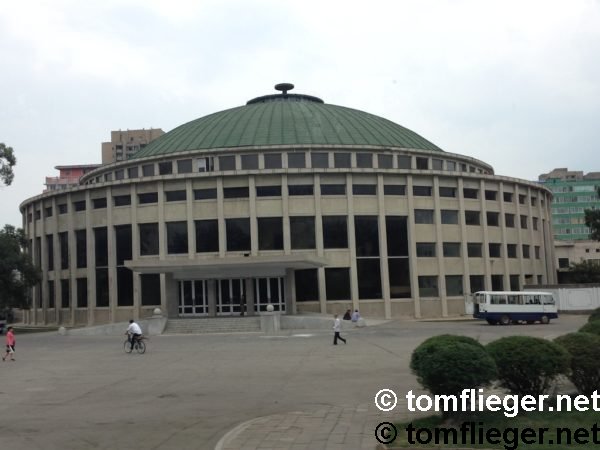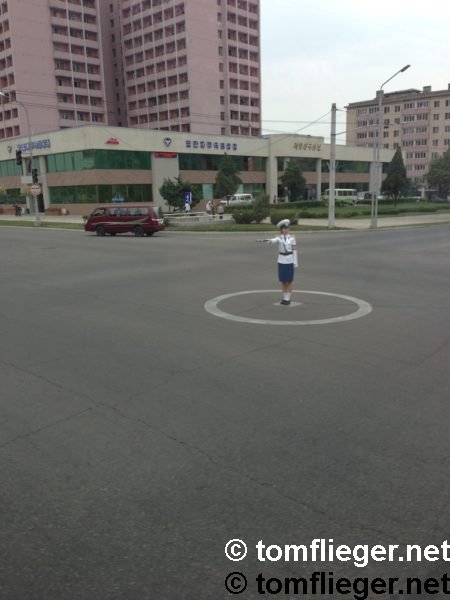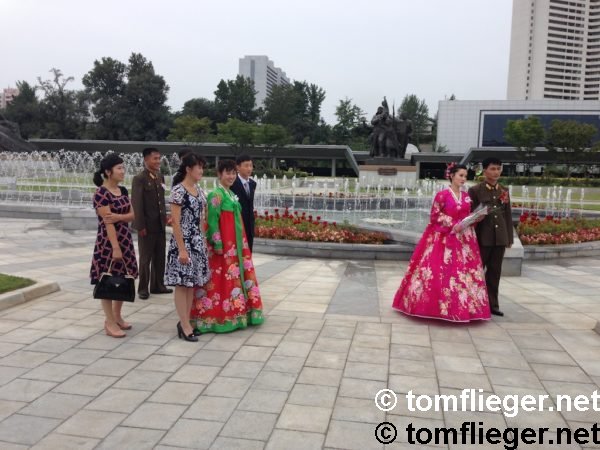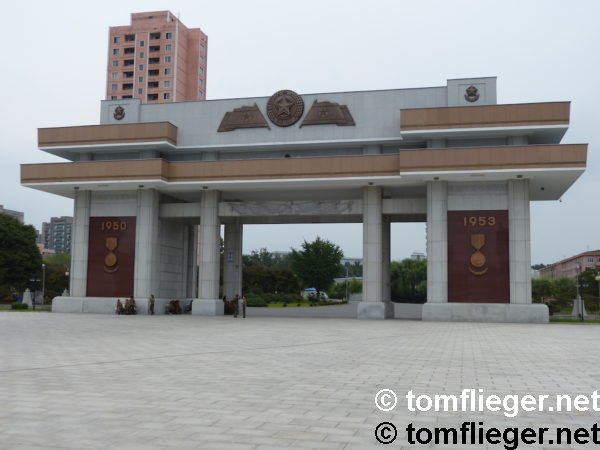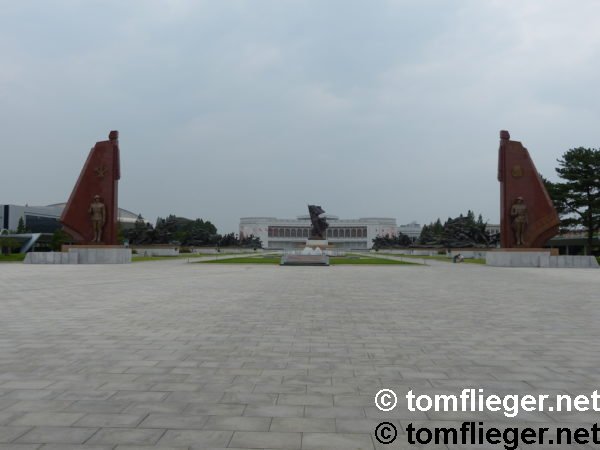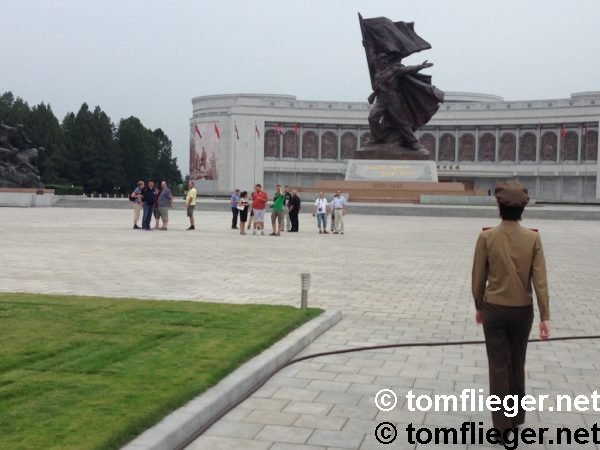 Little bear today with neck speaker …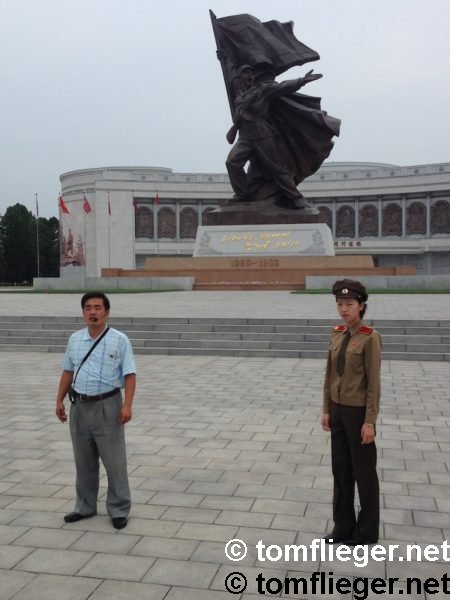 Monument of Victory in the Fatherland Liberation War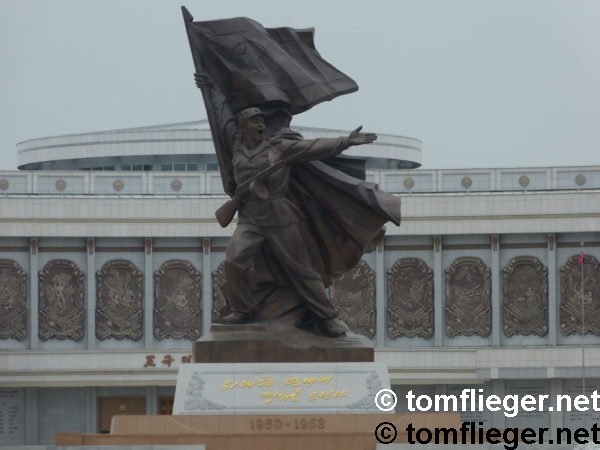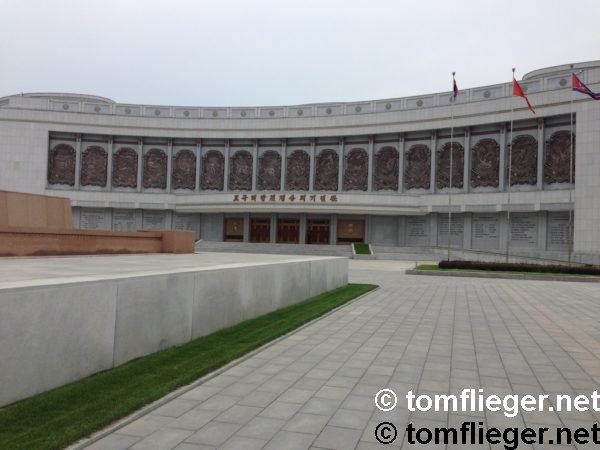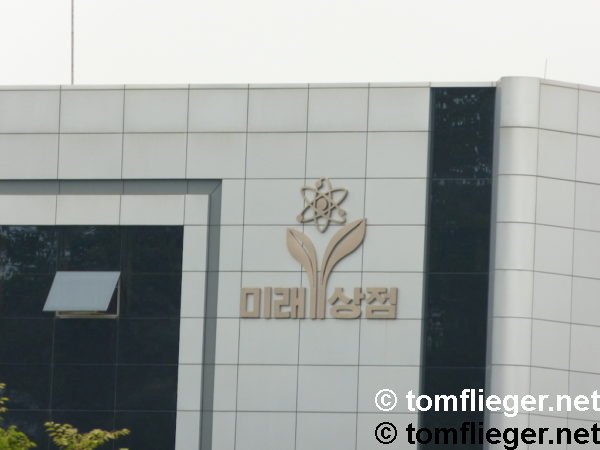 Hotel Ryugyong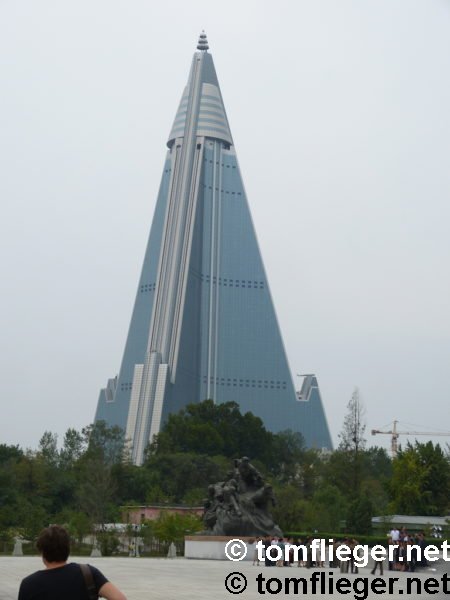 Inside no photos were allowed.
North Korean weapons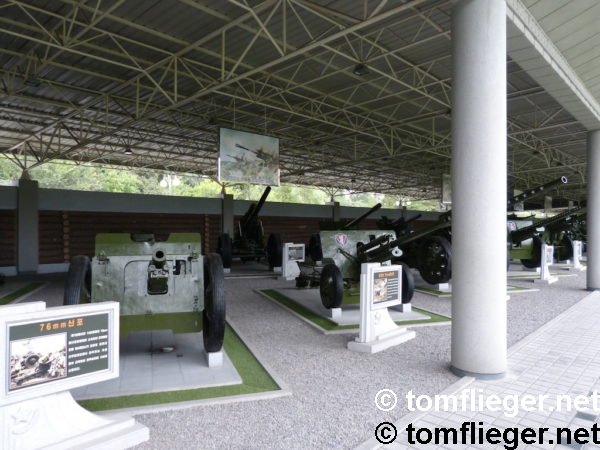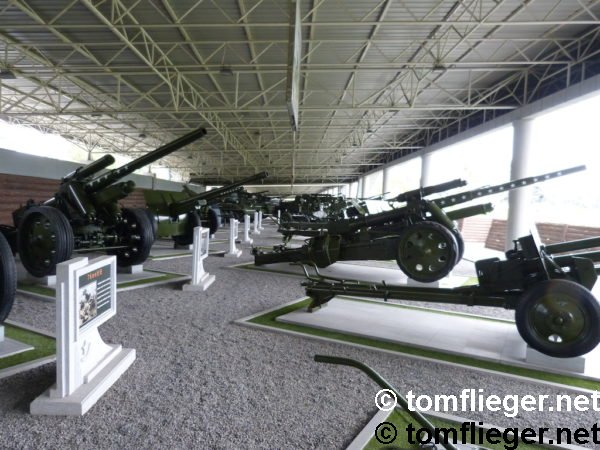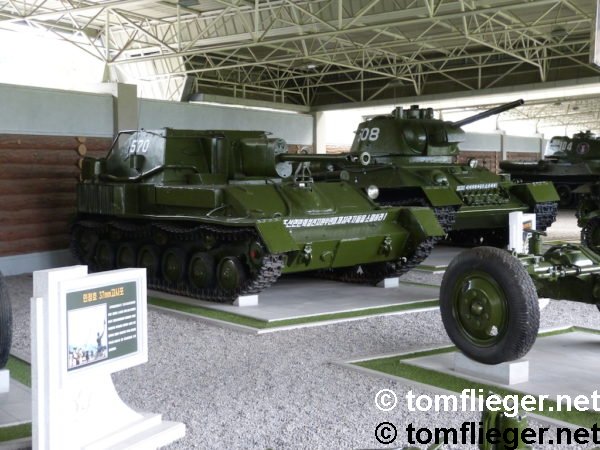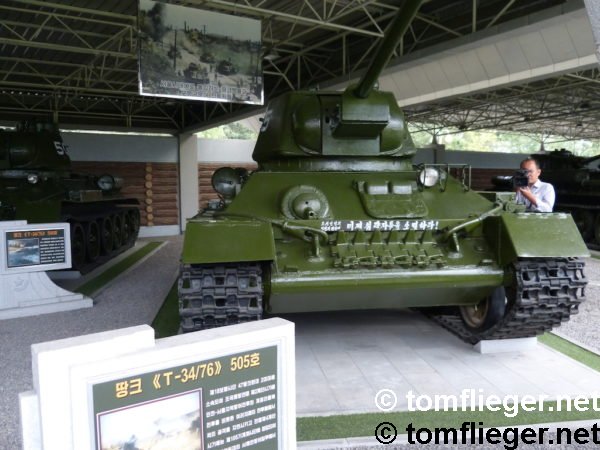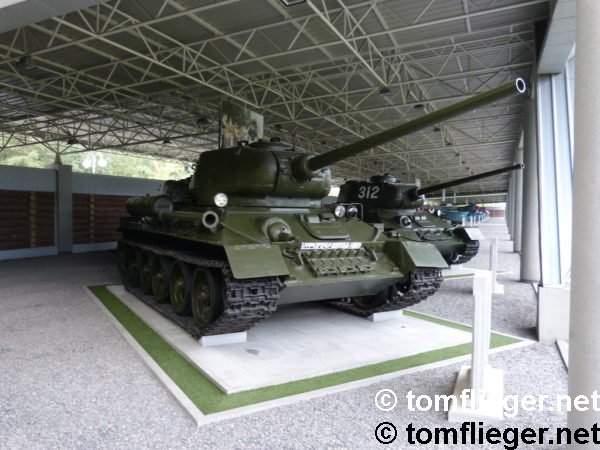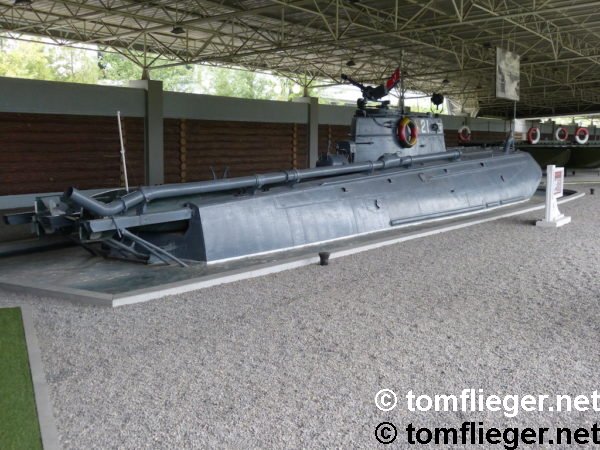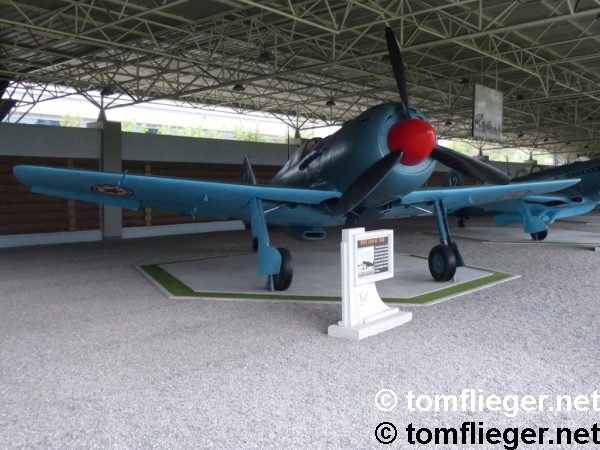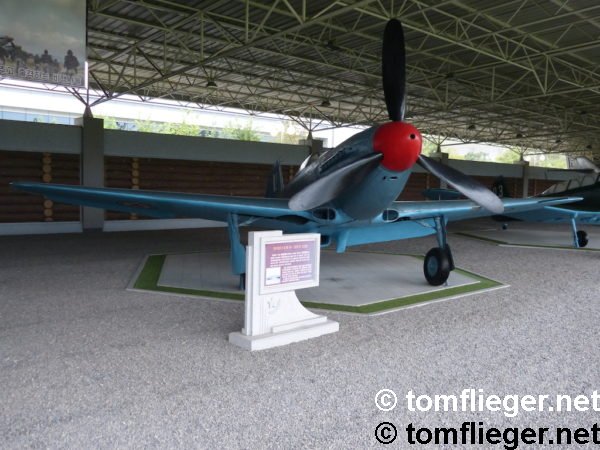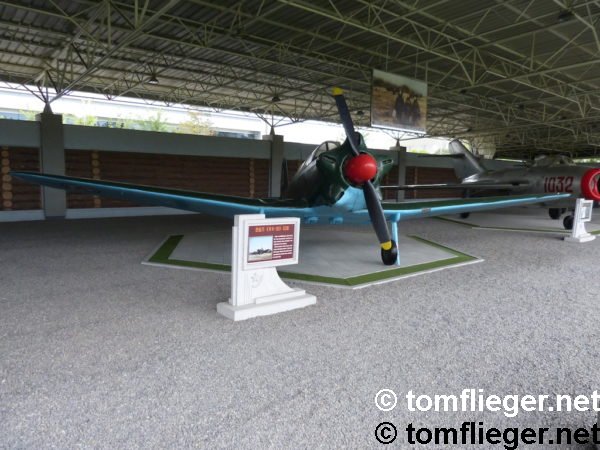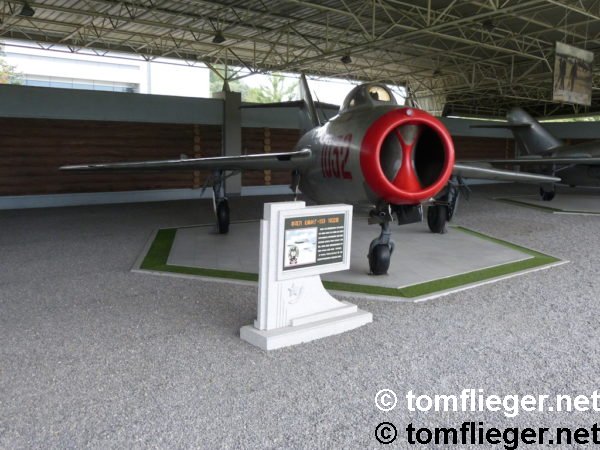 In the meantime, one or two additional visitors arrived.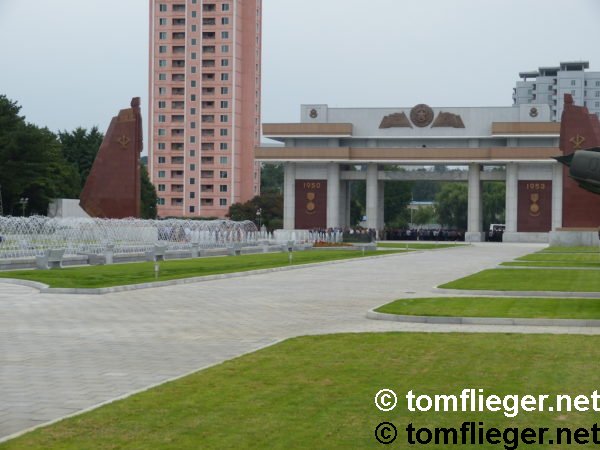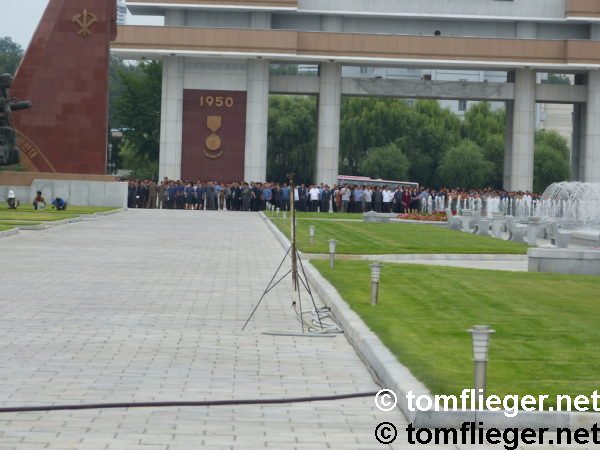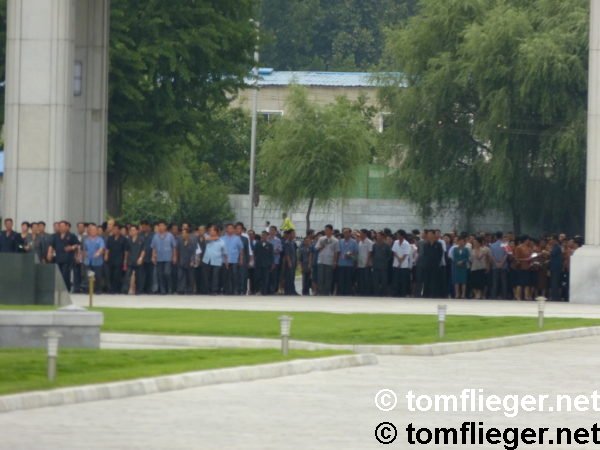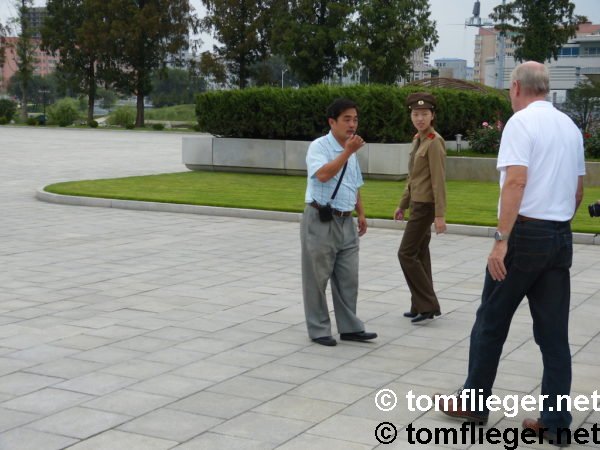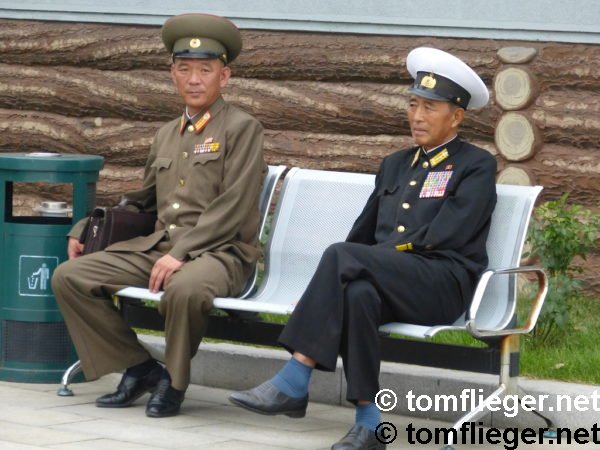 Captured weapons of the USA / USS Pueblo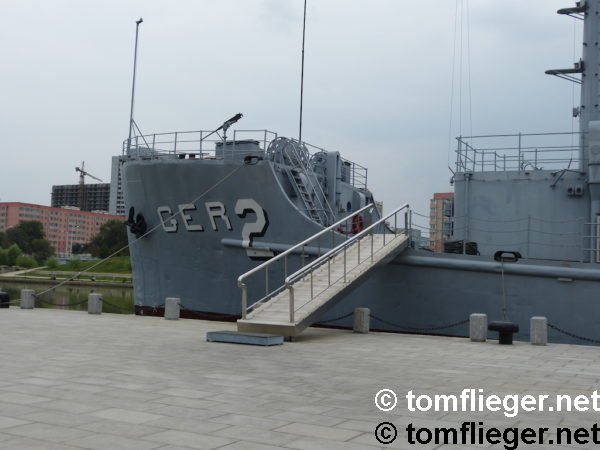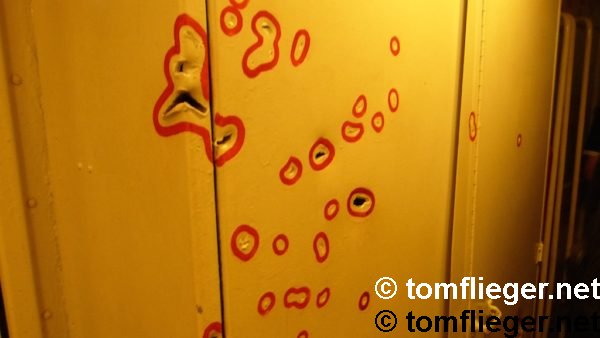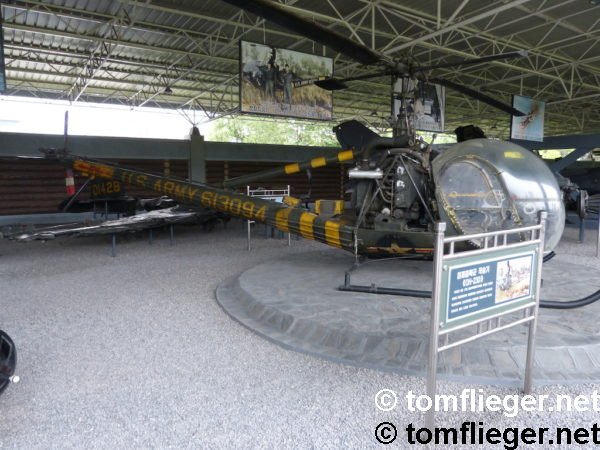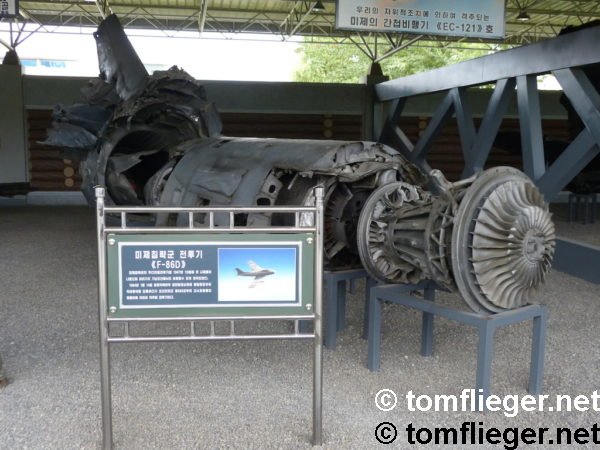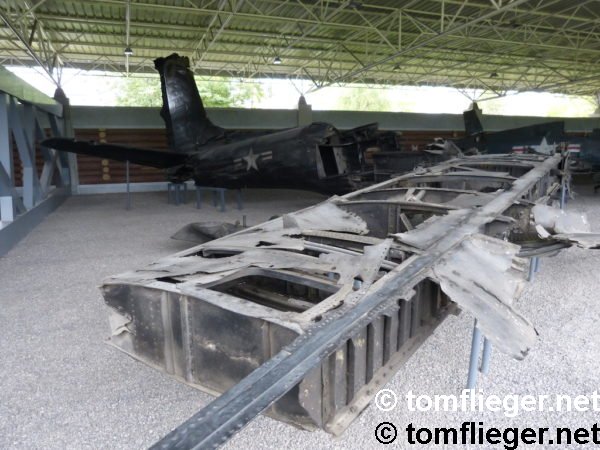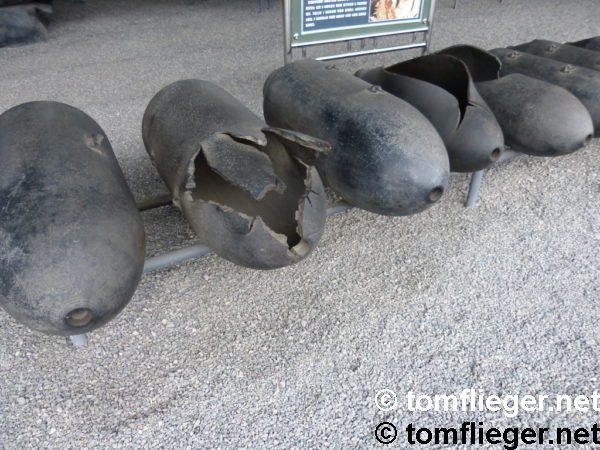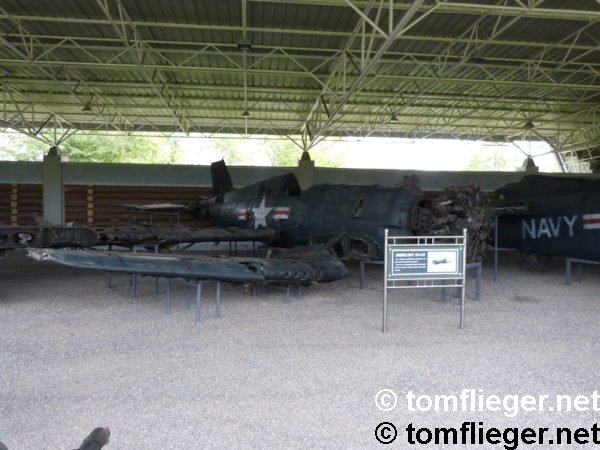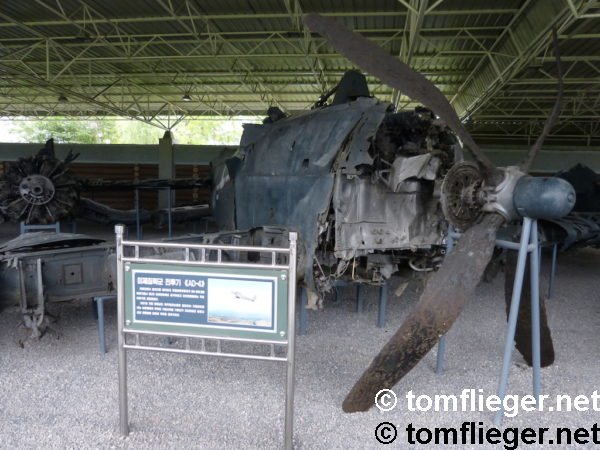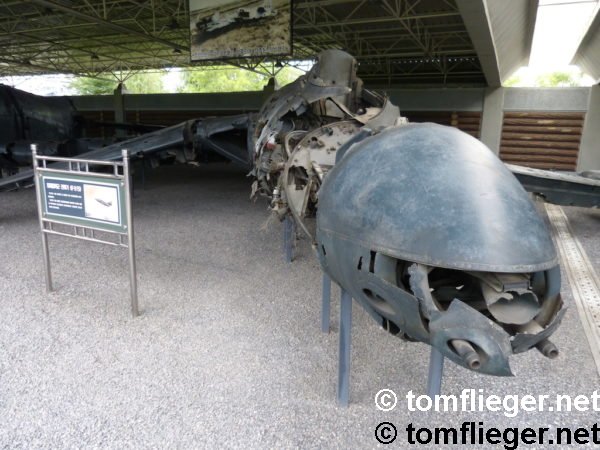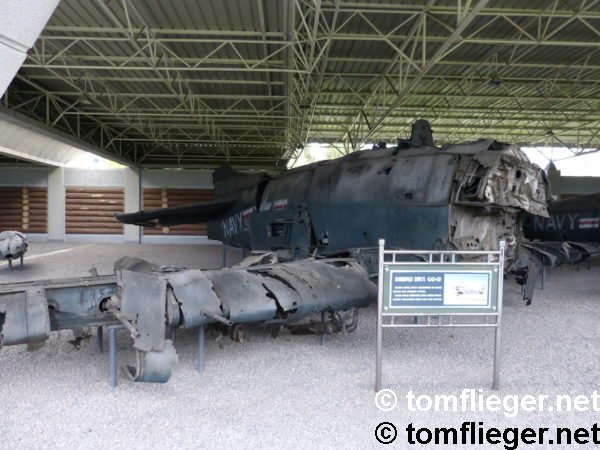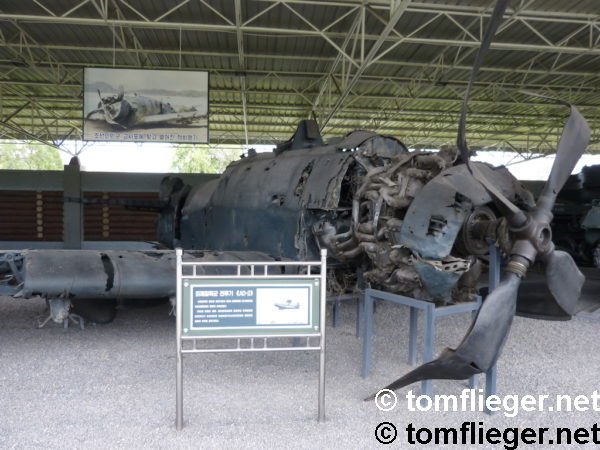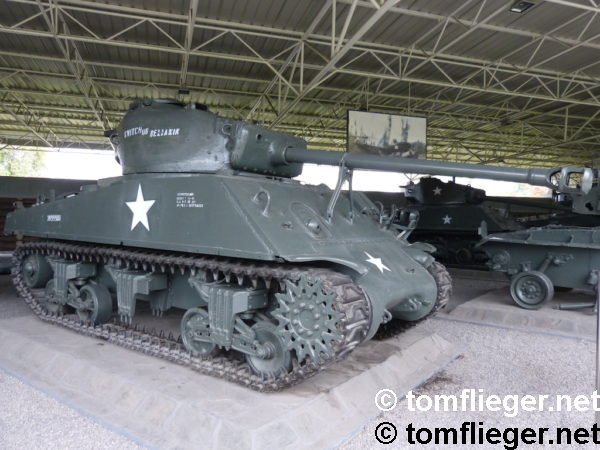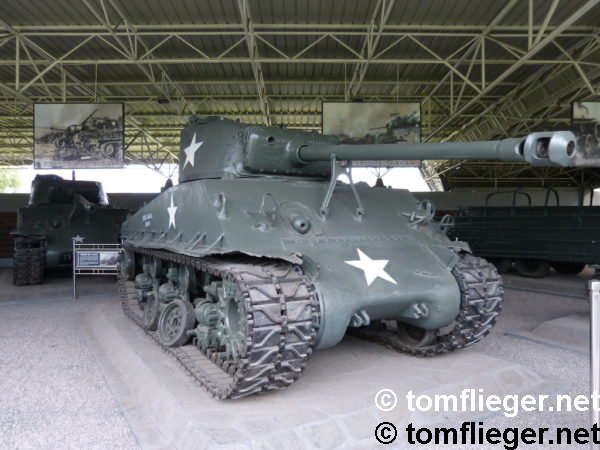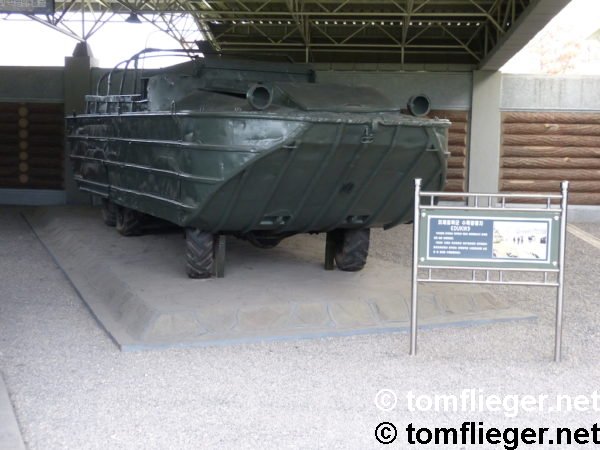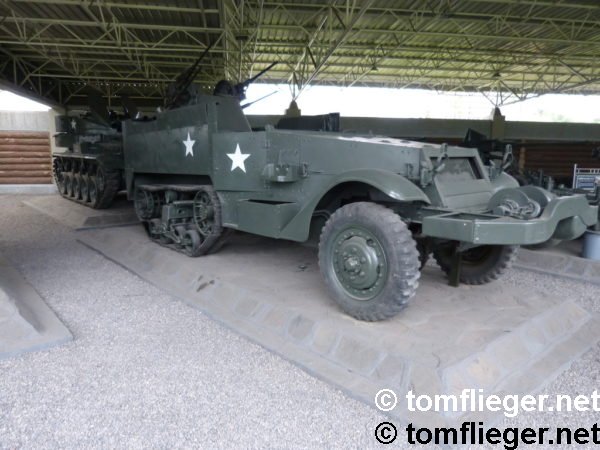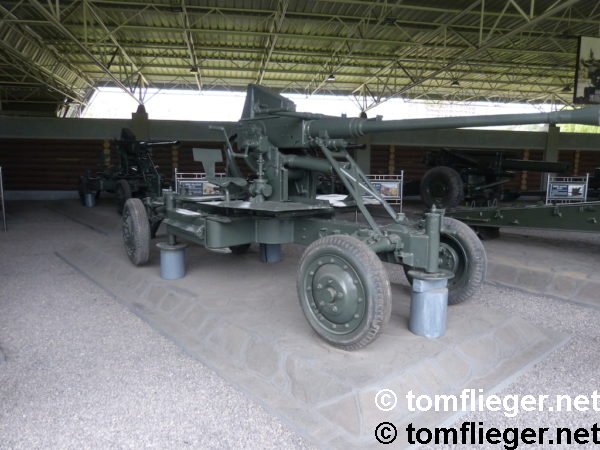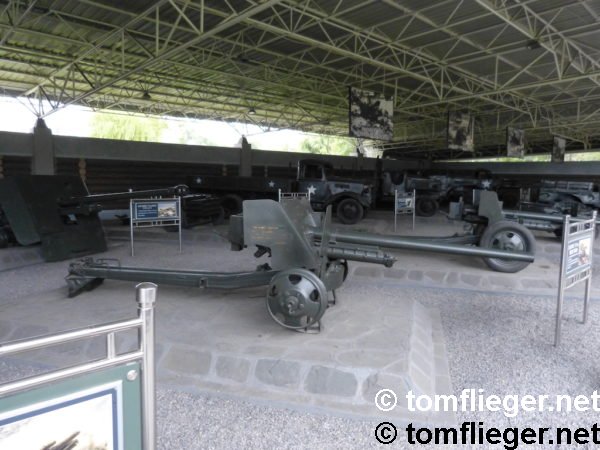 Now we are going for a ride with trolleybus and tram.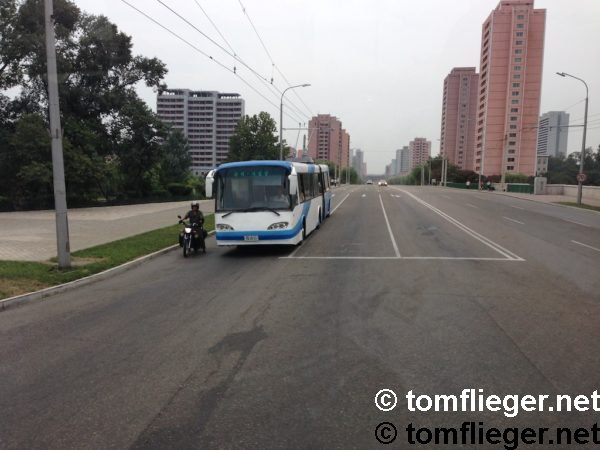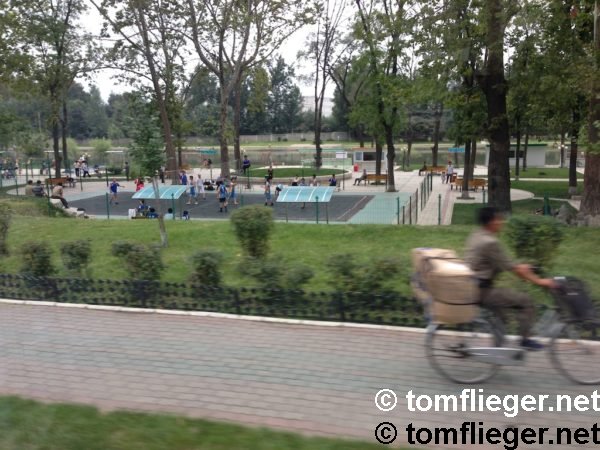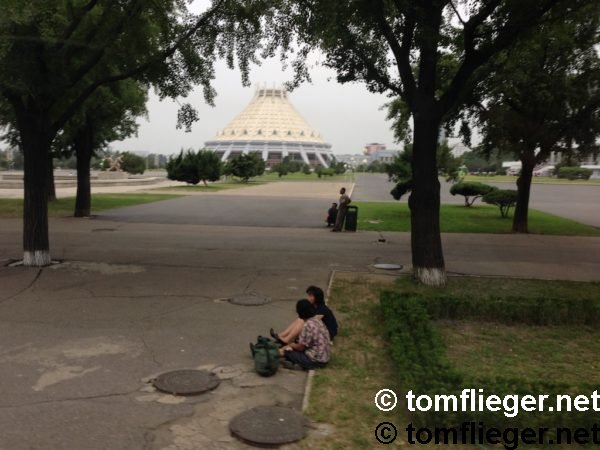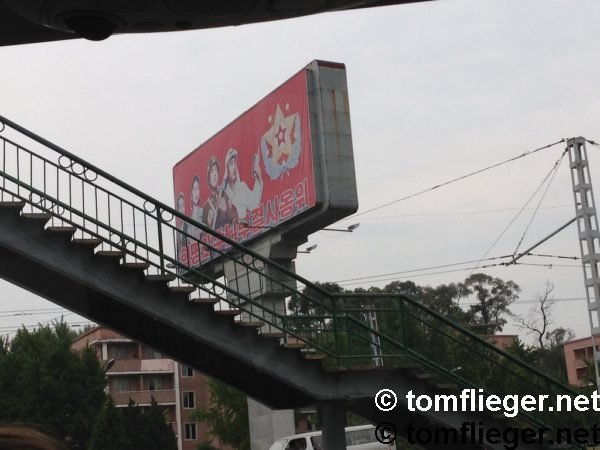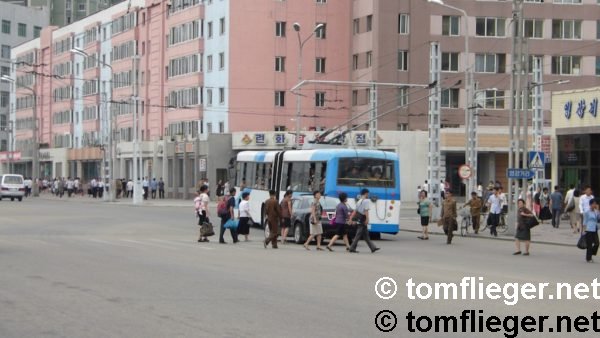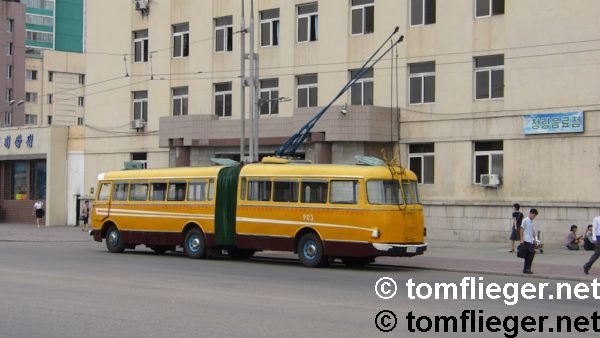 Each red star represents 50,000 accident-free kilometers.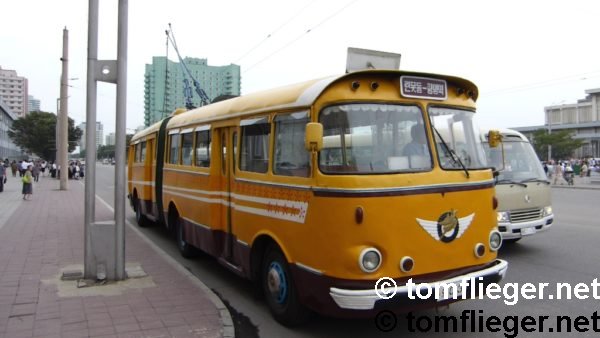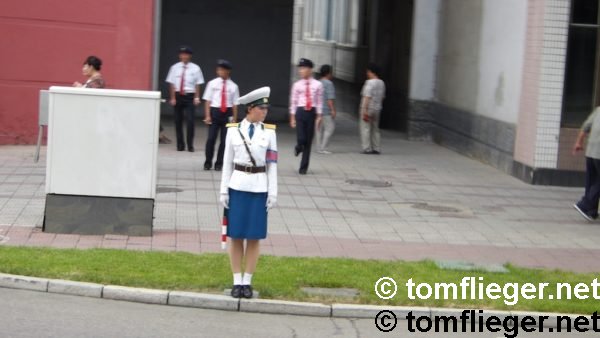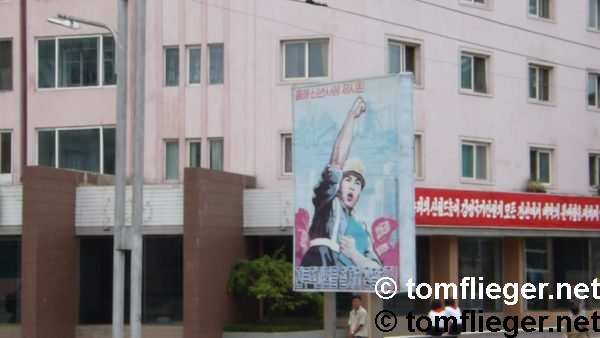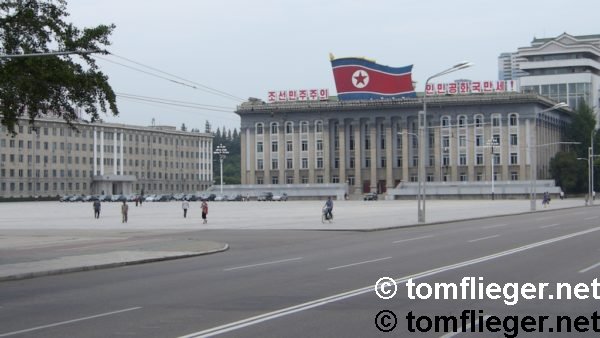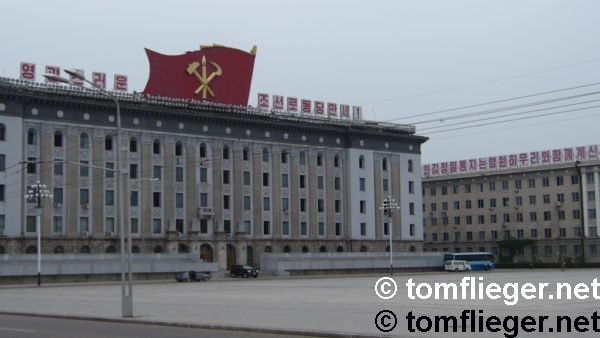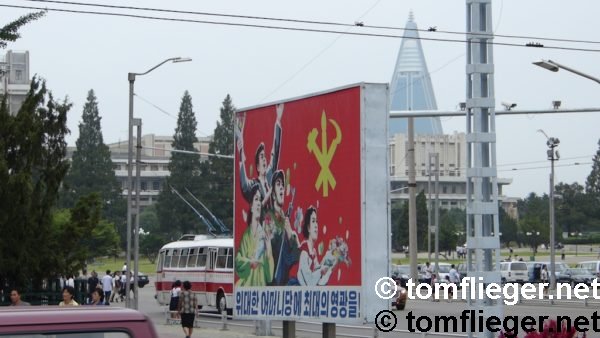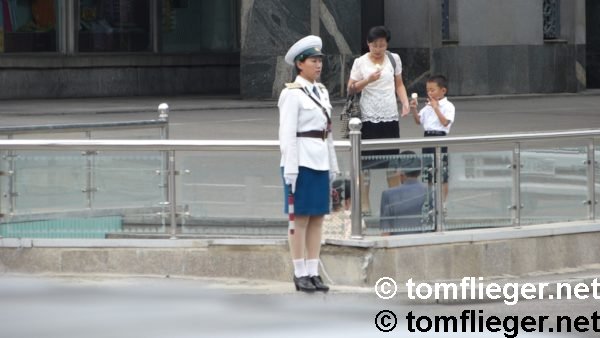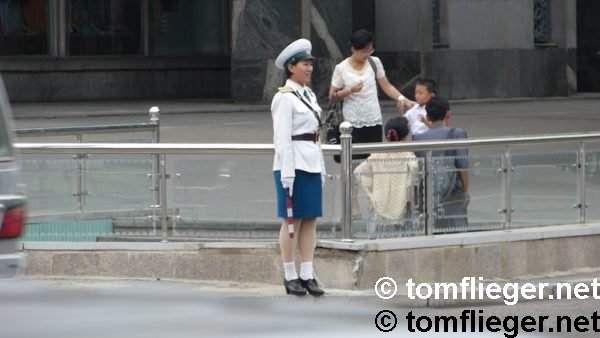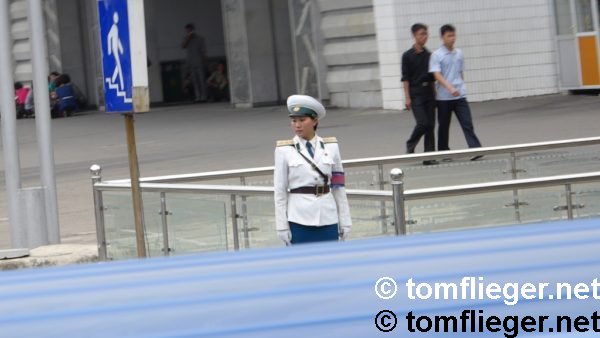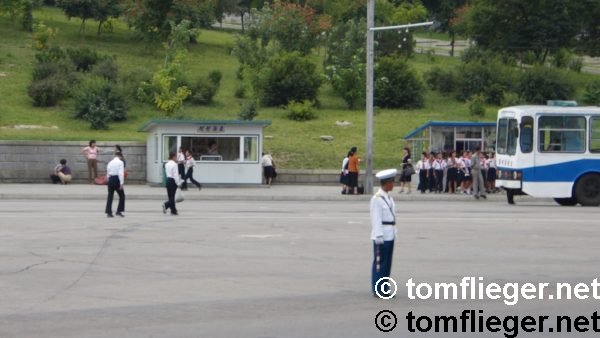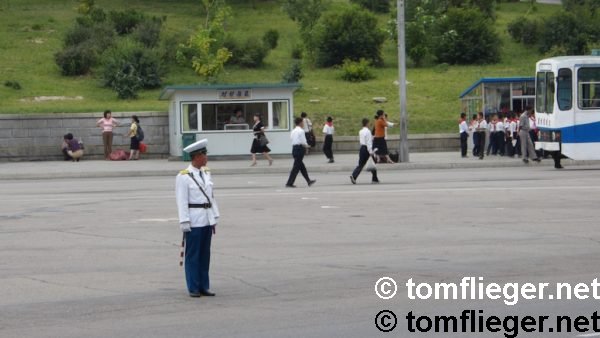 Detached Young Pioneers are seen.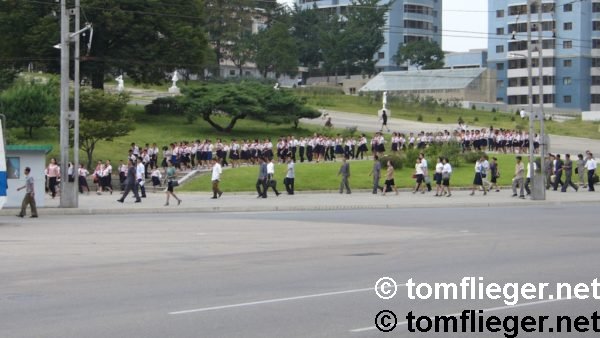 Triumphal Arch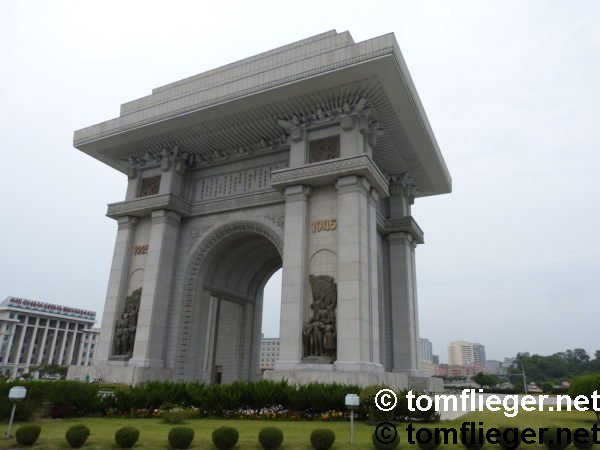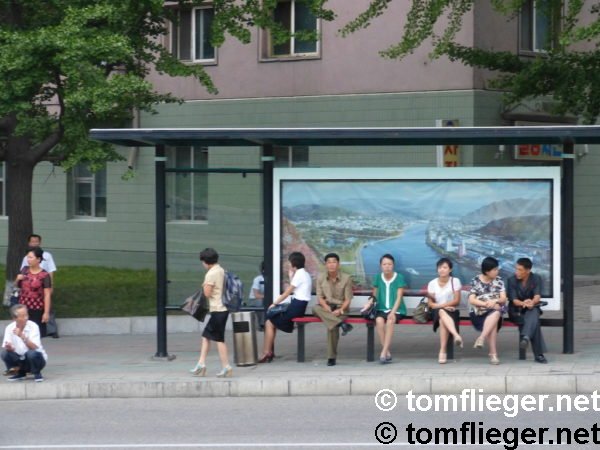 TV Tower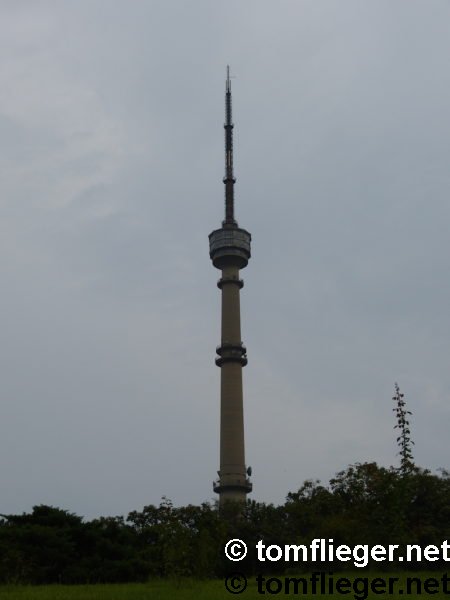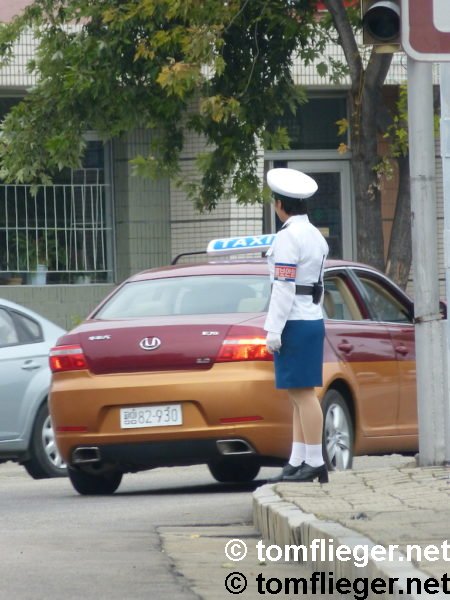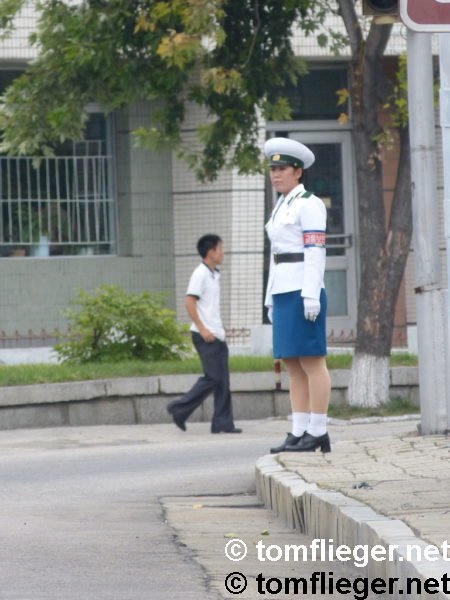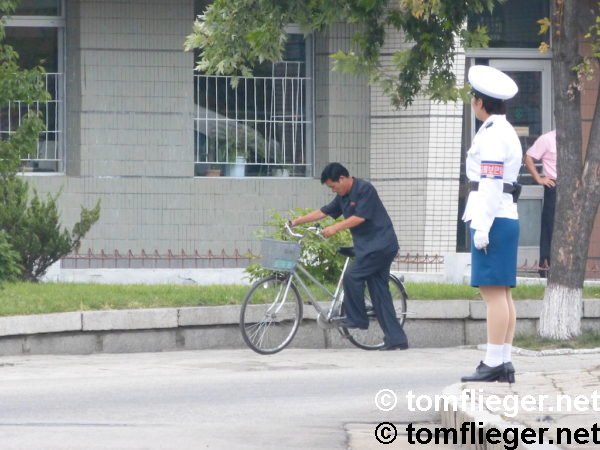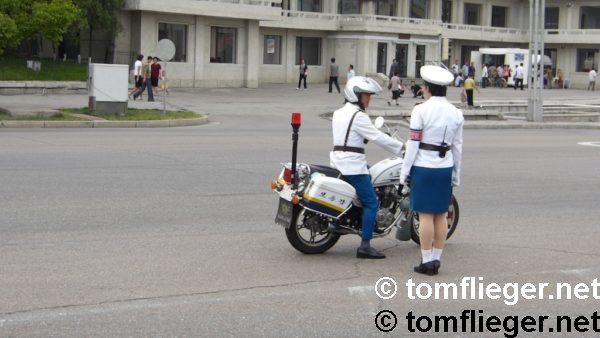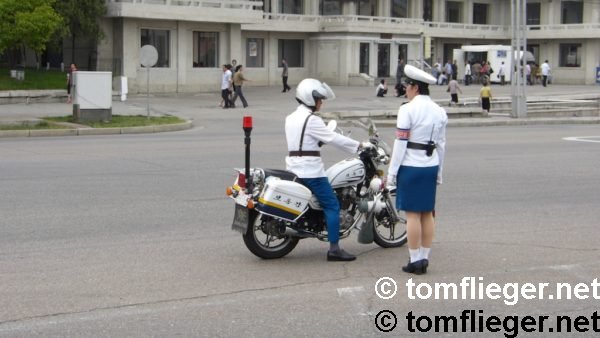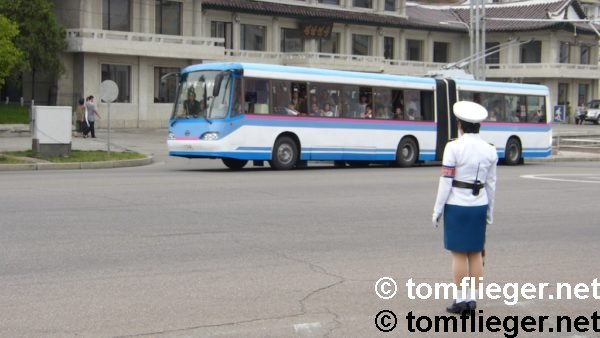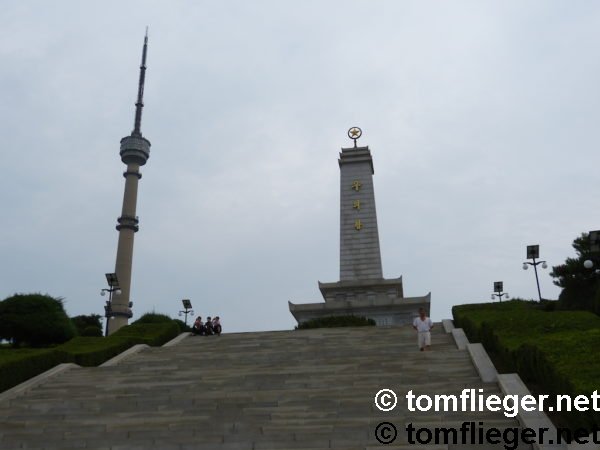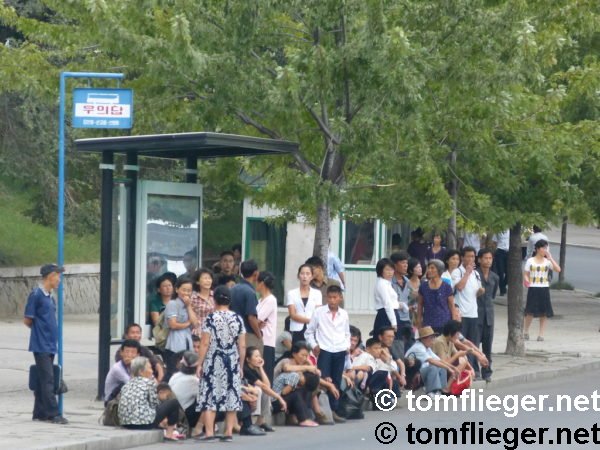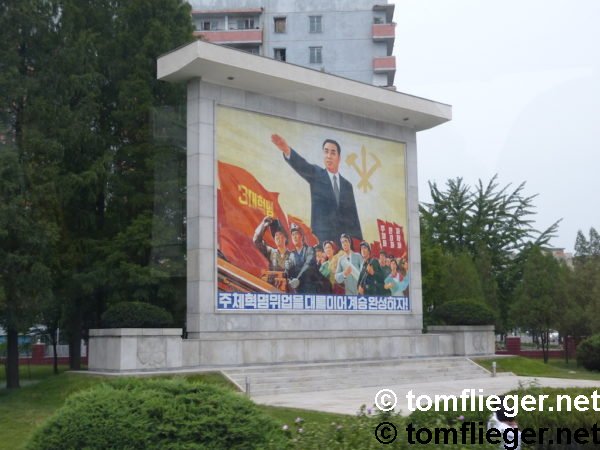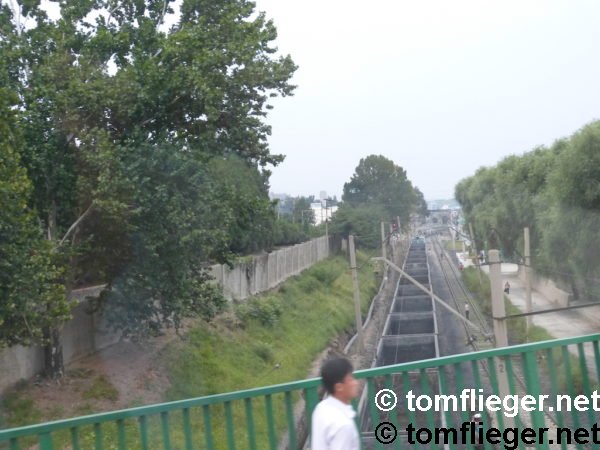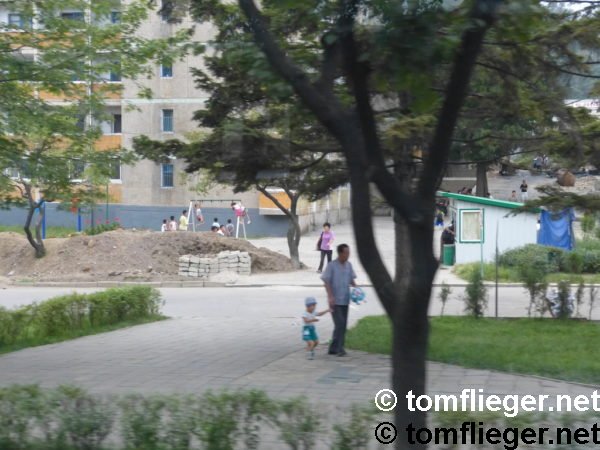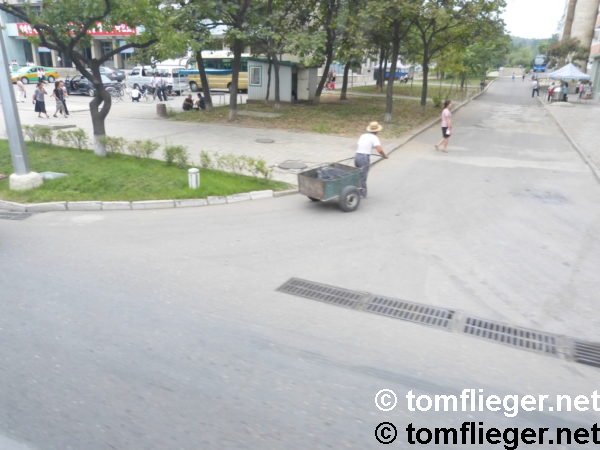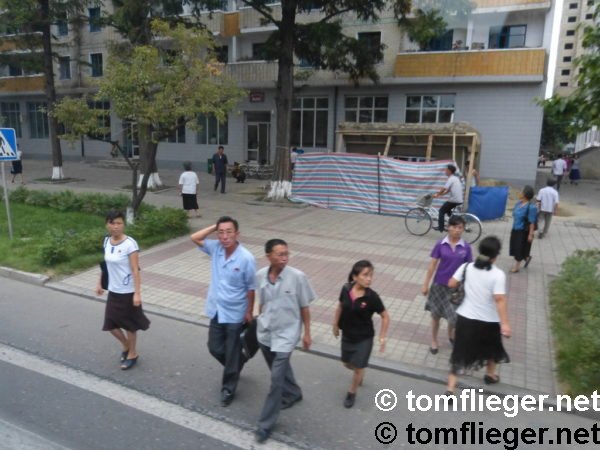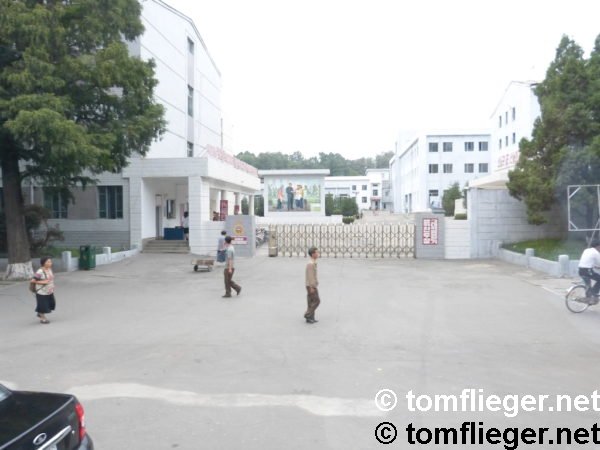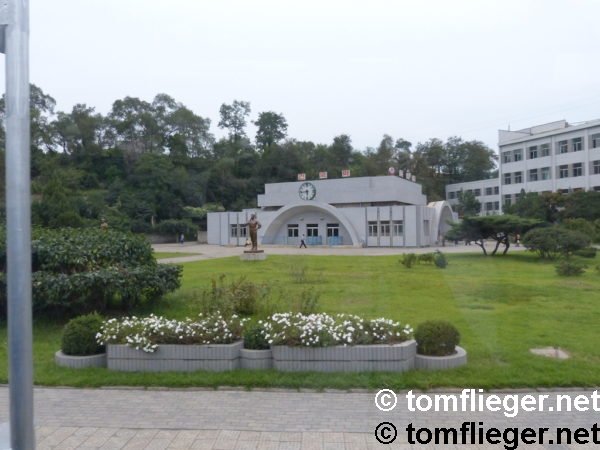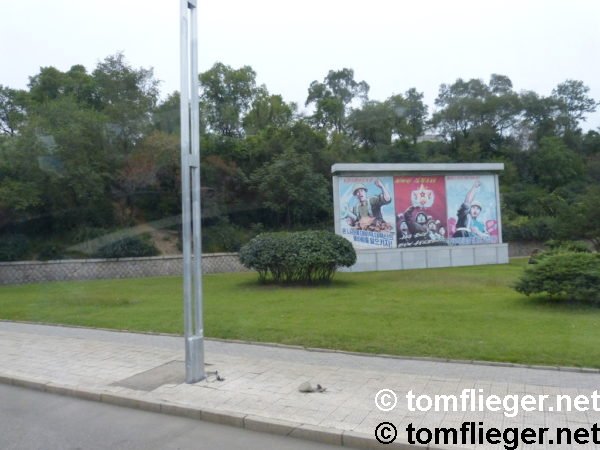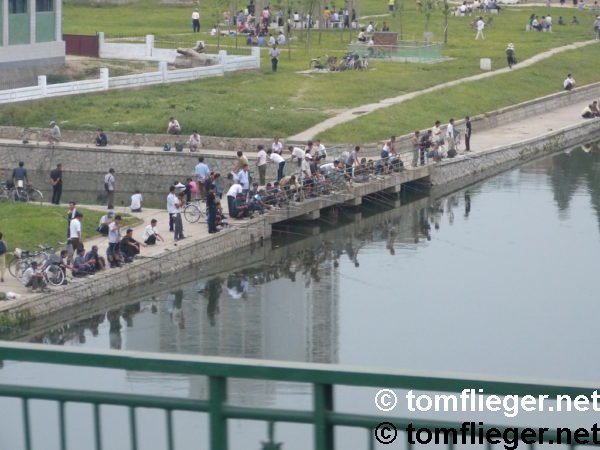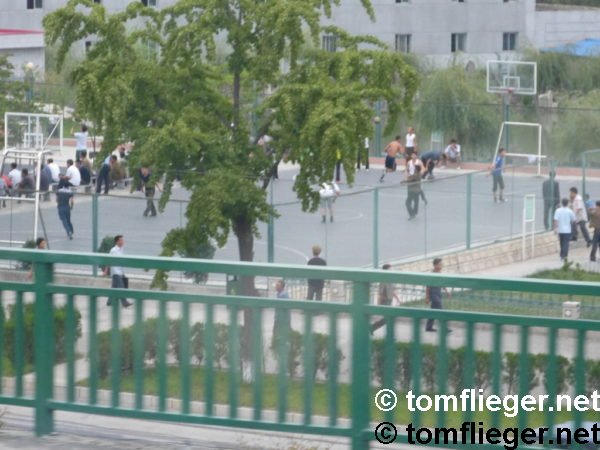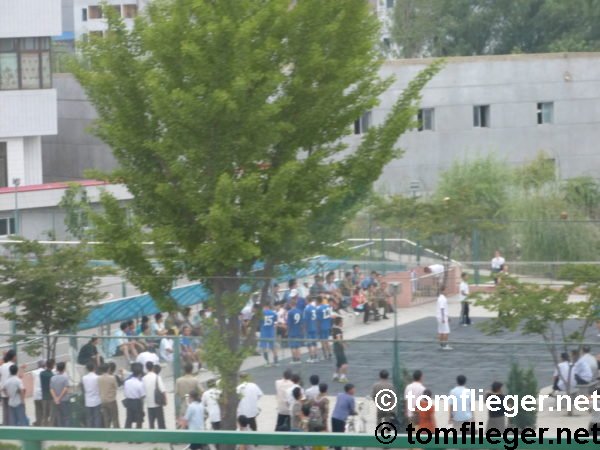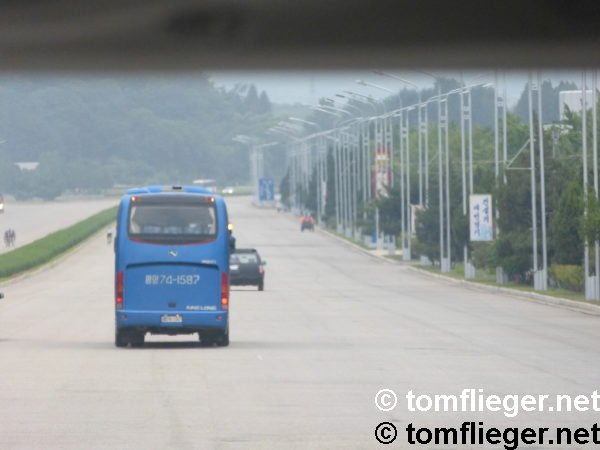 The Schoolchildren's Palace Mangyongdae is being renovated. Even in the darkness welding work could be seen.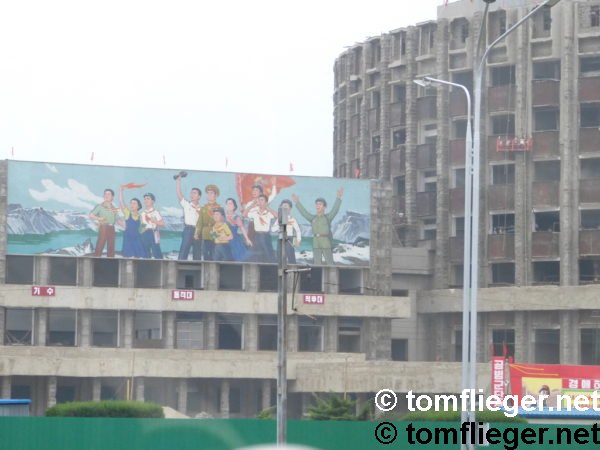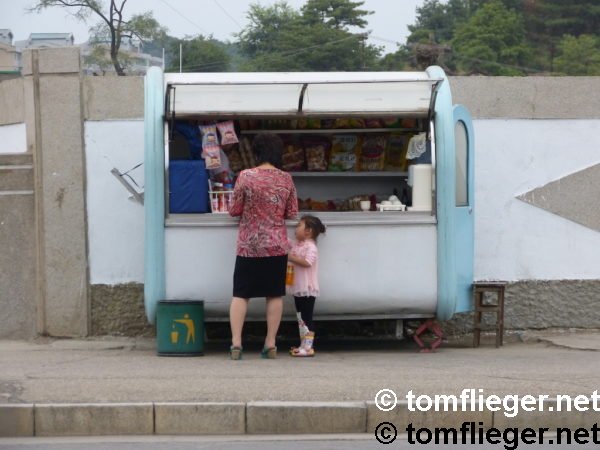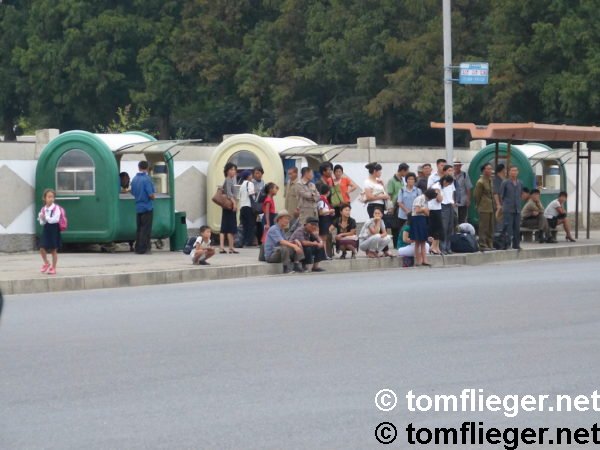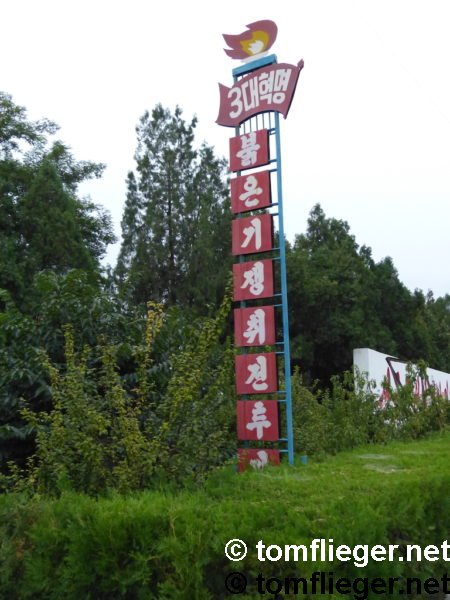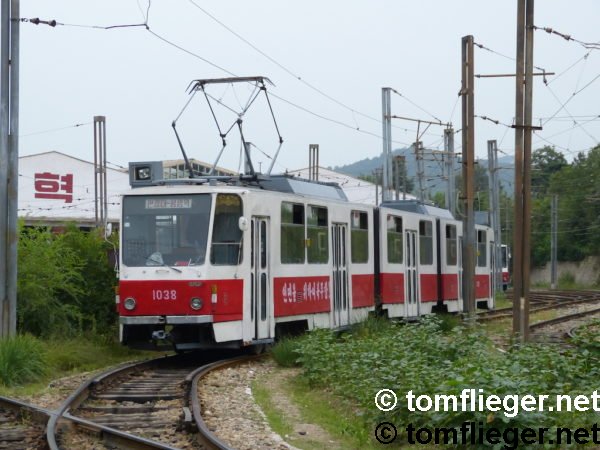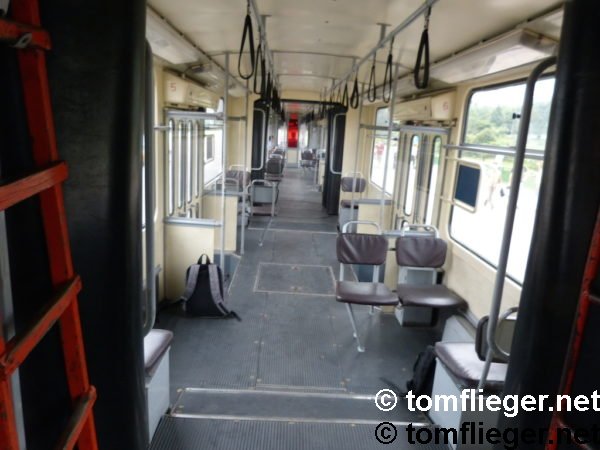 Ice Rink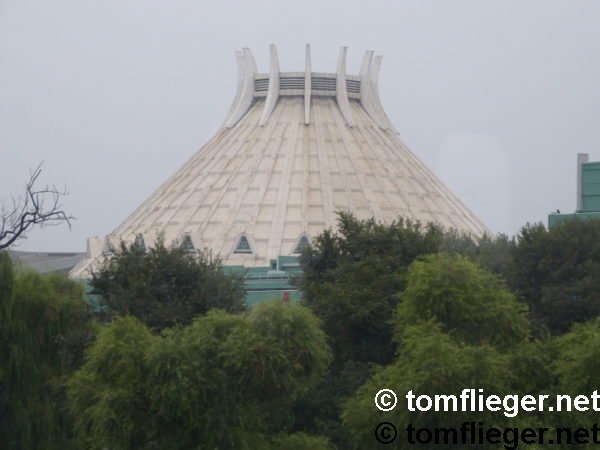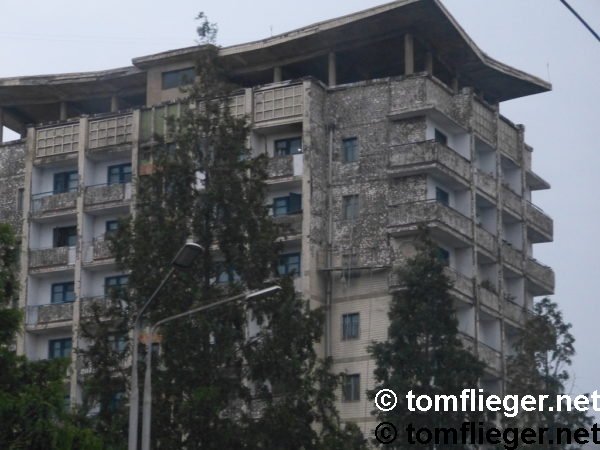 Wednesday

The next day, the German Ambassador and a staff member accompanied us to Hamhung.
In conversations we learned that normally not more than 10 to 15 Germans permanently are present in North Korea, rarely up to 20. Our tour group had tripled the number of Germans in the country in one fell swoop.
We flew with a Tupolev Tu-134, the P-814 to Sondok.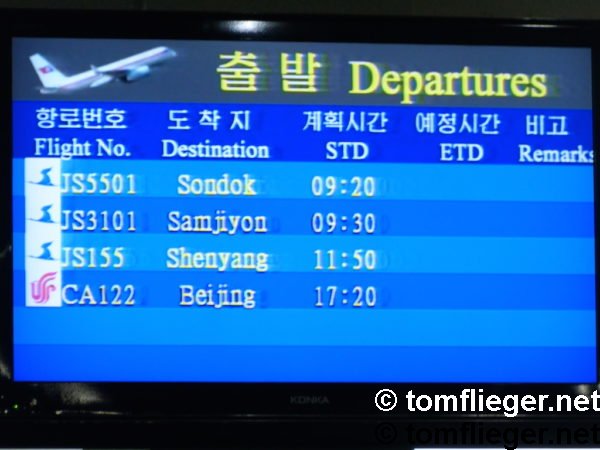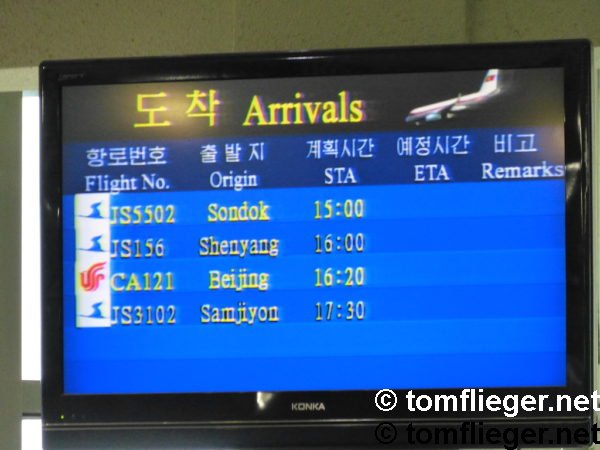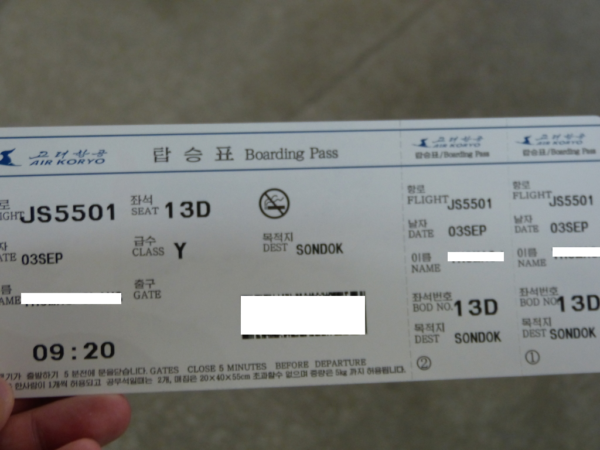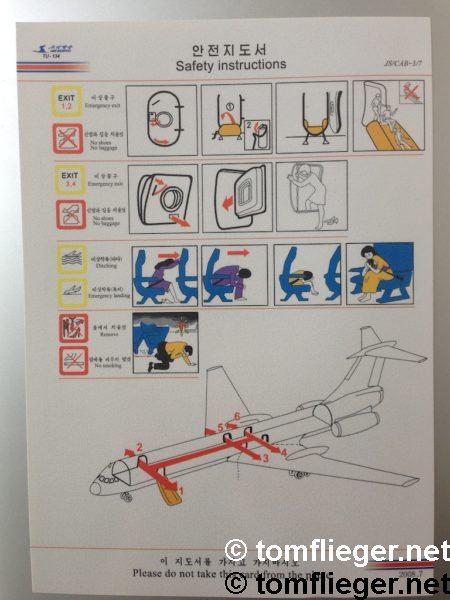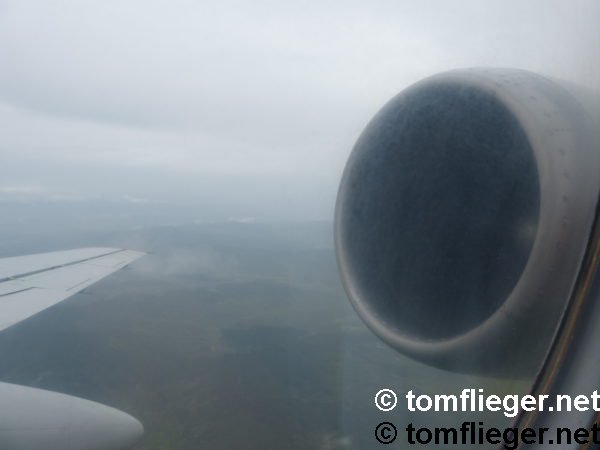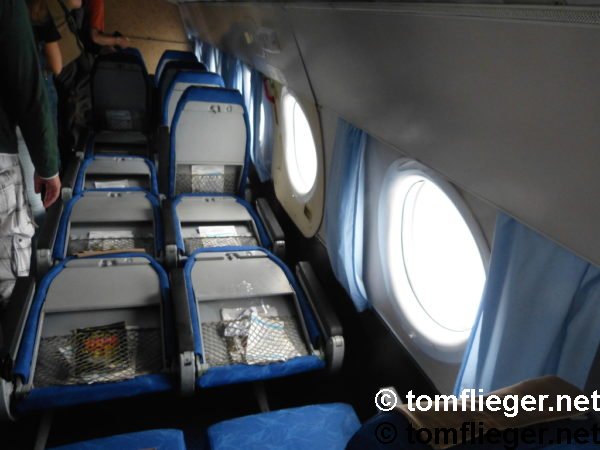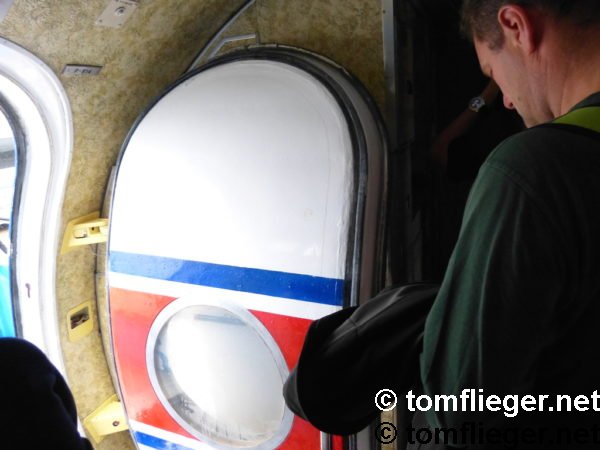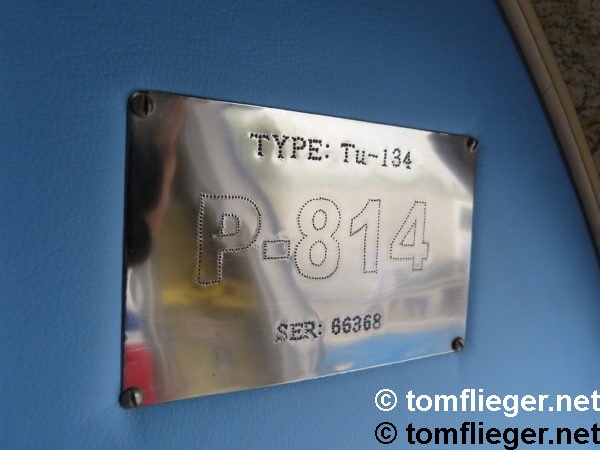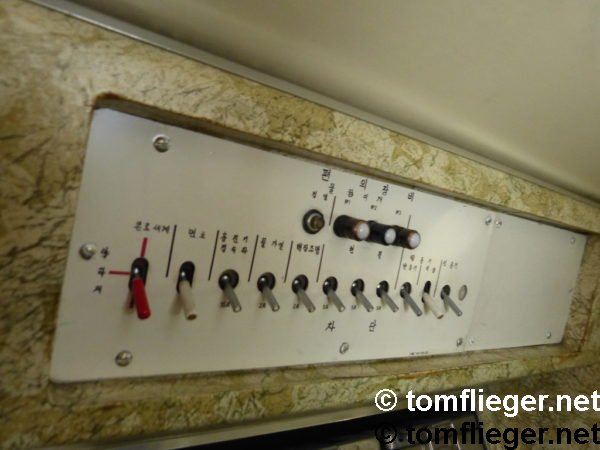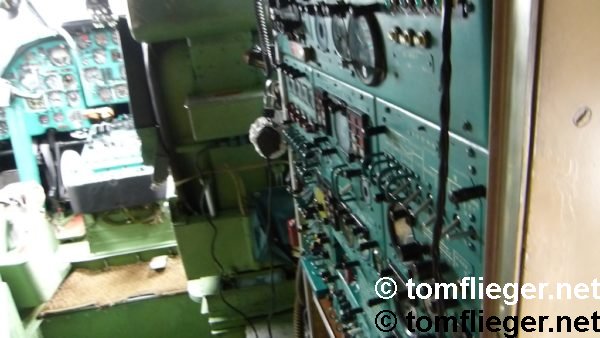 Visitors 🙂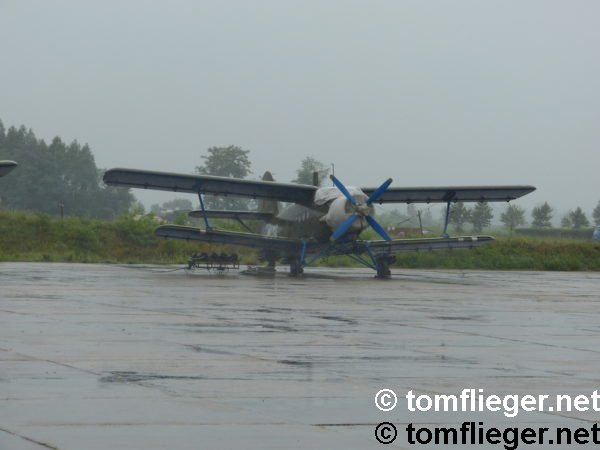 Continuation by bus.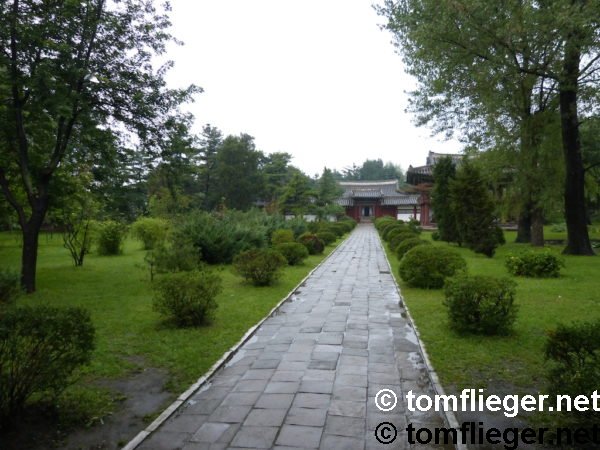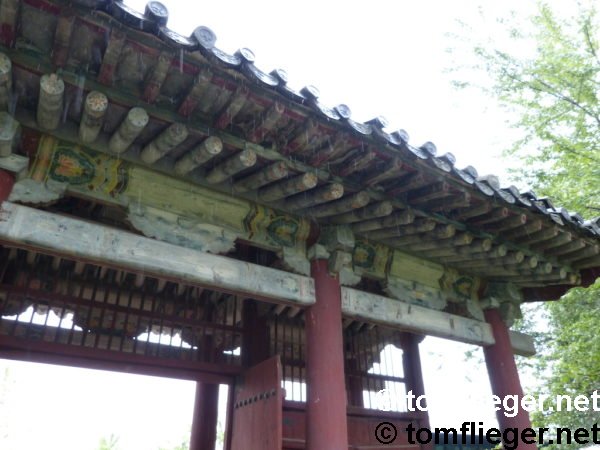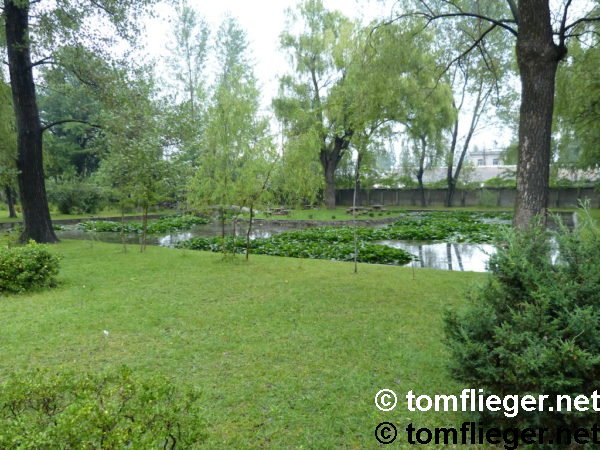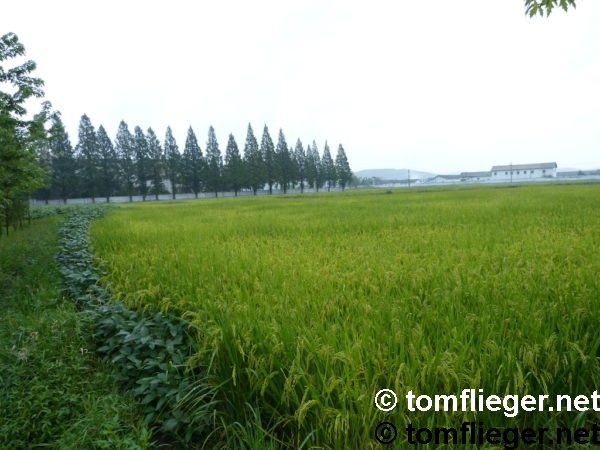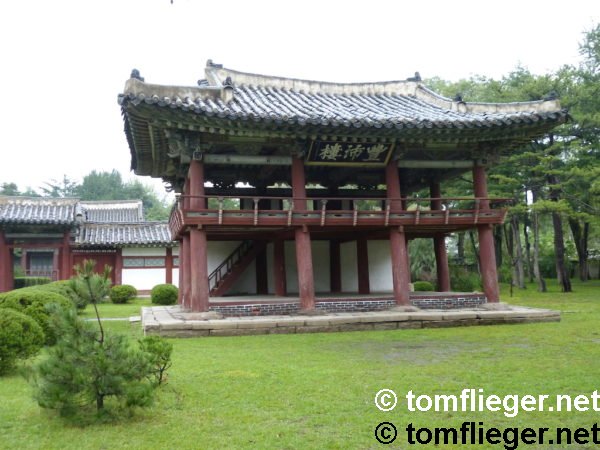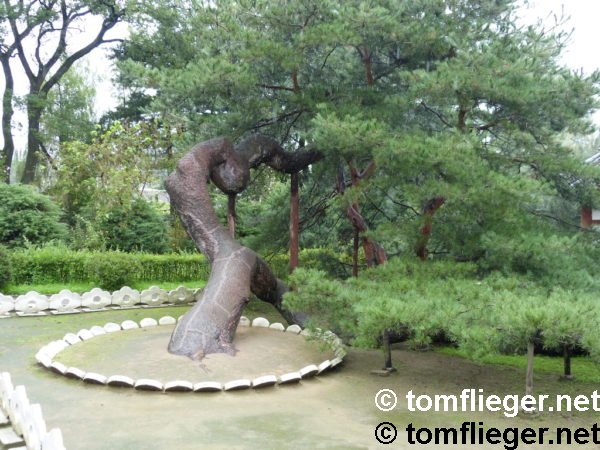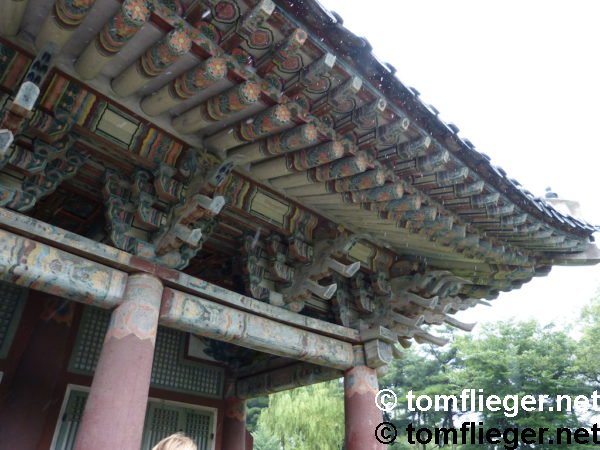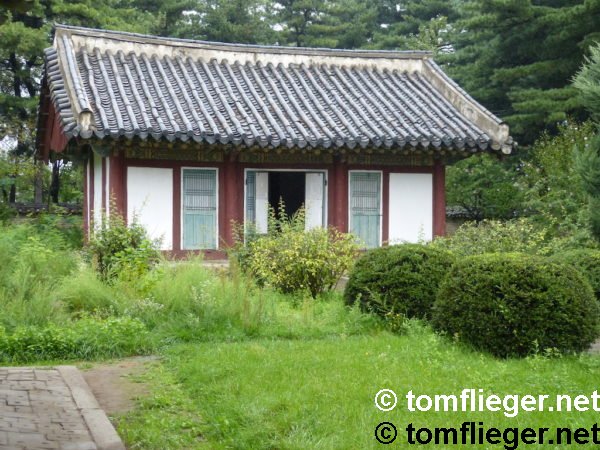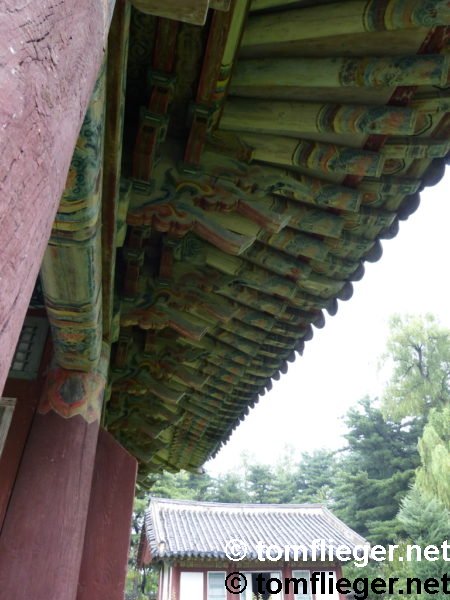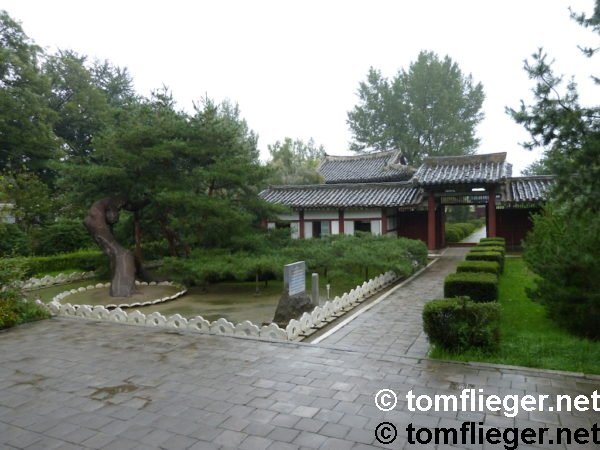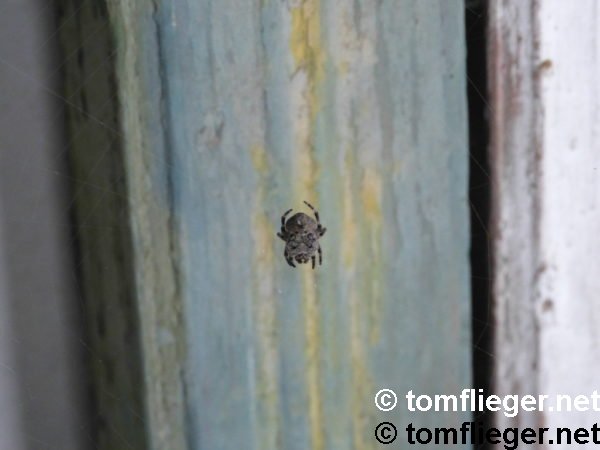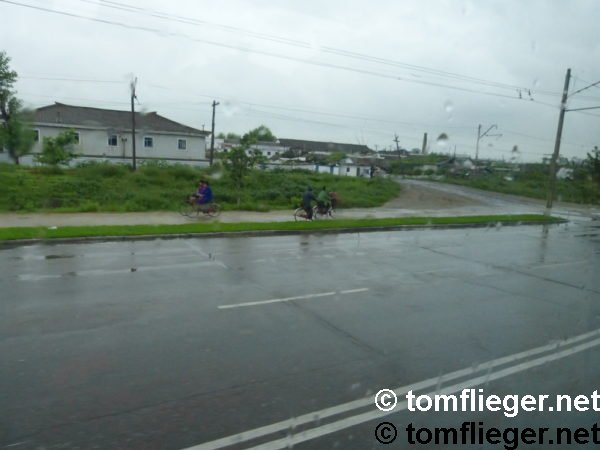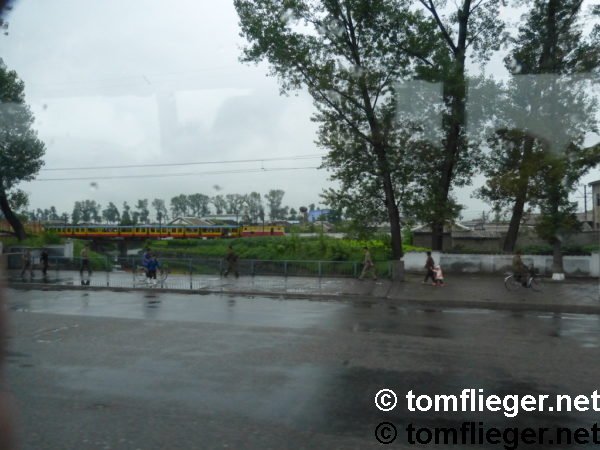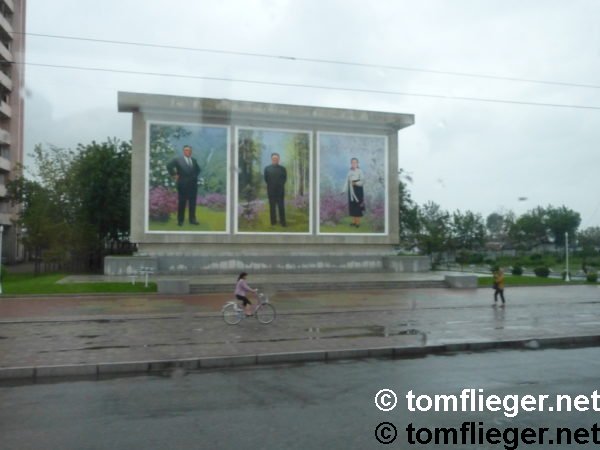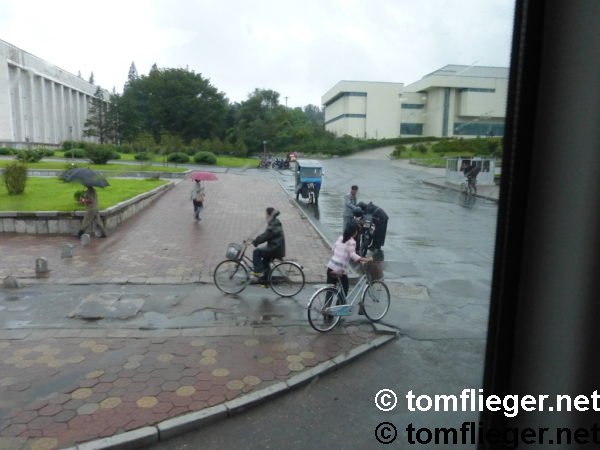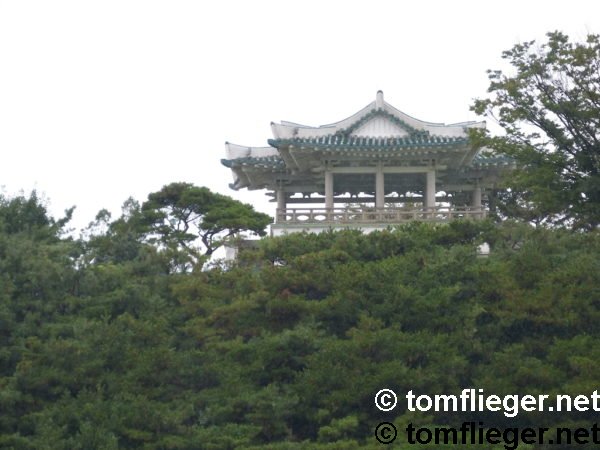 The kiddies were happy about the foreigners visit.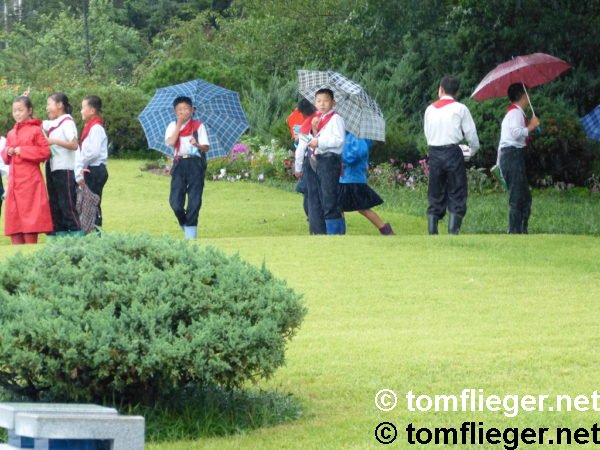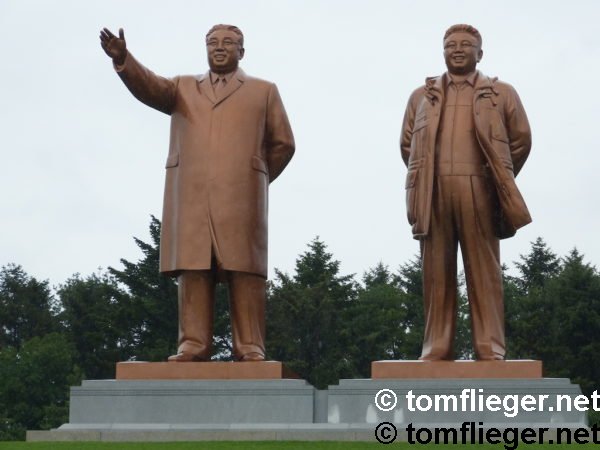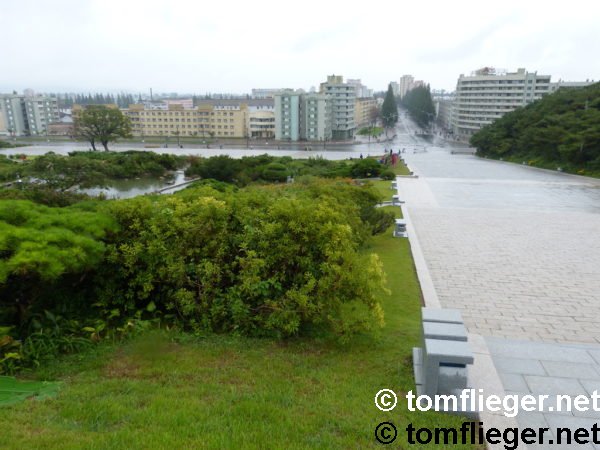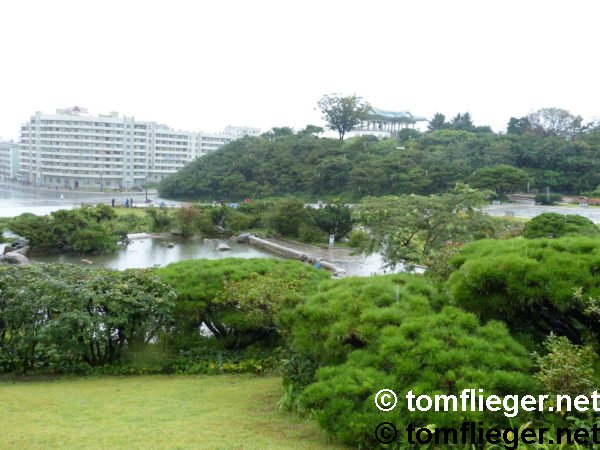 Lunch was a bit more upscale than usual on this day, maybe due to our guest?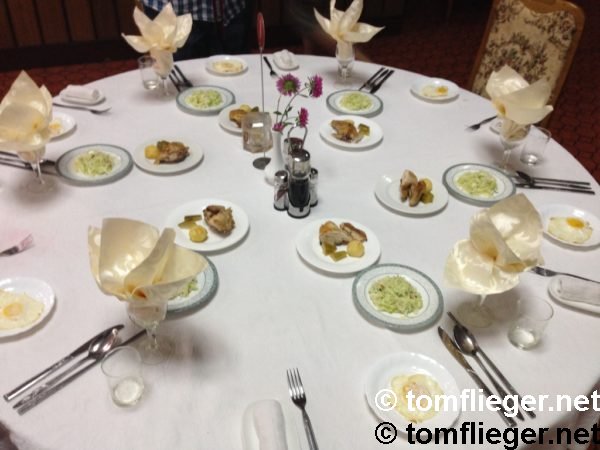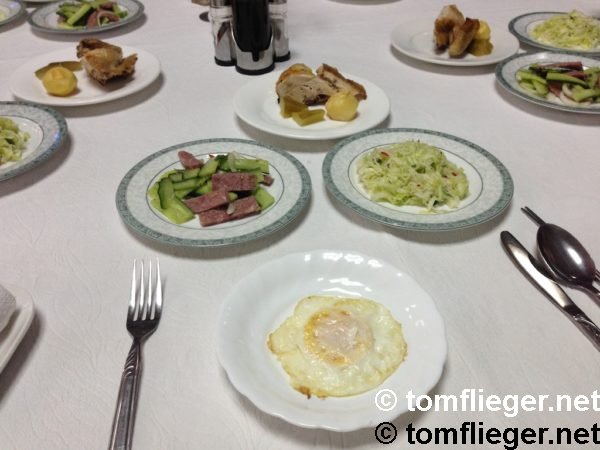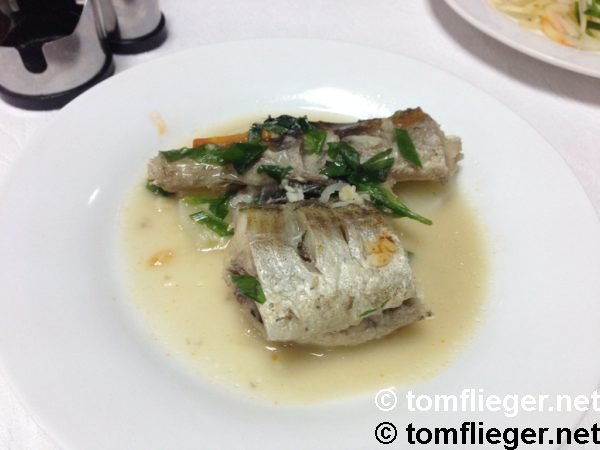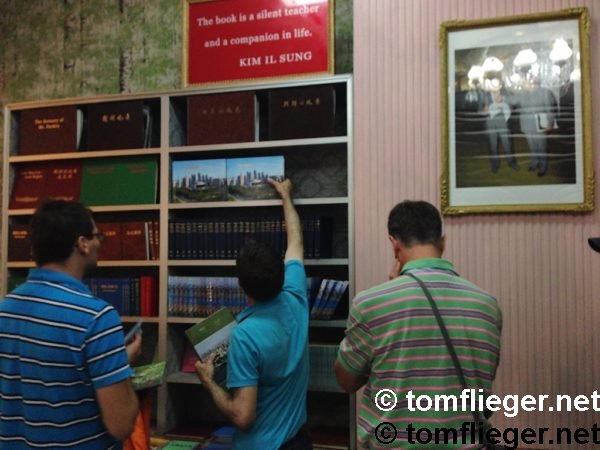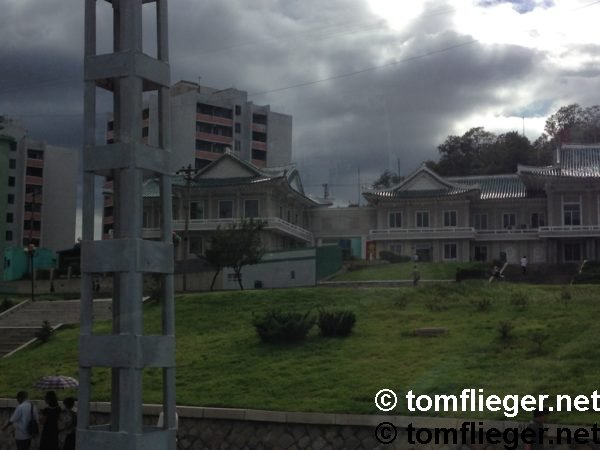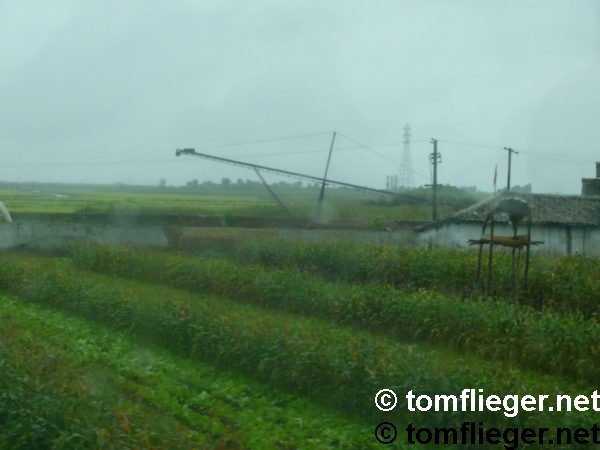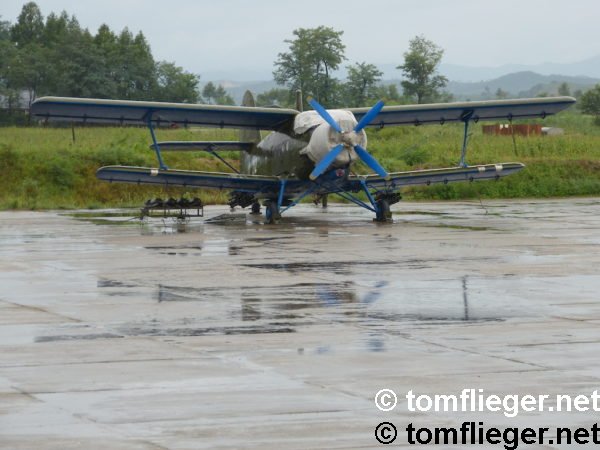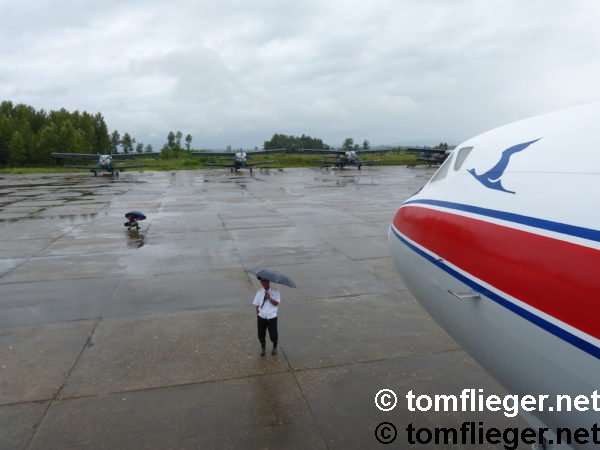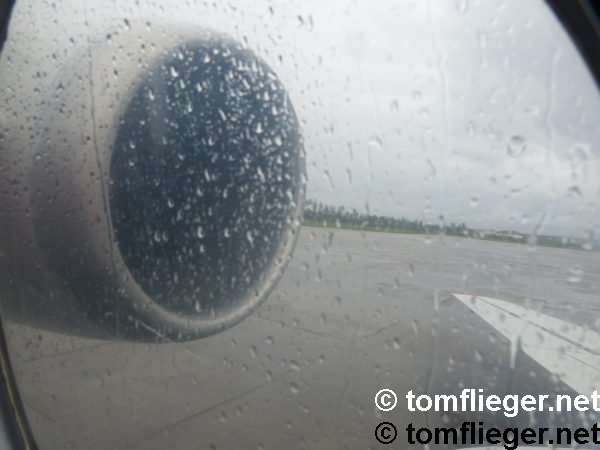 Because of the weather, the usual photo session was moved to Pyongyang. A good decision.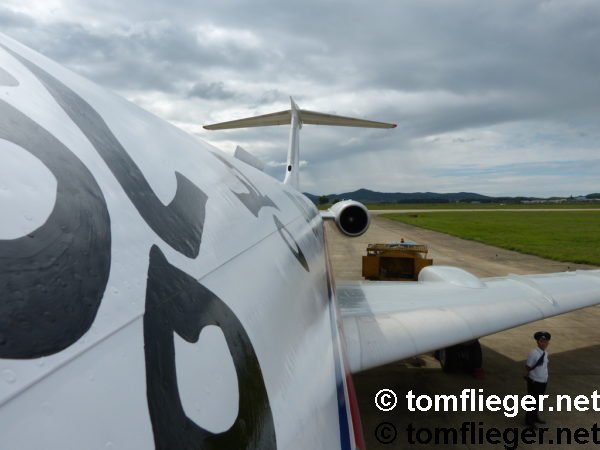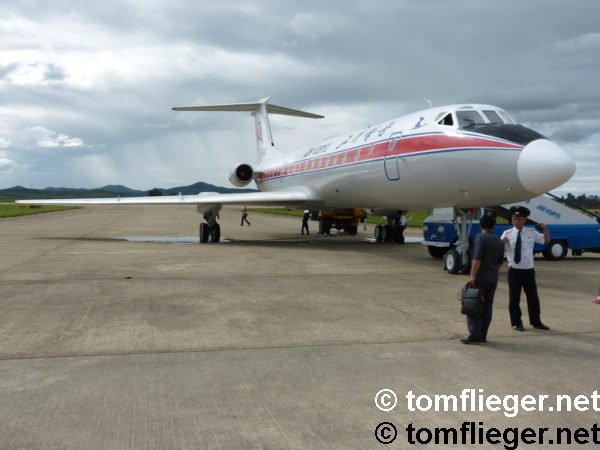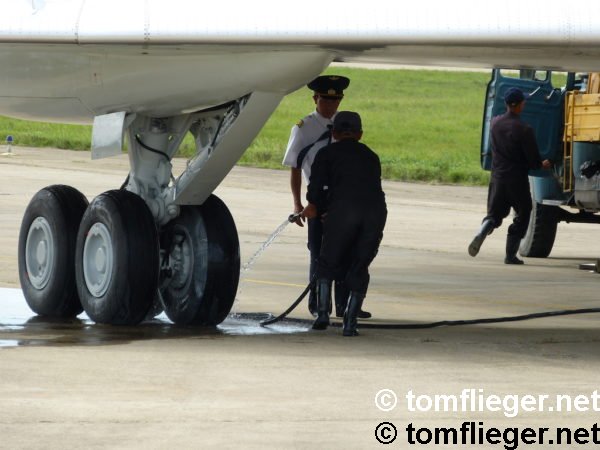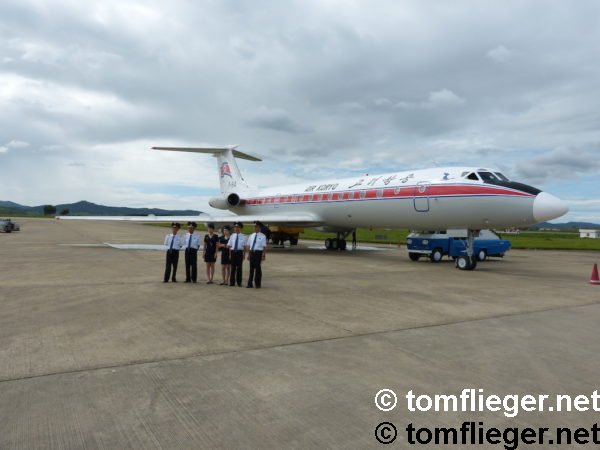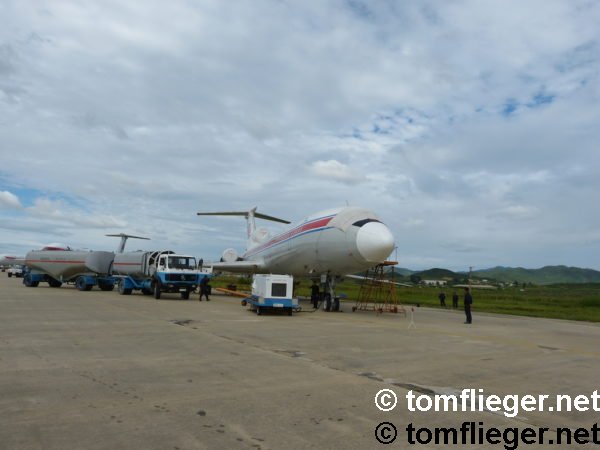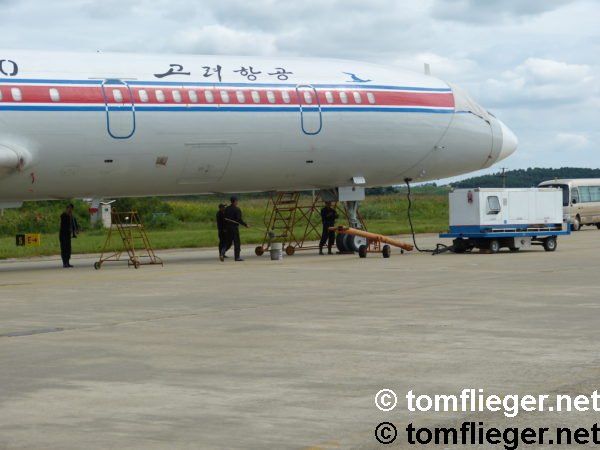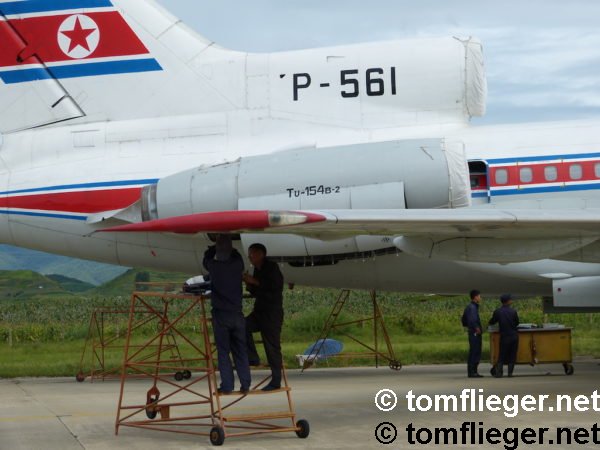 New secret technology – or toys.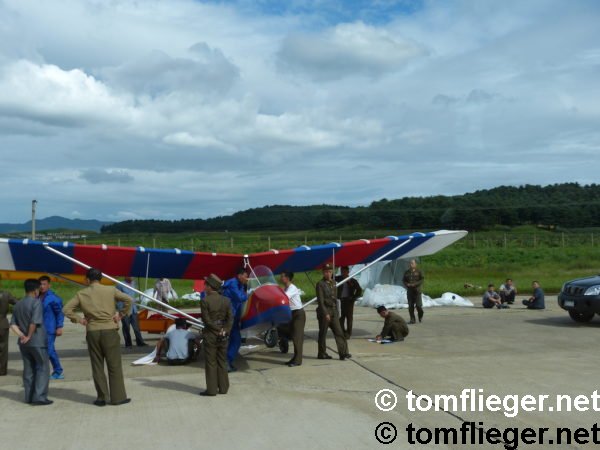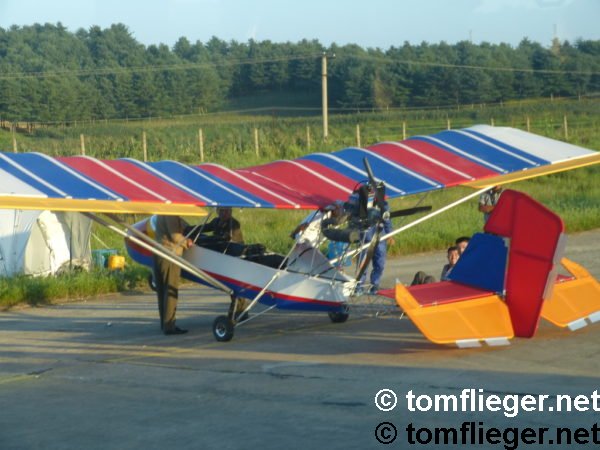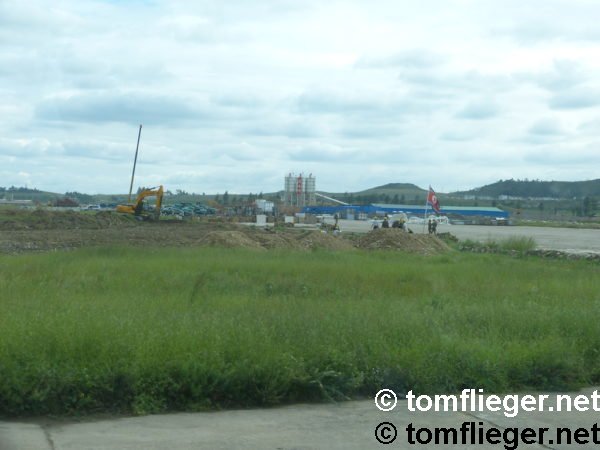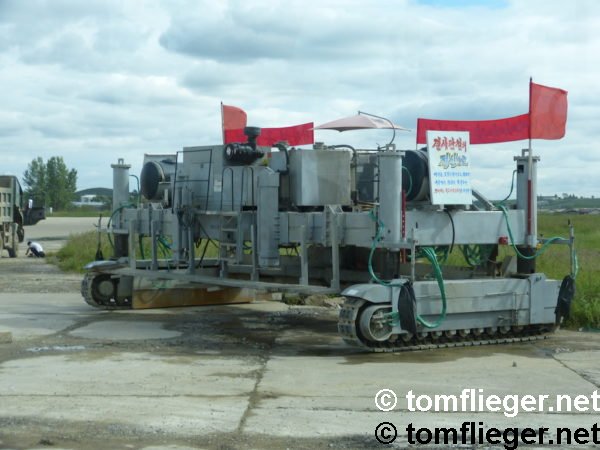 At the airport, the Ambassador left.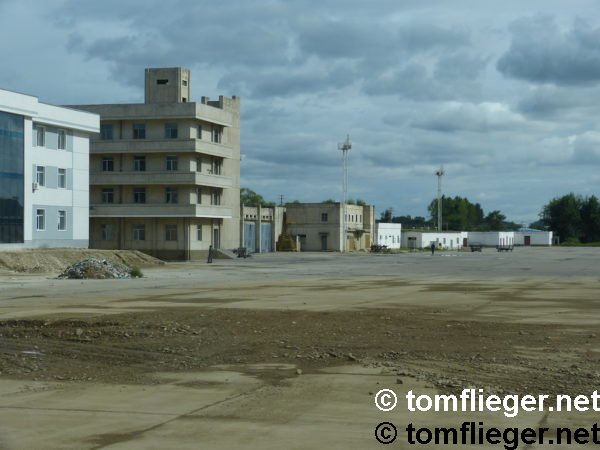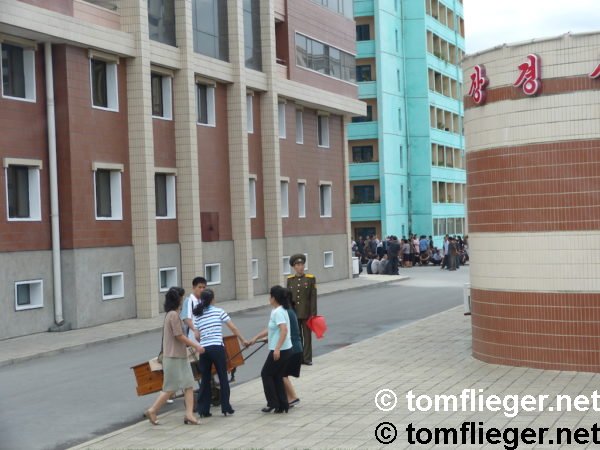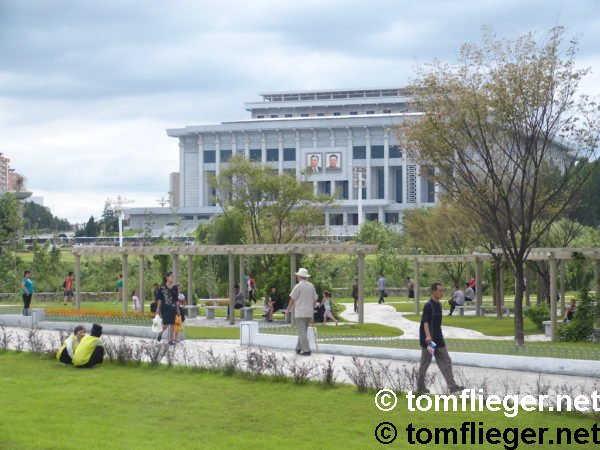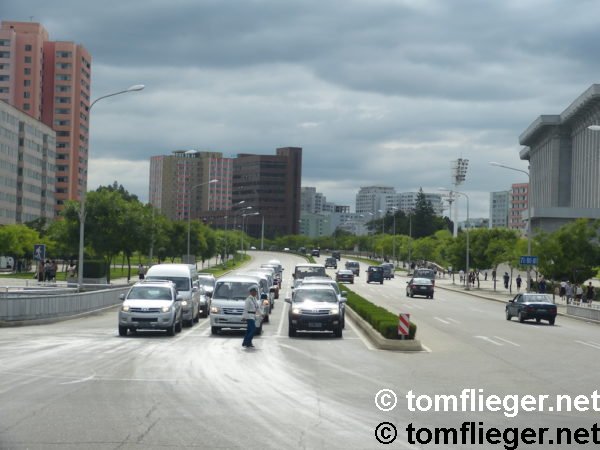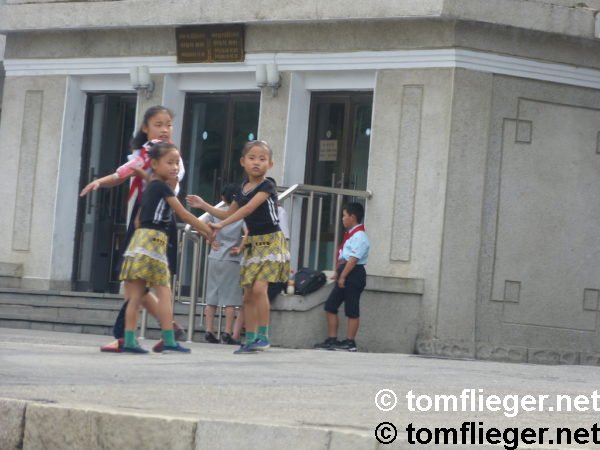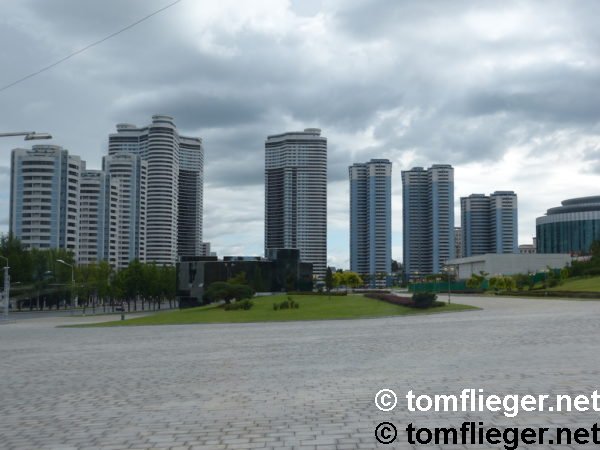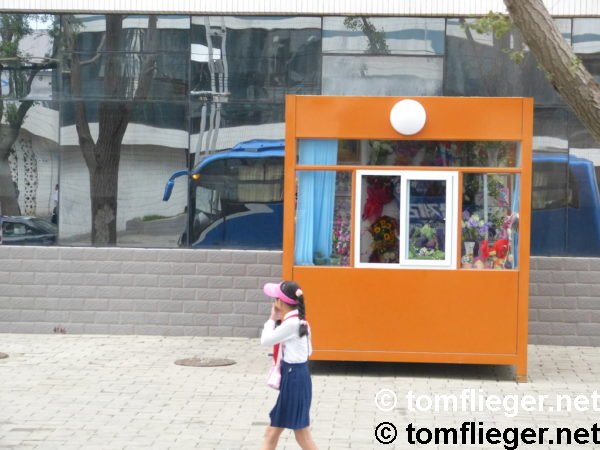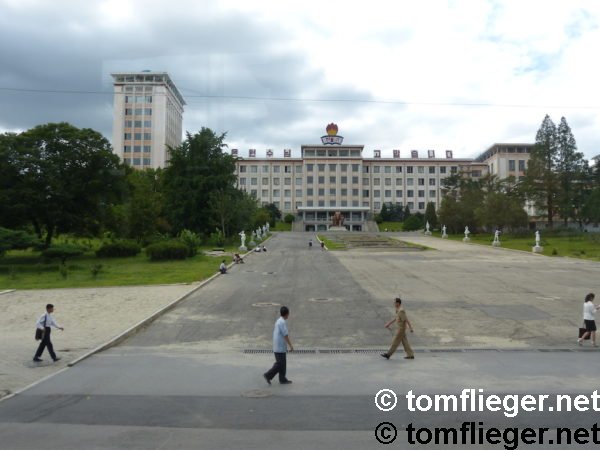 Grand People's Study House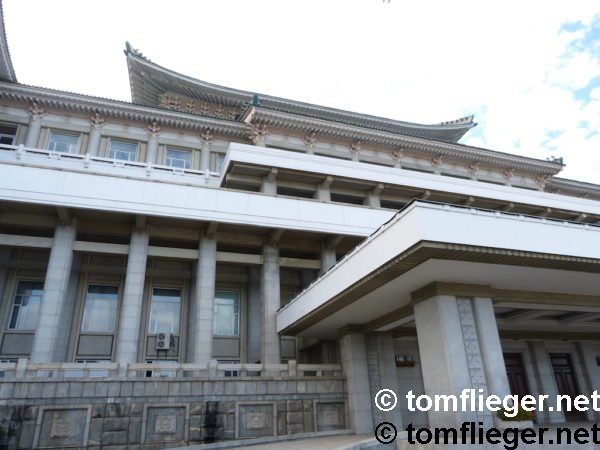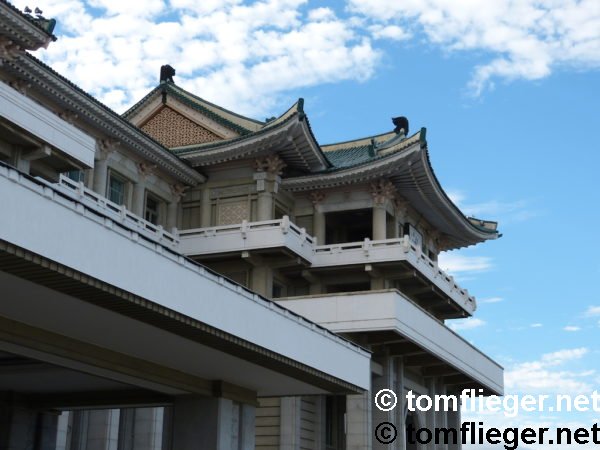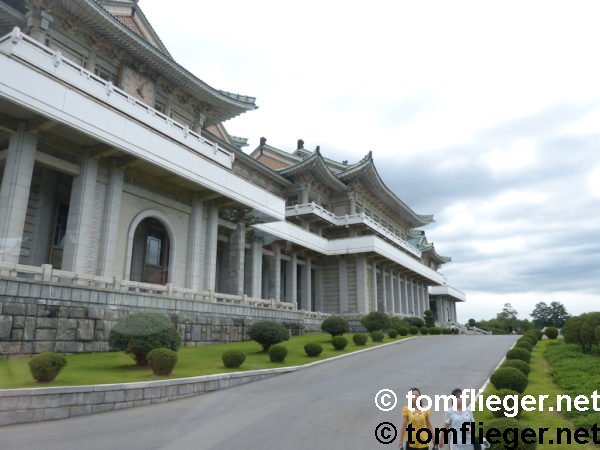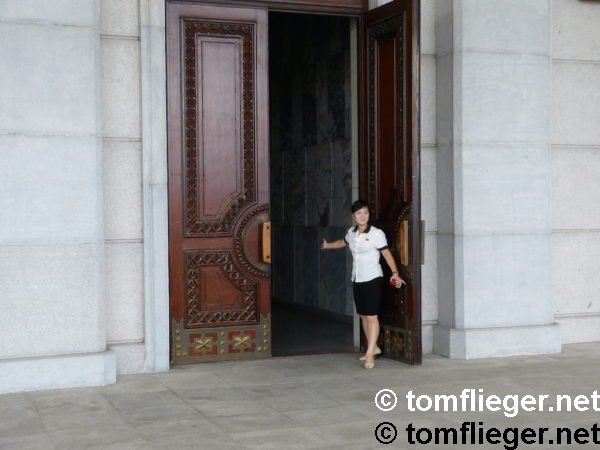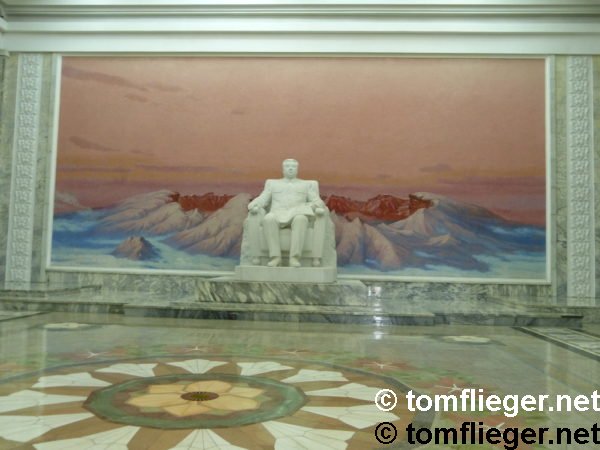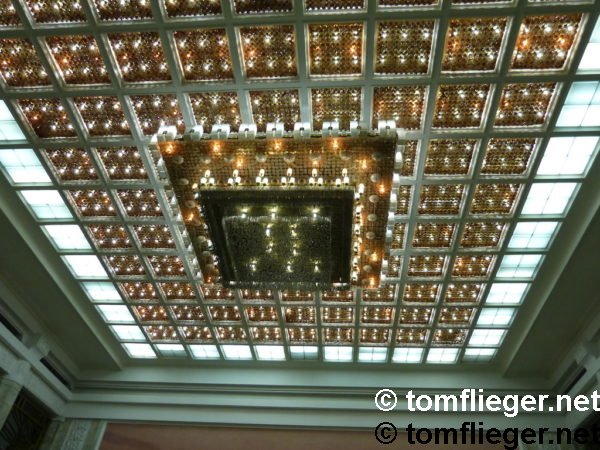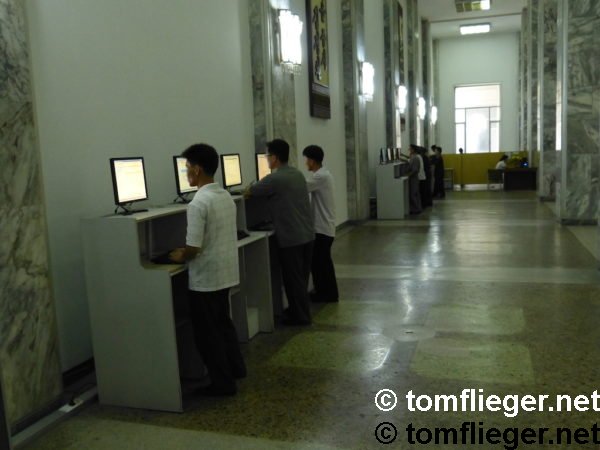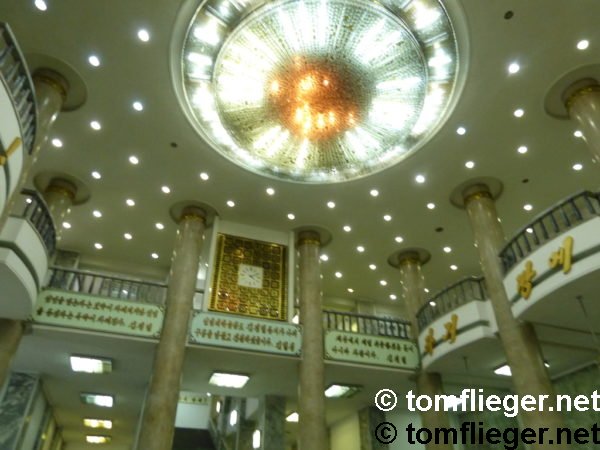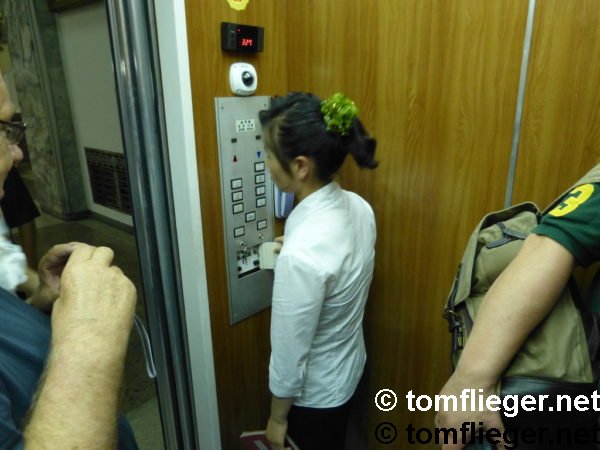 Foreign-language literature is offered.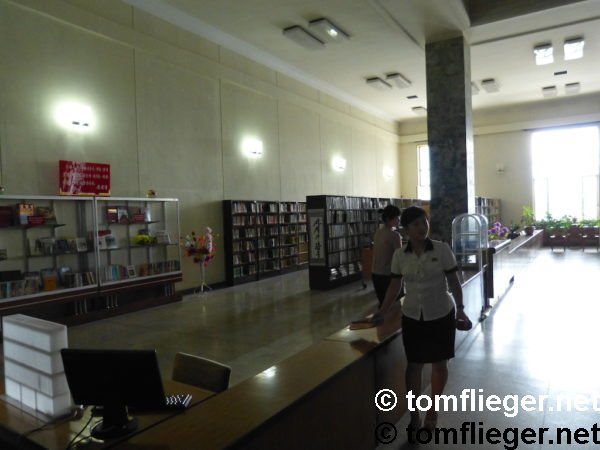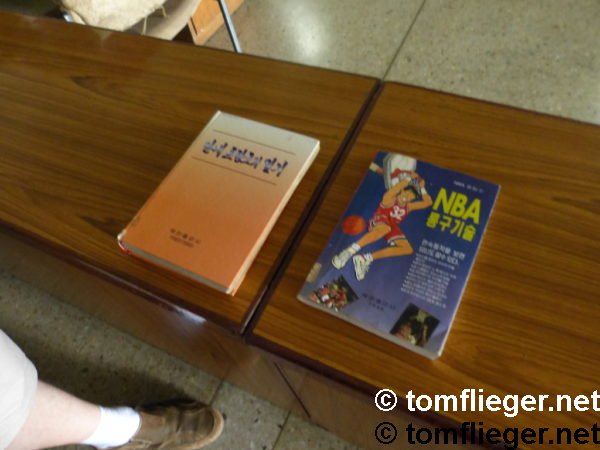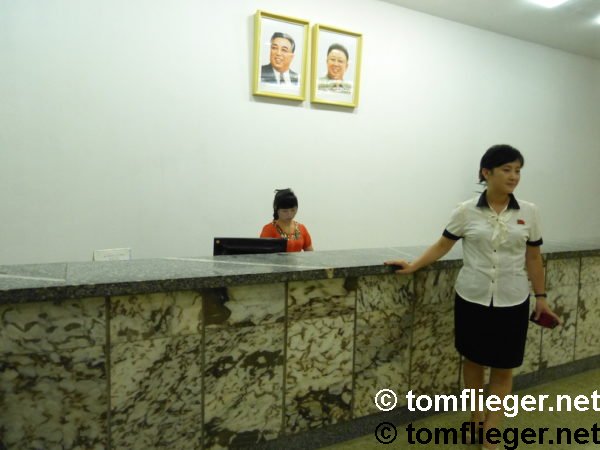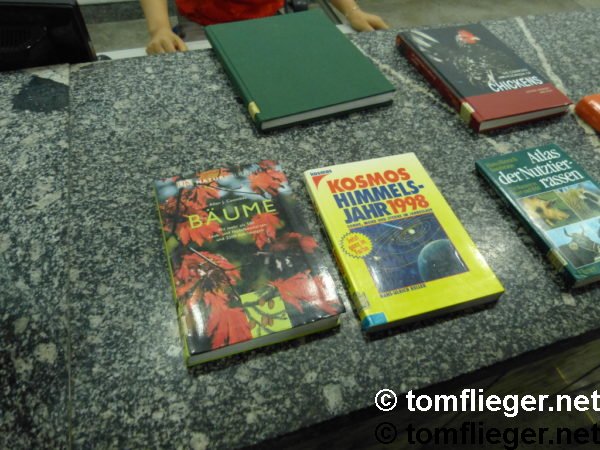 A reading room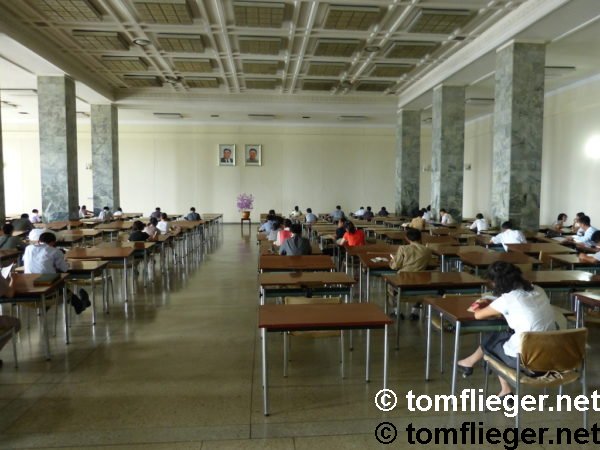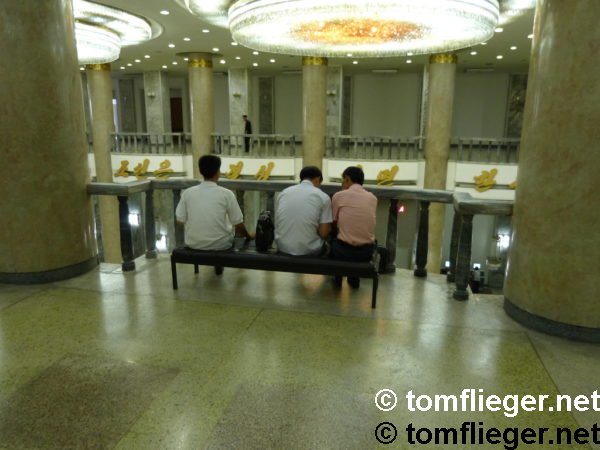 Foreign language courses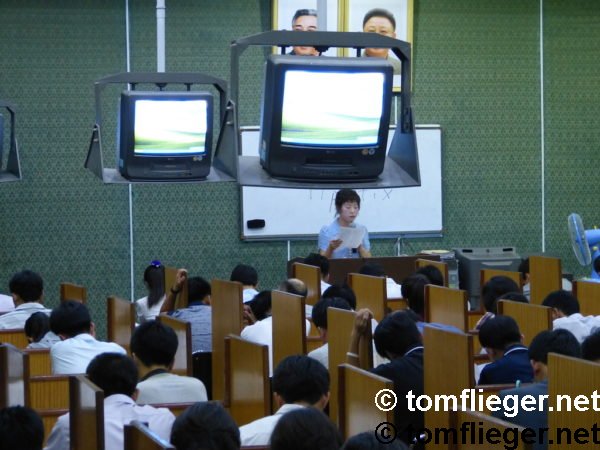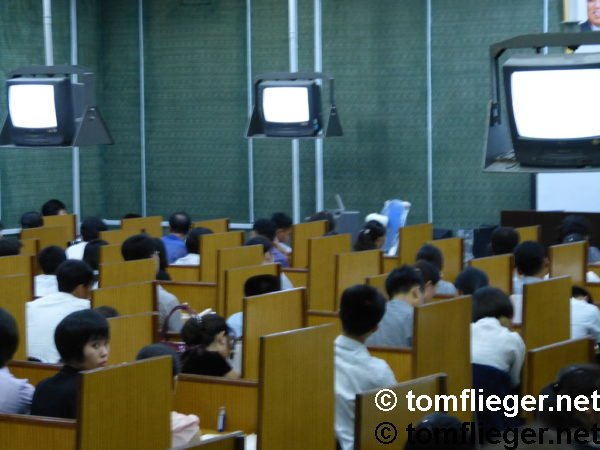 Multimedia education room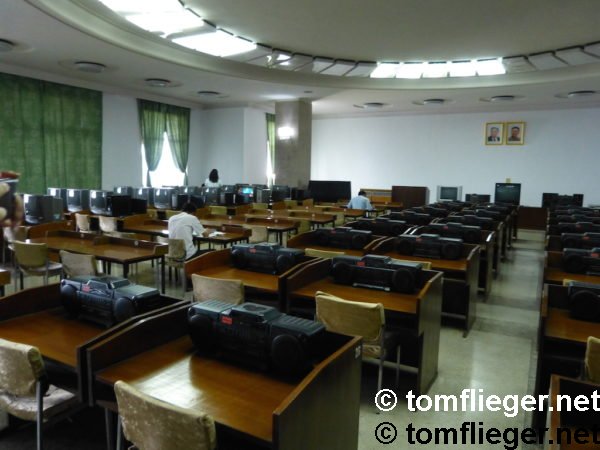 From the terrace you have stunning views over the city.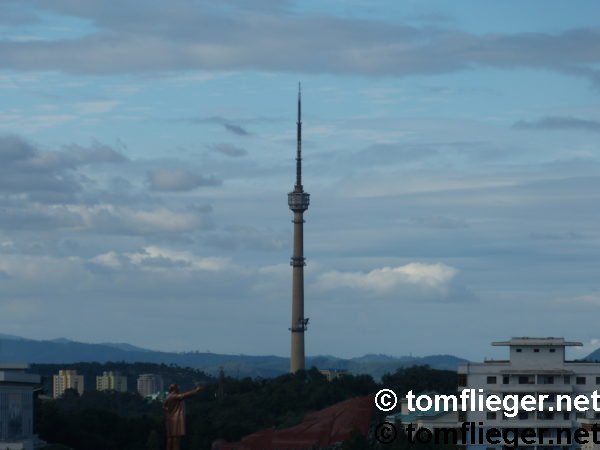 Monument of the Juche idea, "Juche Tower"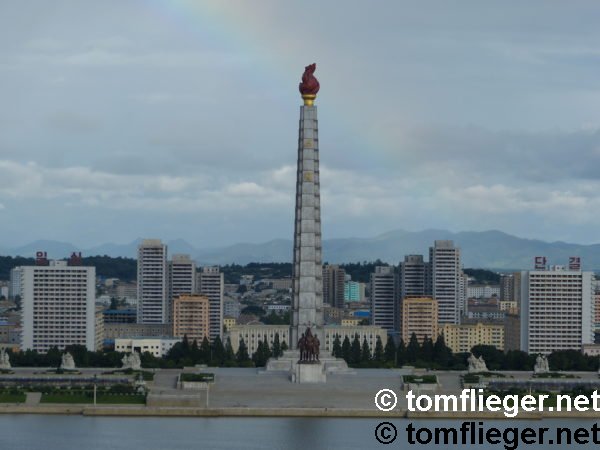 Central State Building at Kim Il Sung Square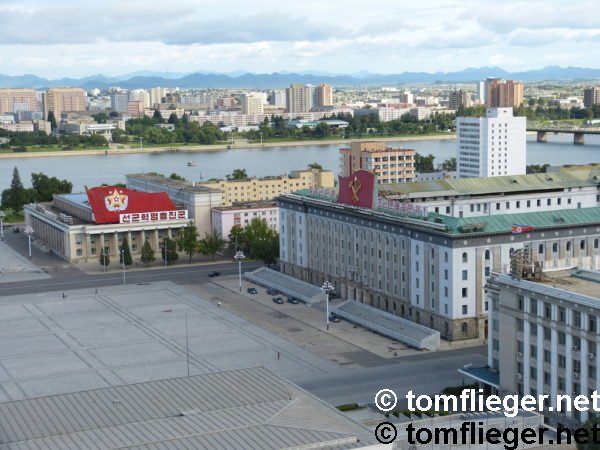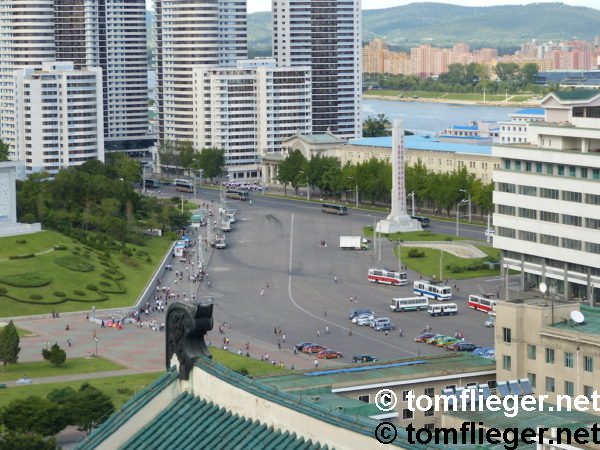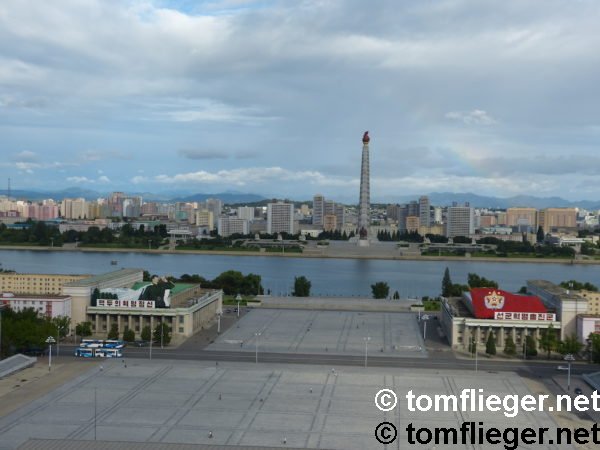 Of course there is also another opportunity to learn about relevant world affairs.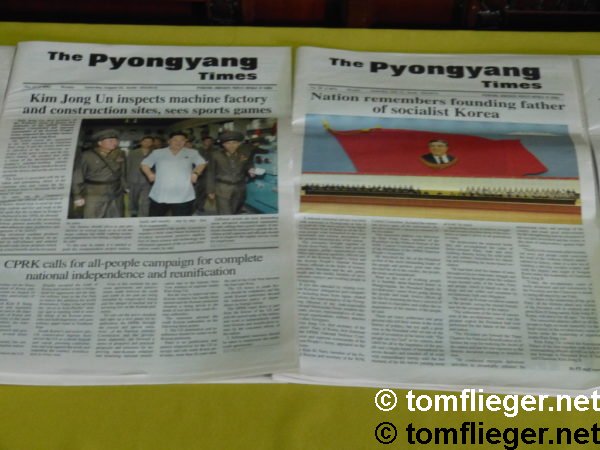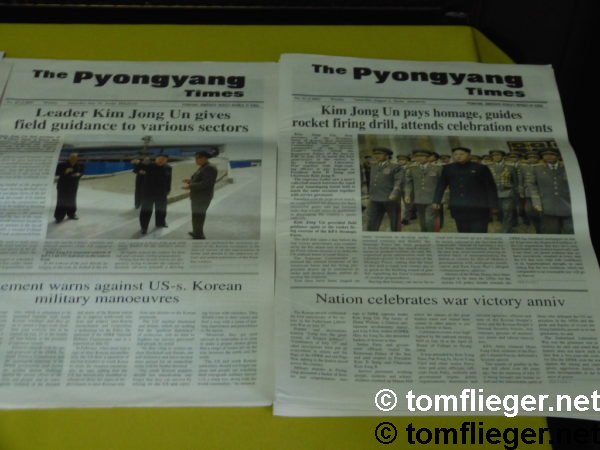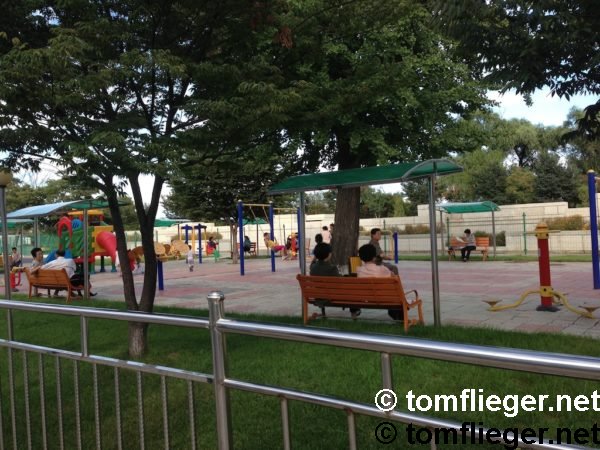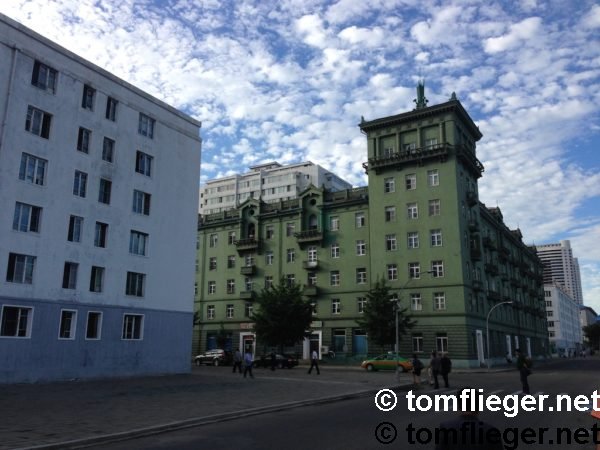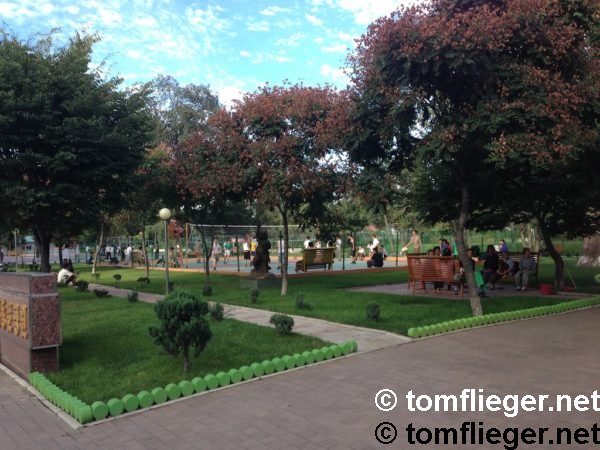 Again you have to expect the appearance of single pioneers.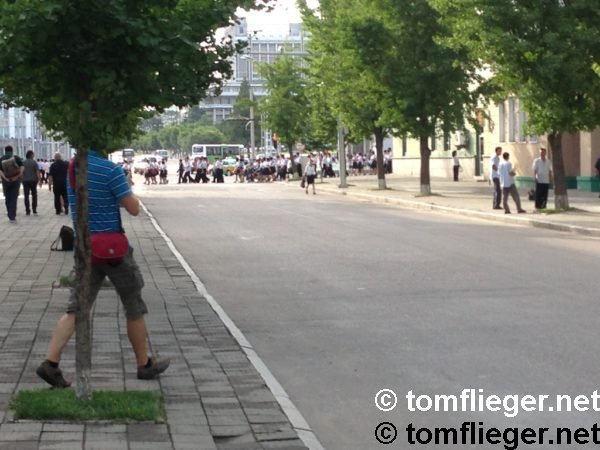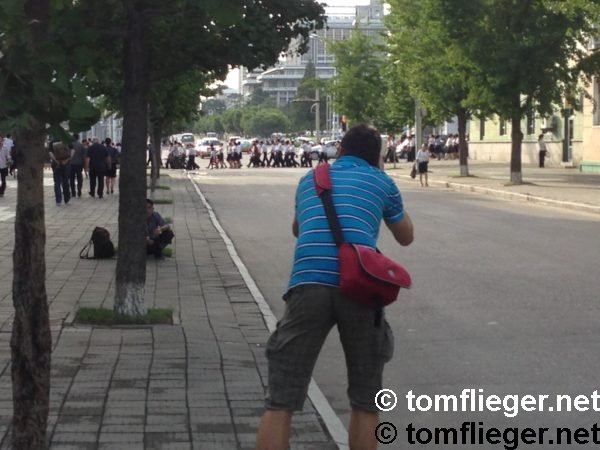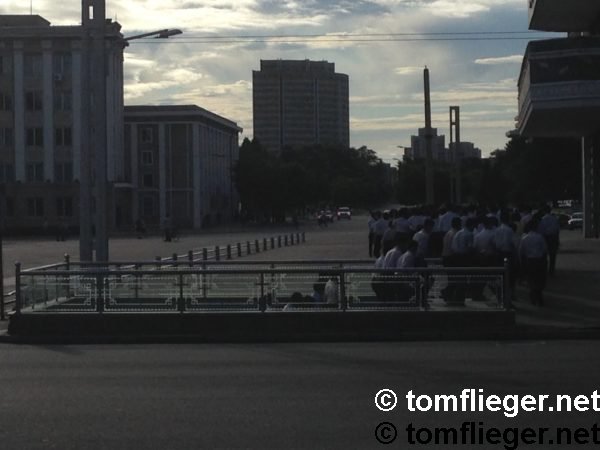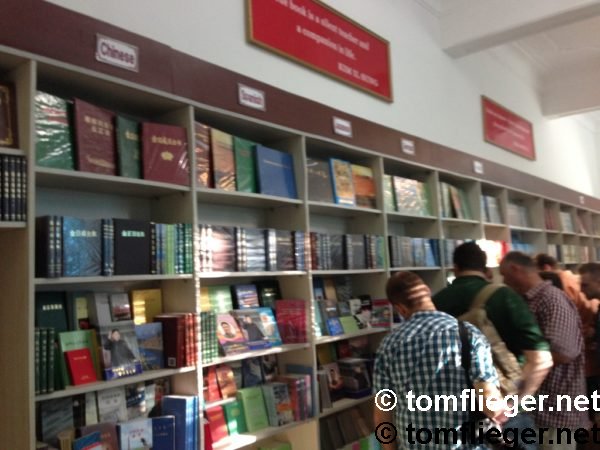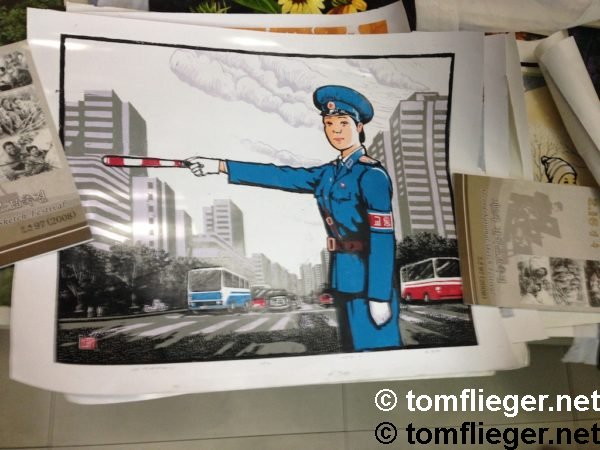 Of course there were current dictionaries.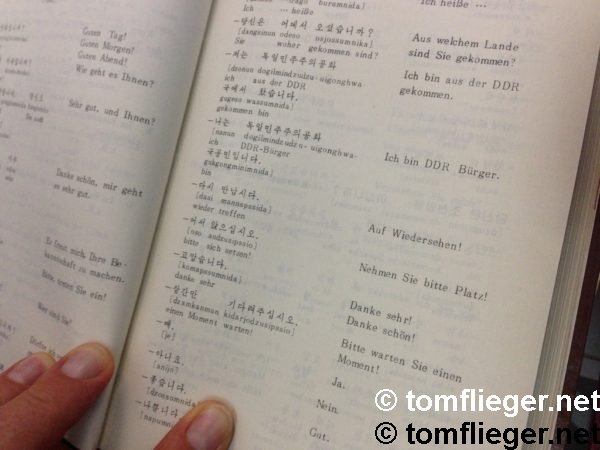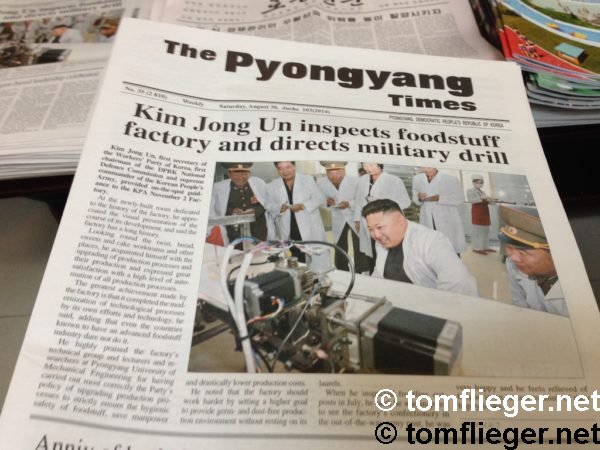 A prototype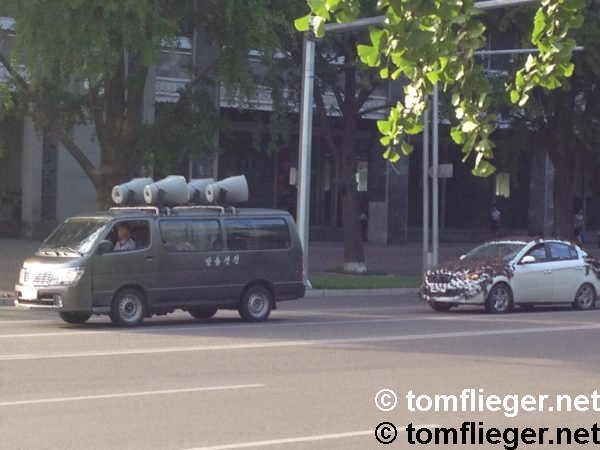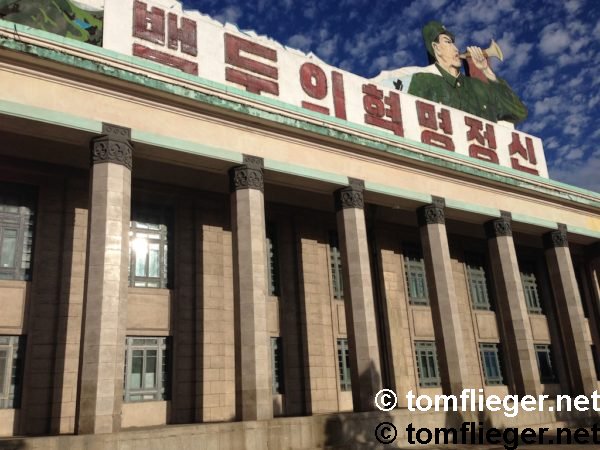 The place was provided with level indication marks for parades.